Loss Control Insights
EMC Loss Control Resources to Improve Manufacturing Safety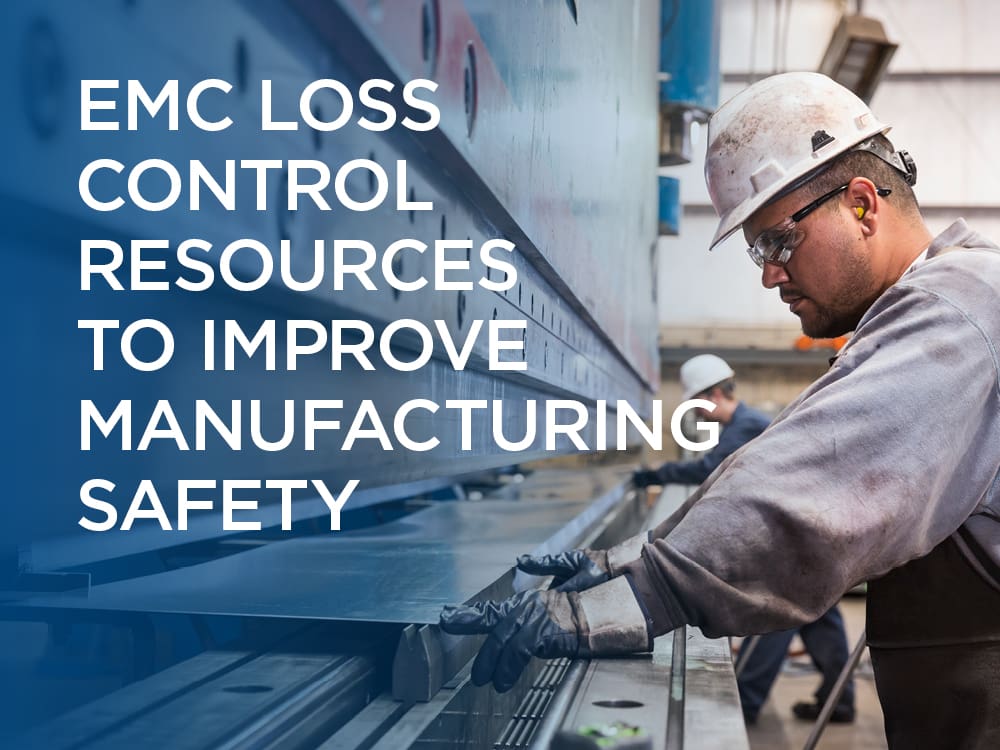 When it comes to workplace loss control and spending your safety budget, there are several techniques you can employ to make sure you get the most bang for your buck. A great place to start is understanding where your losses are currently coming from so you can target those areas when you're prioritizing safety resources.

How to Determine Your Loss Drivers
The best way to do this is to examine your claims experience (your agent or insurance carrier should be able to provide you with loss runs), looking for trends in frequency (which loss types occur most often) or severity (which loss types are most expensive). Focusing safety resources on the jobs/facilities/areas/causes of loss you have identified will help ensure your safety investment results in reduced losses and measurable cost savings.
In addition to studying your own claims experience, it's useful to be familiar with overall loss trends in the manufacturing industry. These are likely similar to the claims your organization is experiencing, and they can be a helpful starting point for newer businesses without an extensive loss history.
Overall Manufacturing Loss Trends
According to EMC's loss data, the five top causes of loss for manufacturers include:
Overexertion
Struck by accidents
Slips, trips and falls
Auto accidents
Fire
Continue reading to learn about these causes of loss and what loss control resources EMC recommends for each. You may also be interested in EMC's collection of manufacturing safety topics and EMC's unique coverage options for manufacturers.
Ergonomic Issues and Overexertion in Manufacturing
Ergonomic injuries, especially those related to overexertion, are responsible for a high number of claims in the manufacturing sector. They generally occur when tasks are repetitive (require the same motion over and over), or if they require excessive lifting or awkward postures. They're also common when a workstation isn't a good fit for the employee using it.
Here are some steps you can take to improve manufacturing ergonomics and reduce overexertion injuries in your workplace:
Determine which jobs are most likely to have ergonomic risk factors; get insight from your claims history, jobs with especially high turnover or by thinking about the jobs at your organization that nobody wants
Work with an ergonomics consultant to evaluate and improve your ergonomics program/setup; EMC policyholders have access to EMC ergonomics experts
Rearrange your workflow to minimize manual material handling; moving materials unnecessarily increases the chance for injuries while making your process less efficient
EMC offers a wide range of ergonomic safety resources to help prevent these injuries, including free online training, safety program templates and posters to help remind your employees of how to work safely.
Reduce Losses from Struck-By Accidents
The majority of struck-by accidents are the result of being hit by heavy equipment (such as forklifts) or being struck by falling or flying objects.
Help reduce struck-by accidents and ensure a safe workplace with these additional EMC tools and equipment resources.
Prevent Slips, Trips and Falls
Spills, bad weather conditions and improper ladder usage are all contributing factors to slip, trip and fall claims. These apply to employees, but also to customers/visitors if any part of your facility is open to the public. To reduce slips, trips and falls on your property:
EMC also provides specific information on ladder and scaffold safety, winter slip and fall prevention and more. See all EMC's slip, trip and fall prevention resources.
Reduce the Risk of Auto Accidents
Vehicle accidents can lead to employee injuries and loss of dollars, property and life. One of the most common causes of auto claims and dollars lost are rear-end collisions. There are steps you can take to prepare your drivers for the roads, reduce accidents and improve overall fleet safety:
Prevent Fires in Your Manufacturing Facility
Fires can be caused by improper storage of combustible materials, faulty electrical equipment, hot work, flammable liquids and more. Fire accidents are often costly and result in severe injuries and death. Reduce your risk of fire:
Develop a fire prevention program
Maintain fire safety systems, such as sprinklers and alarms
Train employees how to prevent and respond to fires in the workplace
Make sure your fire sprinkler system is adequate for your exposures; this is especially valuable when you're constructing a new building or adding on to your current facility
Find more information including fire safety trainings, program templates, inspection and permit forms, tech sheets and safety briefs in EMC's fire prevention resources.
Protect Your Manufacturing Operations with Comprehensive Risk Management
EMC Insurance offers a full range of commercial insurance policies for manufacturers including unique coverages, such as delivery E&O insurance, that many other insurance companies don't offer for manufacturing companies. Learn more about manufacturing insurance from EMC.