Loss Control Insights
5 Ways to Keep Your Workers' Compensation Costs Down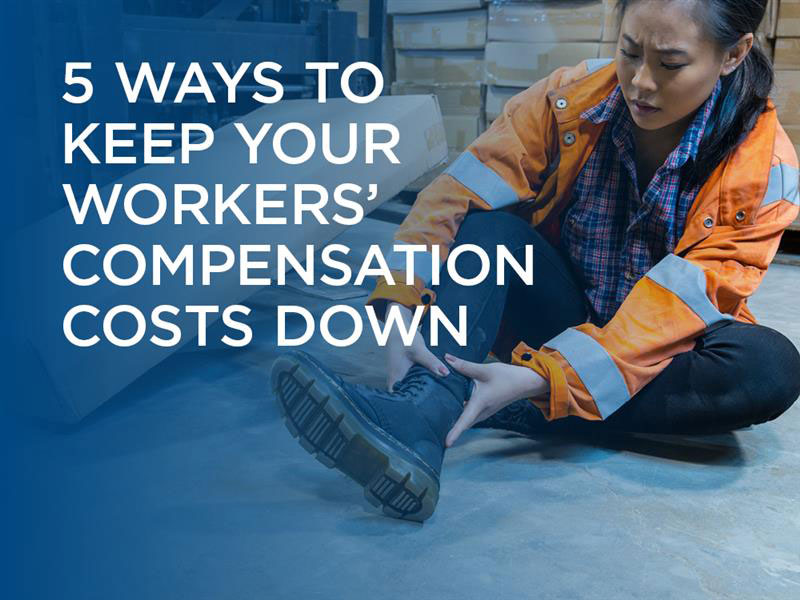 Accidents happen. From a simple muscle strain to a serious fall, workplace injuries can significantly affect your employees and your bottom line. In addition to the direct costs associated with your workers' compensation insurance (also known as workers' comp insurance), you may have expenses that stem from the hiring and training of replacement workers, lost productivity, accident investigations and more.
Even when the right precautions are taken, it only takes a split second for a routine task to turn catastrophic. Luckily, there are easy and cost-effective ways to help employers control workers' comp costs. Below we outline five free or affordable EMC services to help get you started.
1) Return to Work Program
When a worker becomes injured or ill, expenses can add up quickly due to lost time, medical costs and hiring replacement workers. By proactively developing and implementing a return to work program, you can help your company control these costs. Plus, getting employees back to work can help improve your experience modification factor, which can save you money on workers' compensation premiums.
EMC's return to work program is designed to bring injured employees back to work safely and as soon as they are able to work in a medically approved capacity. This can save a company an average of $463 per day off work (medical and indemnity costs).
Not sure where to begin? Check out EMC's Return to Work Program Generator or set up a consultation today. Simply contact your independent insurance agent, local EMC loss control representative or email losscontrol.injurymgmt@emcins.com.
2) EMC OnCall Nurse Program
EMC OnCall Nurse is a 24/7 work-injury nurse hotline that allows injured workers and their supervisors to immediately speak with a registered nurse and receive guidance on the appropriate level of medical care. This proven process resolves many cases simply with first aid, so your business can avoid unnecessary costs, claims and time away from work.
On average, EMC OnCall Nurse claims result in a total cost savings of nearly $1,200 per claim. Approximately 40% of injuries reported to the program result in the injured worker returning to work without initial medical treatment. Plus, injuries that result in self-care are documented as incident only and do not impact the policyholder's claims experience or experience modification factor.
Interested in enrolling? Contact your independent insurance agent, EMC underwriting or marketing representative, or email EMC's medical management staff at claims.oncallnurse@emcins.com. Provide your account name and contact information (i.e., phone and email) with your enrollment request.
3) AIPM Wellness Resources
EMC wants to make it easy and affordable for you to create a corporate wellness program. That's why we partner with the American Institute for Preventive Medicine (AIPM), an award-winning provider of resources that educate and motivate employees.
And AIPM has a proven return on investment. Studies of their services have shown significant reductions in health care costs and absenteeism. Plus, corporate wellness programs can help your company boost employee satisfaction, recruit top talent, increase productivity and generate greater health awareness.
Ready to get started? EMC policyholders receive a 5% discount on AIPM services and products. Contact AIPM at aipm@healthylife.com or call 800-345-2476 and inform them you are an EMC policyholder to discuss services and products.
4) Mobileye Driver Assistance Technology
EMC partners with Mobileye (a subsidiary of Intel Corporation) to offer effective and innovative loss control solutions to commercial auto customers. Mobileye 8 Connect technology uses real-time artificial intelligence (AI) and forward-facing video to detect collision risks and alert drivers with audio and/or visual warnings, so they can take action to prevent or mitigate the predicted collision. With the majority of accidents caused by just a few seconds or less of inattention, these warnings can help avoid accidents and save lives.
Want to learn more? EMC offers this industry-leading technology at preferred pricing to policyholders who purchase 20 or more systems at once. The systems can be retrofitted to almost any fleet vehicle. Watch this video or email losscontrol@emcins.com for more information.
5) MākuSafe Wearable Technology
What if you were able to predict where the next accident or injury is most likely to occur in your workplace? That's where EMC's partnership with MākuSafe (pronounced make you safe) comes in. MākuSafe's wearable sensors are designed to gather real-time environmental, motion and near-miss data when worn by employees. The information is then sent to a cloud-based platform where it is analyzed and made available to the employer.
Between 85% and 90% of near misses aren't reported. This could be because they don't see the value in the information, they forget or they don't want to fill out the associated paperwork. With this statistic in mind, it makes sense to put the reporting on autopilot, allowing workers to carry on with their assigned duties.
Sound like a good fit for your company? EMC policyholders who sign up for MākuSafe services may be eligible for a cost-sharing arrangement. Contact losscontrol.innovation@emcins.com with questions or visit www.makusafe.com/emc to enroll or view a demo and Q&A session about the system.
Learn More