Loss Control Insights
Top 10 Wildfire Preparation Tips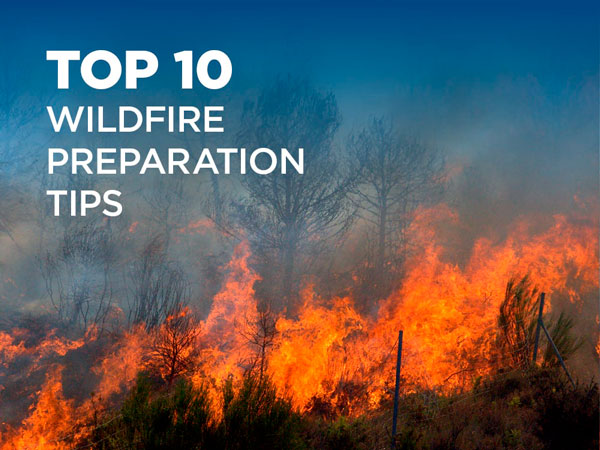 Wildfires cost billions of dollars to fight and recover from annually. And the effects of a wildfire can be devastating for everyone involved, including businesses like yours. Proper planning and preparation can help you and your employees stay safe and keep your doors open after a disaster.
Protect your business with these critical wildfire preparation tips from the Wildfire Ready for Business Program:
1. Install a Class A rated roof
Most low— and steep—slope roofs are rated from Class A to Class C, based on fire resistance, with Class A providing the most protection from fire. But some roofs are not rated for protection against fires. If your roof is unrated or rated lower than Class A, consider replacing it with a Class A-rated roofing material (based on testing to ASTM E108 or UL 790). If you're unsure of your roof's rating, contact a licensed roofing contractor.
2. Clear debris from gutters and roof
Removing debris, such as pine needles and leaves, from your gutters and roof should be part of your routine maintenance plan. We recommend also clearing debris at every season change and after any storm or high—wind event. For extra protection you may want to install a noncombustible cover device for your gutters.
3. Create a buffer around your building
Pay special attention to the 5 feet immediately surrounding your building. This area should be designed and maintained to keep fire or embers from igniting materials and spreading fire to your building. Here are some things you can do to keep this area clear:
Install hard surfaces, such as a concrete walkway or rock bed, around the building
Avoid vegetation or choose limited CalFire—approved vegetation
Keep vegetation areas irrigated and remove dead vegetation on a regular basis
Remove branches that may overhang your roof or gutters
4. Remove items underneath building attachments
Do not use areas under a raised deck or balcony as long—term storage. Instead, store them indoors or at least 30 feet from the building. You should also avoid storing combustible items in these areas.
5. Add or upgrade your vent screens
Flying embers can enter your building through vents in your roof, walls and beneath the building. Make sure vents have a metal screen 1/8 inch or finer to block embers. Be sure to check screens periodically and remove debris, such as bird nests.
6. Replace combustible fencing or gates attached to the building
If you have fencing attached to your building that is made of combustible materials, replace at least the first 5 feet with metal or other noncombustible materials. If possible, choose fencing and gates with vertical rails or chain link as they allow embers to pass through.
7. Provide proper building identification
Your buildings need identification at each vehicle entrance, with the identification visible from both directions of travel. Make sure your signage is made of a noncombustible material and that your street numbers are at least 4 inches high and reflective.
8. Move small structures and combustibles away from building
Small structures like sheds and garbage containment outbuildings should be located at least 30 feet away from your main building while LP tanks and large quantities of flammable liquids and combustible materials should be located a minimum of 50 feet from the building. If small structures can't be moved, consider retrofitting or enclosing them with noncombustible materials.
9. Upgrade to tempered insulating glass
We recommend replacing single—pane windows with tempered insulating-glass windows, if possible. If your building has multiple stories, you should at least install tempered insulating—glass windows on the first floor. If you cannot upgrade your windows, install metal shutters instead.
10. Improve site access and firefighting capabilities
Entrances and driveways should be at least 12 feet wide with at least 13.5 feet of vertical clearance between roadway and vegetation while fire hydrants should be located within 250—500 feet of the building. If there are no fire hydrants in this vicinity, contact the fire authority having jurisdiction (FAHJ) or your local water department.
Learn More