Loss Control Insights
Walkthrough Safety Inspection Checklist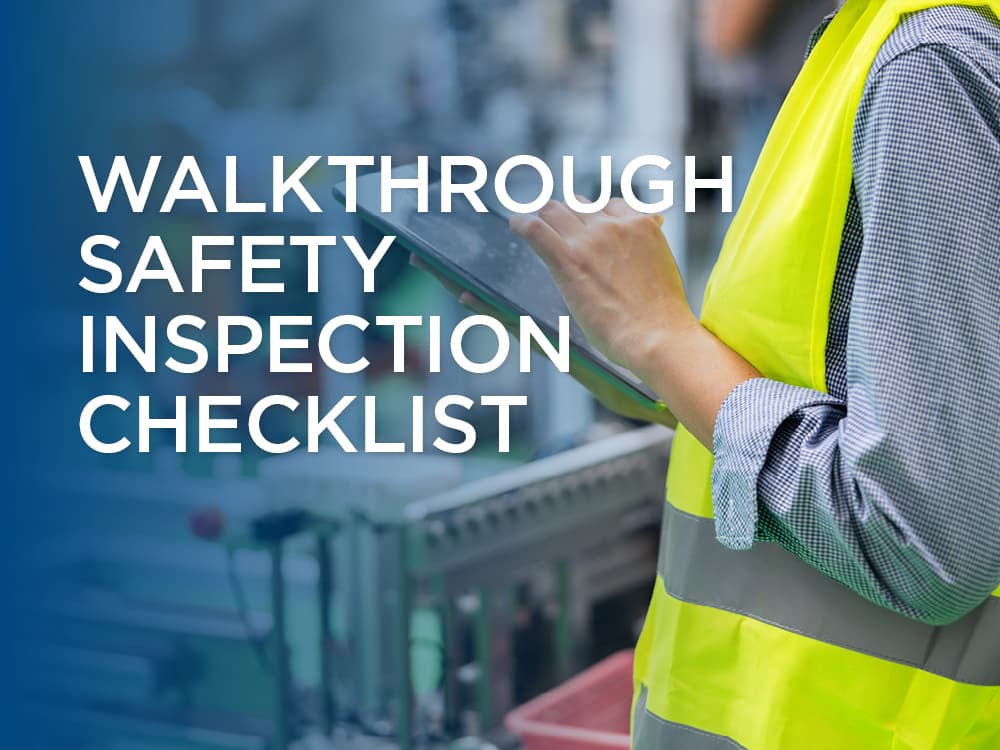 Checklists are an important tool for any job. From a pilot's pre-flight checklists to a wedding planner's big day to-do list, they play a critical role in employee safety. Workplace safety checklists help ensure employees don't forget any crucial steps. Plus, when there are many components to a job, it's easy to get distracted or forget a key step. A checklist keeps everyone on task.
Within your company, there may be many customized checklists for specific tasks, such as steps for cleaning a piece of equipment, checking sidewalks and parking lot safety, or clearing fleet vehicles for driving.
What Is a Safety Checklist?
A safety walkthrough checklist is a tool that provides managers with the ability to get an overall look at safety procedures, behaviors and observed hazards within a building or a department. The checklist is designed to remind employees of which areas to examine and what details are crucial for safety.
The completed checklist serves as documentation of what was observed on a particular day, week, month or year. It also provides details on the status of each safety component, what remedial action should be taken and by what date the action should be taken. You can also write in additional notes or take photos to improve your documentation record.
Developing Your Safety Walkthrough Checklist
Pat Birkett, EMC Senior Risk Improvement Representative, stresses that while safety checklists often have common line items, each organization must develop unique checklists that focus on the equipment, staffing and operational requirements of their environment. "It's critical to understand that simply checking off items on a list doesn't necessarily lead to fixing hazards," he says. "An action plan and a commitment to fixing problems must be a part of the process."
Pat suggests the following steps for developing your customized safety walkthrough checklist:
Focus on past injuries and losses—

If slips, trips and falls are the most common injury, your checklist should include a focus on the condition of working and walking surfaces, housekeeping and other related hazards that may increase the risk of slips, trips and falls.

Consider the standards and regulations of OSHA and other agencies—

Following established regulations is an essential way to keep employees safe and your organization compliant. Be sure to review the areas these agencies are most likely to focus on as you build your checklist.

Ask for ideas from your safety committee—

Listen to member recommendations and concerns about the content of your checklists and frequency of walkthroughs.

Look to your safety programs—

If your safety program includes details such as proper tool storage or acceptable types of extension cords, these items should be on your checklist.

Think about the end goal—

When developing a checklist, think about what the end user will derive from the results. Consider the hazards you are attempting to prevent and plan the checklist to address those safety issues.

Request input from your employees—

As you build your checklist, ask employees and supervisors which areas they are most concerned about and make sure corresponding items appear on the checklist.

Consider all the senses—

Think about the dangers to hearing, touch, smell and sight that are present in your workplace environment. For example, check areas for high noise levels, noxious odors, and PPE accessibility and usage.

Review regularly—

Checklists aren't static. Review your list at least annually and update as necessary. If you are bringing in a new piece of equipment, it should be examined and a checklist on how to safely install it should be created. And from that point on, the equipment should appear in your safety walkthrough checklist.

Stick to a routine—

Set how often you perform a walkthrough safety inspection and stay on track. Work environments and hazards vary greatly, so set a frequency that makes sense for your organization, whether it be monthly, quarterly or annually. As you determine your schedule, consider the operational differences within your facility, regulatory agency requirements, how many shifts operate daily and the number of past accidents and near misses incurred.

Organize your checklist—

Make sure the inspection route follows the flow of your building layout and access to various areas.
Walkthrough Safety Inspection Checklist Template
While your company's walkthrough checklist will be unique to your situation and environment, use this sample list as a guide to jump start your checklist.
Names of Inspectors __________
Location Inspected __________
Date __________
Item to Check
Y, N or NA
Corrective Actions Taken
Date of Corrective Action
Environment
Floors are clean, dry (or marked if wet), free of trip hazards
Lighting is bright, no burned-out bulbs or dim areas
Signs are posted where required (near certain equipment, on bulletin boards, etc.)
Workers are wearing required PPE
Entrances, stairwells and stairs, and doorways are clear and well lit
Air quality is safe
Noise levels are low, or employees are wearing PPE
Temperature (not too hot or too cold)
Restrooms functioning and clean, free of hazards
Waste containers are emptied regularly
Furniture and office equipment are secure from tipping and cabinet doors are closed to prevent injuries/blocking of walkways
Electrical
Electrical cords are in good condition, kept away from walkways and other areas where they could become a tripping hazard; extension cords are used safely
Electrical tools are stored safely and in good condition
Electrical panels are accessible, and panels, breakers and junction boxes are completely enclosed
High voltage rooms and closets are locked
GFCIs are located in wet areas and are functioning correctly
Materials
Materials are safely stored
Storage areas are not crowded; shelves, racks and platforms not overloaded; heavier and awkward items are stored low enough to be safely moved from shelving
Ladders have non-slip surfaces; are stored, positioned and used correctly
Other handling equipment, such as forklifts, scissor lifts, bridge plates and carts, are in good condition and serviced as required; operators are trained
Hazardous Substances
Hazardous substances (chemicals, cleaning products, flammables, etc.) are stored safely, properly labeled, used according to guidelines and disposed of properly
Safety data sheets for products are available and accessible
Tools and Machinery
Tools are in good condition and stored properly between uses
Machines have guards and safety devices, start/stop switches are clearly labeled and lockout procedures are clearly marked
Procedures are clearly marked Manufacturers' manuals are available for tools and machines and users have had safety training on equipment use
Emergency Preparation
Fire extinguishers are functioning, accessible, tagged with an inspection date and are of sufficient number and correct type
Sprinkler heads have proper clearance beneath them
Working fire alarms and other communication systems are functioning
Fire doors are clear of debris
First aid kits are complete and stored in a known, accessible location
Emergency procedures are posted (fire evacuation procedures and other emergencies such as tornado warnings)
Eyewash or showers are in working order
Emergency exits are labeled, clear and accessible
Exterior
Walkways, parking lots, building steps and entrances are clear and safe from snow/ice/water and other debris
Walkways, curbs and parking lots are free of cracks and heaving that might be a slip/trip/fall hazard
All areas are well lit; signage indicates entrances and exits
Security
Emergency contact numbers (internal and external) are available
Safety measures are in place for anyone working alone
Visitor and contractor rules are clear; procedures are followed
Safety procedures are in place for anyone handling money
IT procedures for safety and security are clear to all employees; training and updates provided regularly
Training is in place for workplace violence and harassment