Loss Control Insights
Fall Protection 101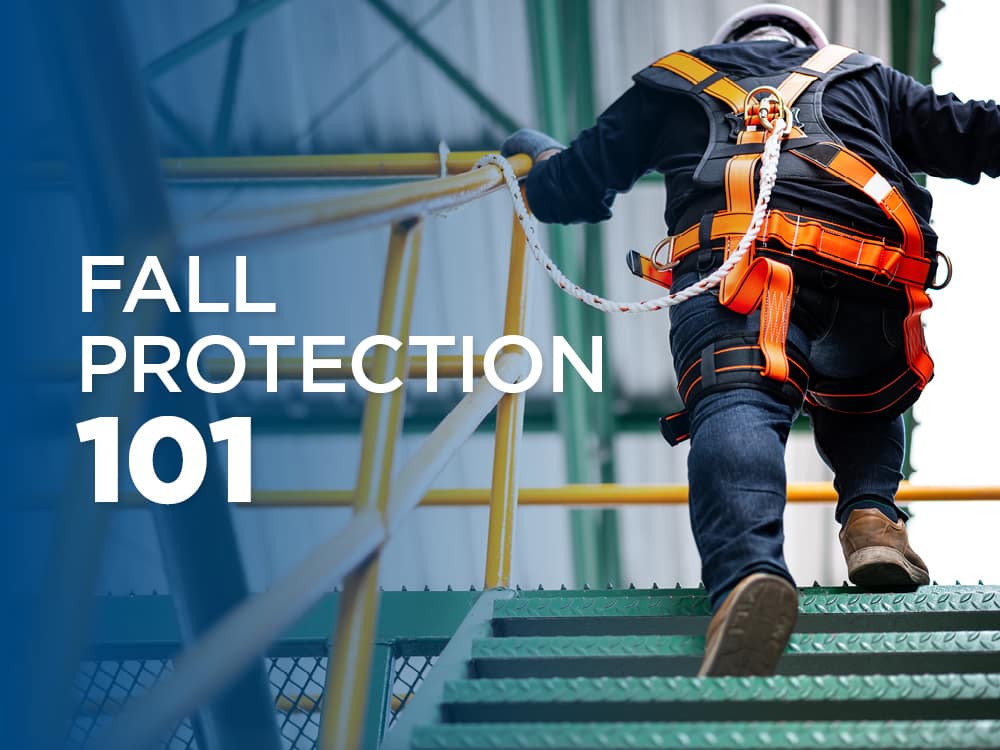 On-the-job falls are a big problem. How big? Well, according to OSHA, falls are part of the "fatal four" (along with fatalities caused by being struck by an object, electrocutions and caught-in or caught-between incidents). And in 2019, falls accounted for approximately 36.5% of all workplace deaths.
Unsurprisingly, falls were also among the top 10 most frequently cited OSHA standards in 2019. Construction fall protection topped the charts and fall protection training requirements landed at No. 8. Falling in between, at No. 3 and No. 6, were scaffolding and ladders—two areas where falls can be a result of poor protection and training.
Your company doesn't have to play a starring role in these statistics. EMC loss control experts explain how to keep your employees standing safe.
Three Ways to Prevent Falls from Heights
Implement systems that prevent or eliminate fall hazards.

This step provides the most reliable protection. Prevention techniques include guard rails, hole covers, access zoning and safety monitoring systems.

Start by examining the surroundings of every piece of equipment, all locations and situations where employees will be while performing job duties. Carefully look at all aspects and identify areas where falls seem likely.

During your examination, be sure to get input from the employees who work in these areas or who work with the equipment. They may have insights on where danger is lurking. For example, a maintenance worker may realize a gap in guard rail protection around equipment that workers who use the equipment overlooked.

While fall prevention systems have the largest upfront costs and require study and examination, they usually the best long-term option. Plus, with most fall prevention systems, you don�t have to train employees on special processes.

Take actions to provide fall restraints.

These protections are best used when it's difficult to provide fall prevention systems. For example, you cannot install a guardrail on a roof but work must still be done. Fall restraints prevent workers from getting to the hazard, such as the edge of the roof. They include measures like fixed lifelines with harnesses or lanyards that stop workers from taking a step too far.

But there are some downsides to fall restraints. Employees must have the required equipment on and connected correctly to remain safe. Before lifelines are installed or a lanyard chosen, a safety expert must calculate the necessary line length. Workers must be able to get to the areas where work is needed but not be able to overreach into dangerous areas.

According to ANSI Z359.3, there are slope limitations for certain restraints. For a worker to access areas beyond the system limits, other arrangements must be made. And, of course, workers using these components must know when, where and how to use them safely and effectively.

Backstop safety measures with fall arrest systems.

Fall arrest offers protection for employees who might fall from heights. These systems, which include retractable lifelines or full body harnesses with shock-absorbing lanyards, allow workers to access more locations. Workers must understand the equipment, wear the harness and lanyard correctly, and attach it to the proper anchor point. They must also be fully trained on the limitations of the fall protection systems and actions needed to protect themselves.
Keep Your Experts Involved
You can use these systems in fixed operation facilities as well as in dynamic settings, such as construction sites. No matter the scenario, it's critical to have oversight by competent personnel who know the systems well and can revisit processes frequently and tweak as needed. They must work with employees to plan and implement the best safety features for the worker, task and jobsite. Competent personnel will recognize that it's essential to keep on top of evolving dangers as well as new technology to protect workers.