Loss Control Insights
DOT Audits: Everything You Need to Know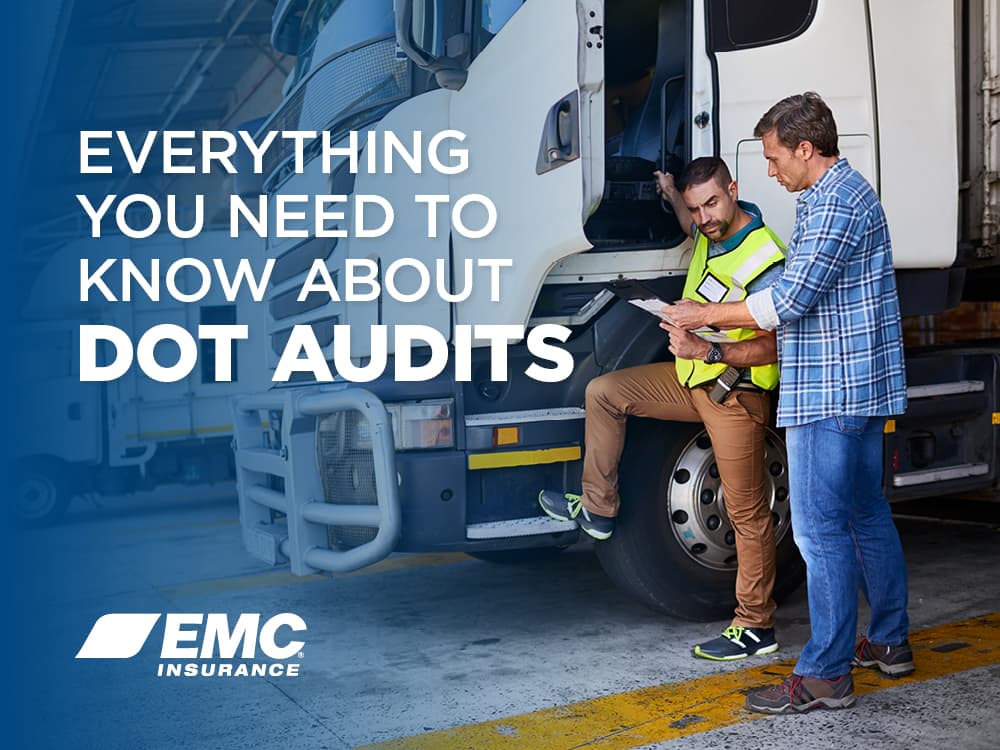 What is a DOT Audit?
A DOT audit checks to see of your fleet is in compliance with safety regulations from the Federal Motor Carrier Safety Administration (FMCSA).
Is my Fleet Covered Under FMCSA Regulations?
Companies in any industry that operate vehicles with a gross vehicle weight rating (GVWR) or combination weight rating (GCWR) of more than 10,000 pounds, if they are involved in interstate commerce, are covered. These regulations cover the employer, employees and vehicles used to transport across state lines.
What Are the Types of DOT Audits?
New Entrant Audit

Within the first 12 months of operation, any new motor carrier company must complete this audit. Companies must provide documentation to show they have established effective safety management controls of their drug and alcohol testing program, driver violations, and repair and inspection violations. It's important to start out on good footing, as poor performance during the entry period can put a company on the ongoing audit list.

Compliance Review

The DOT conducts compliance reviews of companies chosen at random, but they are often triggered by a high-profile crash or a crash causing a fatality. These audits undertake a broad assessment of the company's fleet operations including driver records, maintenance records, fuel receipts, hours of service (HOS) records, manifests, training records, and drug and alcohol testing programs.

Targeted Audit

The most frequent type of audit, the target audit, occurs if Compliance, Safety, Accountability (CSA) scores in any of the seven categories are high. When a company receives alerts in two or more categories, it gets placed on a DOT-monitored list–making it a candidate for a targeted audit. Alerts occur from violations including HOS noncompliance, broken lights, poor driver fitness, moving violations, controlled substances and poor vehicle maintenance.

These violations result from law enforcement stops, inspections at weigh stations or during a roadside inspection by a DOT inspector. These inspectors enter the company's DOT number to access the company's safety score, which helps them decide whether or not to continue with an audit. The driver must provide digital records, including service records, the manifest and HOS records, while the DOT staff inspects the vehicle, including brakes and lights.

HOS and broken light violations are assigned larger point values and add up quickly. In a worst-case scenario, certain violations can put the vehicle out of service and the vehicle is "grounded" until the discrepancy is resolved.
What Triggers a DOT Audit?
Compliance audits can happen at any time. However, the following may increase your chances of a DOT audit:
Accidents, especially if they result in an injury or fatality
A roadside inspection resulting in an "out-of-service" violation
Failing a New Entrant Safety Audit
Why Scores Matter
Company and driver scores are both important during a DOT audit. Company management must understand that steering clear of audits goes beyond the safety measures they put in place.
In 2010, the DOT expanded CSA responsibility to also include the driver's record. As a result, both the company and individual drivers hold safety scores, and their fates are entwined.
If you're doing everything right, a DOT audit is not a big deal. But with a few safety lapses and a poor driver or two, a DOT audit can ruin a company. That's why it's critical for companies to hire drivers with a good record. And it's equally important for drivers to seek out companies in good standing.
How to Avoid Problems During a DOT Audit
Employers and employees of vehicles subject to DOT regulations must recognize that these safety regulations are in the best interest of the company, the driver and the public. To avoid audit problems, embrace the practices that lead to a low CSA score.
These practices also keep your vehicles in tip-top condition, your drivers safe and healthy, and your insurance rates lower. Insurance underwriters have started to use CSA scores to determine whether to provide insurance and help set rates.
To avoid issues, take these steps long before an audit occurs:
Implement effective safety management controls
Practice good recordkeeping
Practice good vehicle maintenance (brakes, lights, tires, etc.)
Maintain Driver Qualification Files (DQF) with proper information
Hire good drivers