Loss Control Insights
8 Tips for Finding a Fire Sprinkler Contractor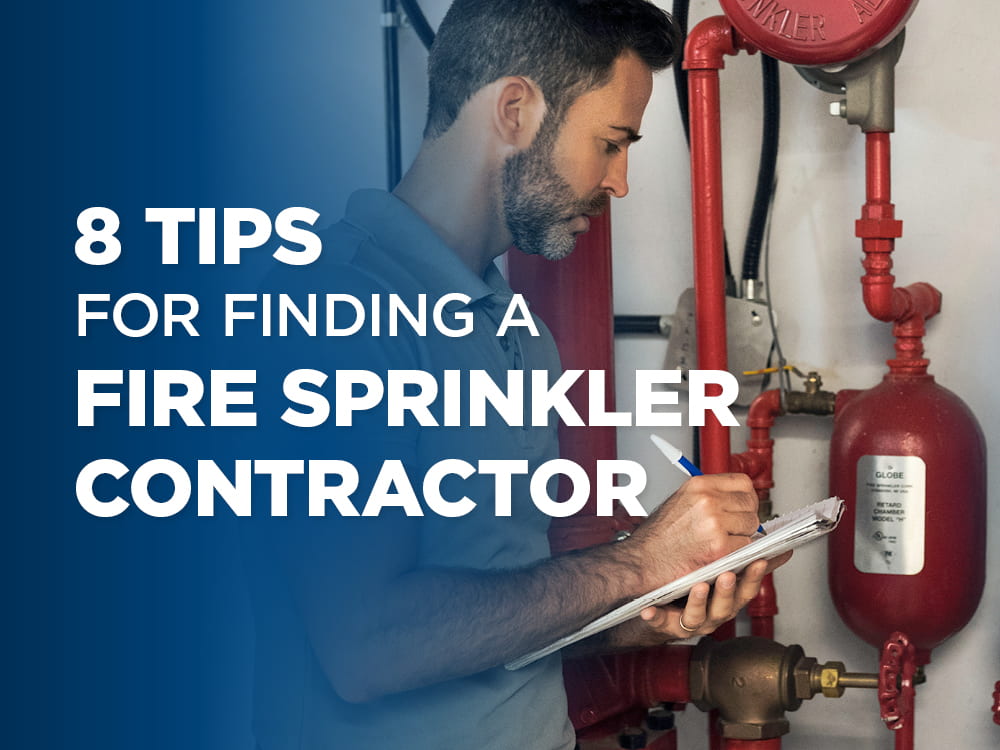 Fire sprinkler systems help save lives and property. According to the National Fire Protection Association (NFPA), damage to facilities is reduced between 35% and 70%, and flame damage is kept in the room of origin in 97% of sprinklered buildings versus 84% in buildings without sprinkler systems.
If your building doesn't currently have a sprinkler system, hopefully the statistics above will inspire you to consider an installation. And if you already have a system, you might be searching for someone to provide inspections and servicing. So, how do you find a reputable sprinkler contractor to do the job right?
Sandy Smith, EMC's Assistant VP – Policyholder Service, recommends conducting basic research to find the best contractor for your needs. Sandy's most important research steps include:
Find a dedicated sprinkler system company.

Use this company to manage your purchase, design and installation. Sandy explains, "There are plumbers who know the basics and may offer to do the job for less than a professional installer. Don't go down that path. For something as critical as a sprinkler system, you need a professional who keeps up on products available, regulations and the art of installation."

Only get bids from licensed installers.

Because each state* has different requirements for licensing sprinkler installers, you'll need to be sure any company you get bids from is licensed to do business in your state. In many states, the State Fire Marshall tracks certifications, making that office a good resource.

Look for national certifications.

Several organizations, such as the National Fire Sprinkler Association (NFSA) and NFPA, offer national certifications and continuing education opportunities. Look to see if the sprinkler company or its system designers and installers have any special certifications.

NFSA provides members with training and valuable information like product recalls. The association's website also includes a searchable directory of certified companies.

The NFPA trains and certifies professionals in a variety of topics relating to fire safety. This organization also provides online training courses to certify professionals for individual state licensing. Find a list of NFPA codes relating to standards for sprinkler systems and other fire suppression systems on the NFPA site.

Ask questions.

Most fire sprinkler installation companies use products from multiple manufacturers. Ask each company you are considering what they recommend for your job and why they are making that recommendation. Sandy explains, "Most installation companies aren't tied to a manufacturer and there are multiple specialty companies. The company you hire should be able to explain why they recommend a specific sprinkler system." In addition to application needs, an installation company may recommend a system based on ease of getting replacement parts or the warehouse size in your area.

Ask for references.

Any company you consider should be willing to share contact information of previous customers and clients. Be sure to follow up and check in with these references.

Get background information.

Research how long the company has been in business in your area. Also, ask how long their system designers and technicians have been on staff and in the field.

Check your local Better Business Bureau.

This is a great resource to find complaints against the company you are considering and check online evaluations from consumers in your area.

Get proof of insurance and bonding.

You should do this with any company you plan to conduct business with, and a fire sprinkler installation company is no exception.
And if you're renting or purchasing a building with an existing sprinkler system, make sure you have the sprinkler system checked before you sign the lease or purchase agreement. Sandy recalls a small business owner who rented a location that appeared to have a sprinkler system in the office. However, on closer inspection, they discovered the sprinkler heads weren't connected to any piping or protective system. "This could have been a disaster if a fire had started in the office," Sandy says.
*Kansas has no licensing requirements.