Loss Control Insights
What Qualifies as "OSHA-certified" Training?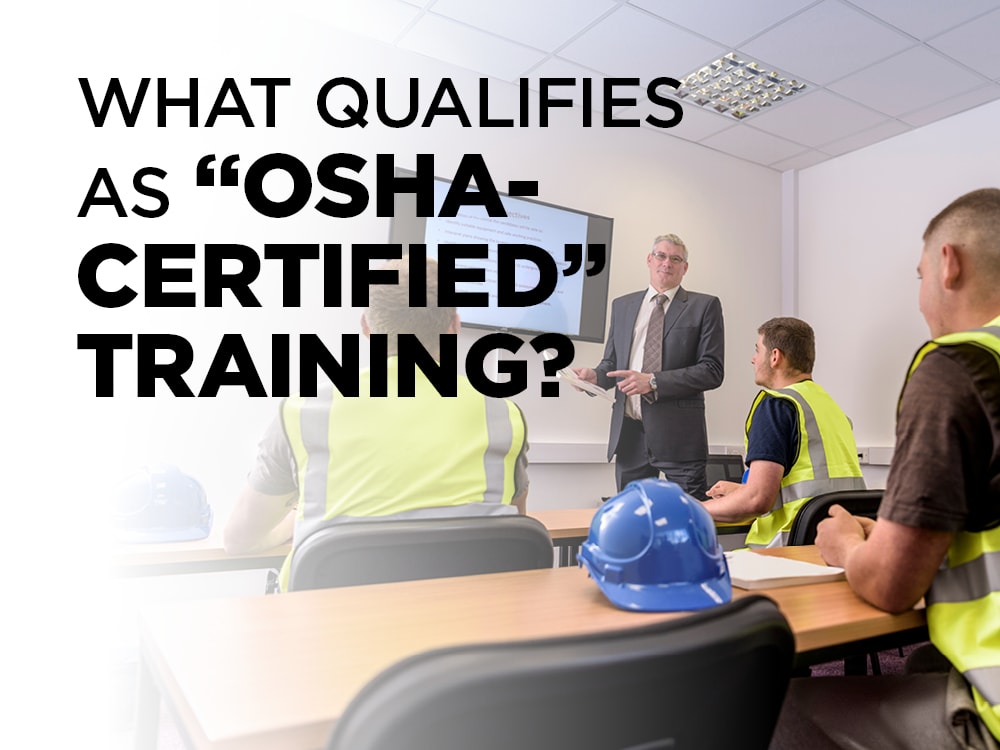 Jim Janak, EMC Risk Improvement Manager, frequently gets calls asking if EMC provides OSHA-certified training, either in-person or through videos and other materials. Of course, company managers want to do everything they can to provide proper training, avoid getting fined and keep their employees safe. However, certification is not something that EMC, or other trainers, can provide.
OSHA-Certified Training Explained
Jim explains that this question is a misperception that many companies have—and rightly so. It is confusing for several reasons. First, many safety training companies advertise their services as "OSHA-certified" when what they really mean is that they provide training that meets OSHA standards.
A second cause for confusion is the fact that attendees receive a certificate after attending OSHA-10 or OSHA-30 training programs for the construction industry. But "certificate" isn't the same as "certification." These words are very similar, so it's natural to assume they mean the same thing. Jim adds that when a job posting includes a phrase about requiring certification for OSHA-10 or OSHA-30, it is usually shorthand for the course being a job prerequisite.
These outreach courses include details on common job-related hazards, worker rights and responsibilities, and how to file an OSHA complaint. Find answers to questions about these courses in this OSHA FAQ and general details in this program overview.
These outreach programs serve as an orientation to safety and health for workers and don't meet any particular OSHA standards. However, some states, employers, unions and organizations require the training.
And while these outreach training programs provide a valuable introduction to general workplace safety and OSHA, they aren't a cure-all. To understand OSHA requirements for hazards present in your workplace, Jim urges you to focus your training on topics related to your specific safety needs.
The Best Training Scenario
When policyholders ask Jim if he or another EMC expert can provide training on a topic like OSHA regulations and safety on forklifts, here's what he tells them:
Do I understand forklifts? Yes, I do.
Do I know the OSHA standard and the pertinent regulations? Yes, I do.
Do I know what is required to meet the OSHA standard? Yes, I do.
However, Jim explains, "not once, in my 52 years, have I ever sat on a forklift, operated a forklift or maintained a forklift."
So, does he think he would be the best person to train your forklift operators? Definitely not. According to Jim, "I don't know your specific equipment, the maintenance routine of your forklifts or what types of loads your forklift operators handle. And I don't know how your warehouse is set up."
Instead, he suggests you use your best and most experienced forklift operators as your starting point when developing employee training. "Those workers have experience in the details that are important in your workplace. They know your setup and equipment like the back of their hand. And they most likely have rapport with and the admiration of their coworkers." Plus, your trusted inhouse employees can train new employees and offer focused refresher training whenever it is needed. This allows you to quickly and cost effectively train employees.
When you work with these inhouse experts, EMC risk improvement representatives can help fill in the gaps with the finer points of OSHA regulations. They can also direct you to EMC's online videos, quizzes, print materials and more. Jim adds, "I guarantee that with a bit of guidance and education from us, your employees can provide better and more comprehensive training regarding your specific hazards than we, or any 'OSHA-certified' trainer, ever could."
For More Information
Find resources on the EMC Loss Control website, and get in touch with your EMC agent or contact EMC Loss Control for assistance.