Loss Control Insights
5 Key Habits of a Safety Conscious Company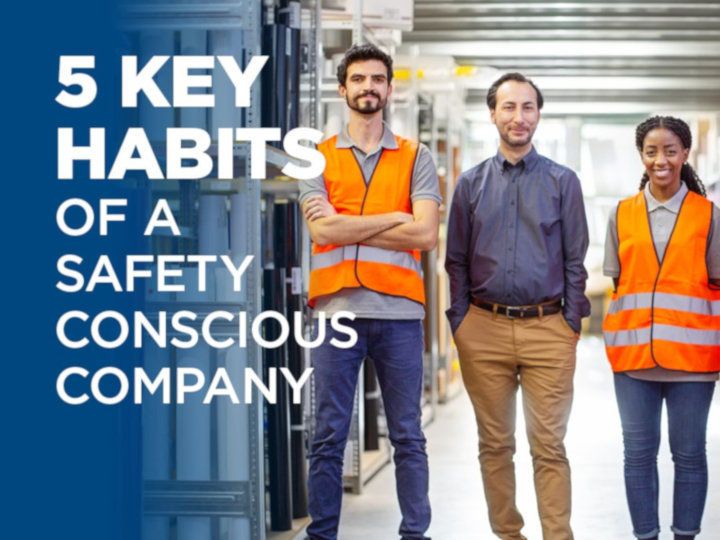 Safety in the workplace isn't just a matter telling employees to behave safely. It's much more complex. It involves changing old habits, developing a safety program, identifying responsibilities, and creating checklists for equipment, facility and fleet tasks. Other key components of safety include ongoing training and testing efforts, reviewing accident data (including near misses), keeping up on housekeeping and ensuring sufficient safety budgets.
So how do you determine which tasks—or habits—are most critical to safety in your workplace? Andy Benson, EMC Senior Risk Improvement Representative, suggests five key habits that are common among companies with impressive safety records. If your organization practices each of these, you'll be primed for safety success.
Get Commitment From Management.

"What's important to the boss becomes important to employees," Andy says. Manager buy-in can be shown in a number of ways, such as having a safety budget, developing a safety mission statement and assigning accountability to a safety point person. Andy warns that employees can see through a fake commitment, "When employees see that actions don't follow the stated priorities, they'll play along, but only when it's convenient. If rules aren't enforced, they learn that the policies are primarily for show."

Formalize Policies.

Developing written safety policies is a key step. These rules guide all company actions, including hiring, training, operating procedures, enforcement and disciplinary action. One important practice is integrating safety into hiring and onboarding discussions so new hires know the importance from day one. Be sure to reinforce safety concepts and get each employee to commit to following the rules. These rules must also be enforced equally among employees—even management.

Andy recommends using regulatory compliance as a starting point when writing your own policies, as these procedures are critical during an OSHA visit or legal review.

Focus on Loss Drivers.

Knowing your weak areas can help guide you as you consider your next steps. Look beyond regulatory requirements and focus on industry trends as well as your company history. EMC's Loss Analysis can help. Additionally, accident investigations can find the root cause of incidents, even near-misses.

A loss-driver focus often involves less regulated items, such as slips and falls or ergonomic issues. This helps take safety beyond the required items. Focusing on loss drivers can help lower your experience modification factor (also known as an experience mod). This can help offset the cost of new initiatives.

Use Medical Management Tools.

Take advantage of medical management tools like select or preferred providers, return-to-work programs, drug-free policies and wellness activities. These can help you hire successfully, mitigate incidents, transition workers safely and proactively strengthen your workforce.

Something as commonplace as a job description can be a strategic tool. For example, if it's necessary for the employee to routinely lift 32-pound boxes from the floor, that detail should be written into the job description. Specific requirements can be verified during hiring and return-to-work processes. They also build medical trust with clinics, physicians and the EMC OnCall Nurse program. This is an advantage because medical professionals familiar with your organization can help determine appropriate return-to-work opportunities instead of simply setting restrictions.

Incorporate Safety Into Your Culture.

Safety efforts are most successful when they are ongoing and proactive. A handbook on a shelf doesn't create a culture. In other words, keep at it and don't ignore issues that arise. Consider scheduling monthly, weekly or even daily safety activities. These can be as simple as open discussions and posters or more involved tasks like complex training, competitions, facility audits, behavioral assessments and worker observations.
There are plenty of opportunities to infuse safety into your culture, such as developing preventative maintenance, creating long-range roof or HVAC plans, reviewing how guests enter your building and observing housekeeping tasks. But long-term success involves keeping an open mind and involving your employees in a positive and natural way. You never know who may have good suggestion that will solve a safety problems.
Andy's final tip is to remember that you don't need to create everything from scratch. Refer to the EMC Loss Control site for training videos, program templates, safety talks, assessment checklists, signs and posters, and more. Contact your agent or EMC Loss Control experts to discuss important safety topics.