Loss Control Insights
How Floor Treatments Can Prevent Slips, Trips and Falls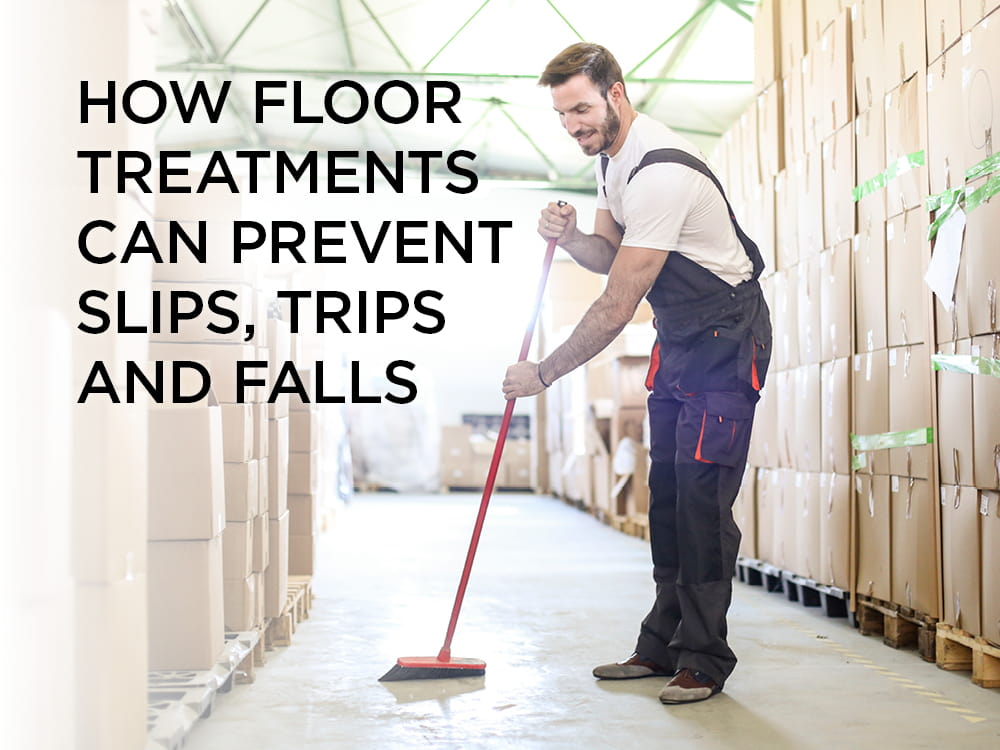 Slips, trips and falls make up about 26% of injuries that cause workers to miss work, according to the Bureau of Labor and Statistics. And while there are many ways for those injuries to occur—from poorly lit work areas to cluttered walkways—keeping floors slip-, trip- and fall-resistant is a key factor you can control … starting now!
Katie Black, EMC Risk Improvement Engineer, shares her top equipment suggestions and cleaning tips—including an EMC-tested product.
Cleaning Techniques
Stop dirt in its tracks

Provide floor mats at all building entrances to trap grit before it gets brought inside. To go a step further, Katie suggests regularly sweeping or using a walk-behind power sweeper outside your doors. Focus on sidewalks, outside entrances, parking lots, playgrounds and any other areas where sand or dirt can cling to shoes.
Bonus: Preventive work like this can also extend the life of your flooring, meaning you won't have to strip and refinish as frequently.

Clean up grease and cooking spray

Slippery floors are often a result of splattered or dripped grease during the cooking and cleanup process. A less-recognized cause of slippery floors is an overspray of cooking spray. Monitor floors and clean them frequently to reduce slips, trips and falls.
In kitchens, you may also want to consider using cooking spray in a designated area. This will make it easier to identify critical locations for cleaning. In manufacturing facilities that use oily or greasy sprays, confine overspray with curtains or walls.

Follow manufacturers' instructions

To ensure best floor care and employee safety, use equipment in the way it's intended and cleaning products and concentrations as recommended. This includes giving cleaners the correct amount of time to break down dirt and contaminants before rinsing away, changing cleaning solution when it's dirty, and thoroughly rinsing or removing all cleaner residue from the floor surface.

Reconsider your refinishing options

Wet chemical stripping is a very slippery process. When refinishing is required, consider alternatives such as deep scrubbing, recoating or dry stripping.
Equipment Recommendations
Mops

Microfiber mops use less water and chemicals than other mop systems. They also contain dust better and are ergonomically safer than a traditional mop.
Floor scrubbers and floor machines EMC recommends companies move to these machines. They clean floors more effectively than a traditional mop, which tends to simply move the debris around. Floor machines are also a good choice for stripping, which can get messy and slippery very quickly. And both pieces of equipment are more ergonomically safe than traditional equipment used for similar tasks.

Wet floor signs

While few would label signs as equipment, these accessories are critical for safety when a floor is wet. It's important to take the signs down as soon as the floor has dried so employees don't get complacent.
Tested Product
There are many products that protect floors and clean thoroughly. However, EMC has tested and found SlipDoctors Stone Grip Non-Slip Tile Treatment for Porcelain Tiles, Ceramic Tiles & Stone Floors worthwhile. Katie says, "We have seen it most commonly used in a kitchen's dishwashing area where soap tends to build up on a floor's surface."
Please note all suggestions are based on Katie's personal experience with EMC-insured companies and schools. EMC does not sell SlipDoctors Stone Grip Non-Slip Tile Treatment for Porcelain Tiles, Ceramic Tiles & Stone Floors and does not have any connection to the manufacturer or its distributors.
Call on EMC
Refer to the EMC website. A few resources include a Safety Brief on mats, rugs and spills; Tech Sheet on floor maintenance and slip prevention; Slip and Fall Risk Assessment; and many others here.
Contact your EMC representative or email EMC Loss Control for more details, to answer questions or for assistance in setting up a floor cleaning program.