Loss Control Insights
Flash Flood Basics: Protecting Your Business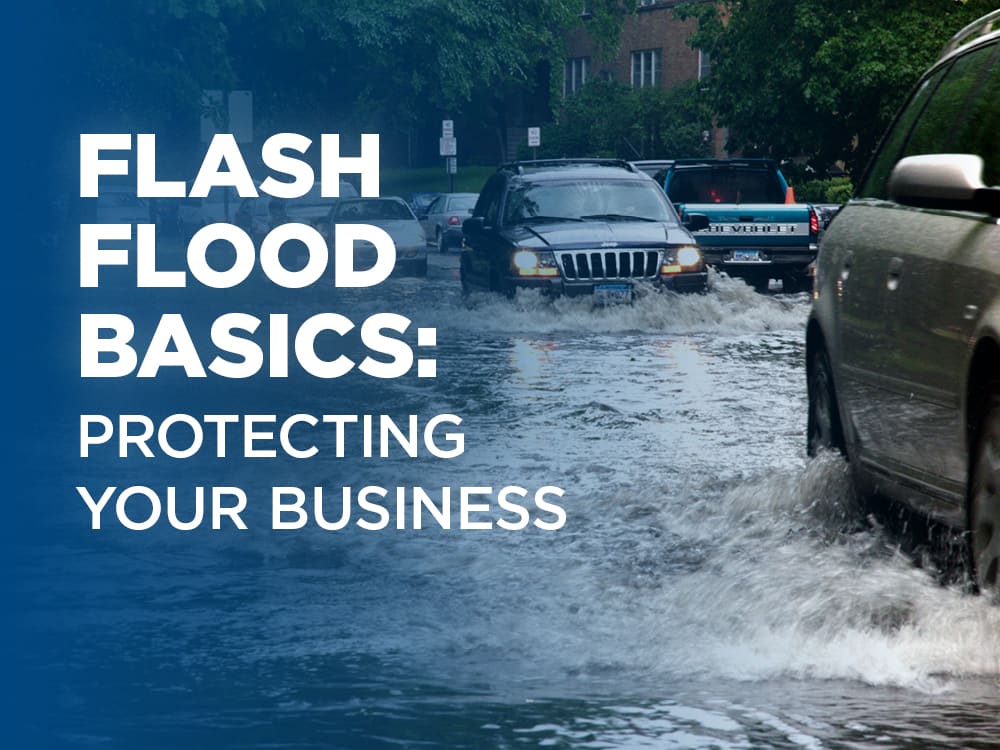 When you think about life-threatening weather conditions, what comes to mind … blizzards … hurricanes … tornadoes? While these dangerous weather events are certainly top contenders, flooding is the No. 2 cause of weather-related deaths in the U.S. (following excessive heat), according to the National Oceanic and Atmospheric Administration.
What is a Flash Flood?
Slow-moving or frequent thunderstorms, as well as the heavy rains that accompany hurricanes and tropical storms, can lead to flash floods. As the name implies, flash floods develop incredibly quickly, most often within a 6-hour time frame of the storm that started the process. They are also unpredictable and extremely dangerous—the rushing water is powerful and unstoppable, rapidly rising 30 feet or more.
What Areas of Prone to Flash Floods?
These floods may only last a few hours—or even just minutes—the damage caused can change communities, businesses and lives for years to come. Flash floods are capable of destroying bridges and dams, uprooting trees and causing mudslides. It's important to prepare for worst-case scenarios when there is a threat of flash flooding, especially if your business:
is located near a river or stream
has experienced any type of flooding in the past
is located near low spots, ditches or other at-risk areas
Even if the above statements do not apply to your business, it's possible for huge amounts of water to threaten streets and roads that haven't flooded in the past. And, with torrential downpours becoming more commonplace in many areas, new threats may develop in places you may not expect. Flash floods can occur even if it's not raining in the area, as water can tumble down hills, through canyons and dry creek beds.
Flash Flood Watch vs. Flash Flood Warning
It's likely that the National Weather Service will offer some guidance in advance—heed the advice the Service gives through radio/TV warnings, weather radios and online sources. It's important to know what each level of concern means:
A flood advisory is the lowest level of warning. It simply means that you should be aware that a weather event may occur. It's not expected that flooding will happen, but there's a possibility of danger.
A flood watch tells you to be prepared, as conditions are favorable for hazardous weather that may cause flooding.
A flood warning means you need to take action as flooding is either happening now or is imminent.
A flash flood warning is also a call to action. If you are in an area where flooding may occur, you should immediately move to higher ground. There is danger to property and lives.
Keep in mind that flash floods are unpredictable, so these notices and warnings can't completely predict where or when a problem may arise.
How to Stay Safe During a Flash Flood
During an emergency, your first concern must be your employees. Plan for their safety and be sure they know how to react to a flash flood. They must understand these safety rules:
Head for high ground. If a flood is imminent, sound the alarm and let all outdoor workers know they must head to safety. If you have staff who work in a below-ground level, or on ground floor, they should move up a story or two.
Recognize that 6 inches of moving flood water can knock down a person, while a 2-foot-deep flood water area can wash away a car. While the relatively shallow water may look safe, it's not. Don't allow staff to head out if there is the possibility of a water emergency.
If employees are driving when flooding is possible, make sure they know all areas of potential danger, such as low points, on their route. Suggest they take alternate routes to avoid these dangers.
If employees are in a vehicle that stalls in a lower level of water, they should leave immediately and seek higher ground. Water may engulf the vehicle and sweep occupants away.
Don't let your employees drive away from the office after dark if flooding is possible, as it's harder to see danger.
Electric lines may be downed during a flood. Make sure employees know the dangers of getting close to a downed line. If an energized line falls on their vehicle, they should stay in the vehicle and call the utility for help.
Keeping Your Business Afloat
Know your site

Are you in a flood plain or an area that tends to wash during heavy rains? When driving to and from your site, are there spots where water has washed out streets or caused any flooding problems in the past? During more frequent heavy downpours have you observed that areas of flooding or washing out have changed? If so, be more aware of potential dangers and communicate them to your employees.

Keep your eyes and ears on the forecast

Whether you use a weather radio, phone apps or other method to keep tabs on the weather, be vigilant when any type of watch or alert is issued. Keep your employees in the loop and prepare for the possibility of an emergency.

Reconsider work area configurations

Do you house your sensitive computer connections, electrical boxes and expensive equipment in the basement or ground level areas in your buildings? If your building is in any danger from flooding, it may be time to reconfigure those locations as you won't have time to move any critical equipment when a flash flood hits. For warehouse functions, is it possible to leave bottom shelves empty and move stock up a notch or two? Can some vital machines be raised above floor level and still function? Examine all critical functions and supplies and consider what would happen if a flash flood pours in unexpectedly.

Backup plans

Every company needs a strong business continuity, off-site storage and work plan for any emergency that disables their worksite. While a flash flood may not keep your staff from working for long, it's possible that water damage and mud may destroy your building or disable vital portions of your system. Having a contingency plan and records you can access remotely allows you to keep in touch with employees, your insurance company, cleaning services and other key assistance.