Loss Control Insights
Your Hard Hat Questions … Answered!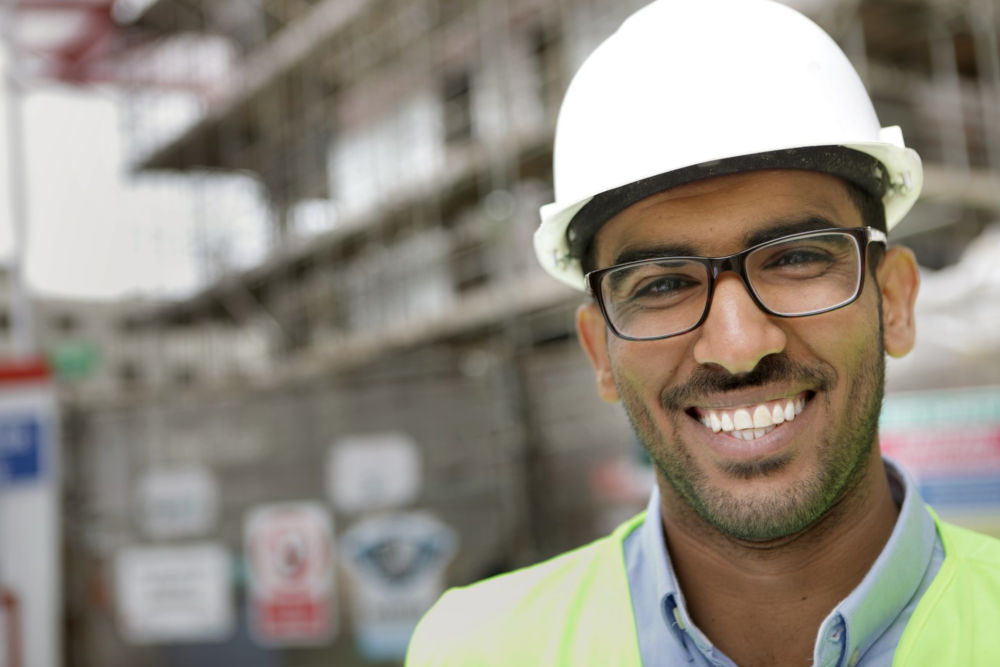 Protecting workers from head injuries is a key element of any safety program, but it's especially important and prevalent in the construction industry. Although hard hats are a routine personal protective equipment (PPE), questions about them persist. Below are answers to some of the questions EMC hears most often.
Q: When should I wear a hard hat?
A: In OSHA 29 CFR 1910.135 it states that hard hats are required when any of the following conditions are present in the work area:
Objects may fall from above and hit an employee on the head
Employees may bump their heads on objects such as pipes or beams
There is a danger of head contact with electrical hazards
Additionally, hard hats can help protect workers from splashes, rain, high heat and ultraviolet light.
Q: What do the different colors of hard hats mean?

A: Color assignments can differ from site to site, but these color uses are most common:
White for supervisors, foremen and engineers
Brown for welders and those working with high heat
Green for safety inspectors and occasionally new workers
Yellow for earth movers and general workers
Blue for carpenters, technical workers and temp workers
Orange for road crew workers, visitors and sometimes new employees
Additionally, some employees choose to wear unusual colors, such as pink, for visibility.
Q: What are hard hat ratings?
A: There are two types and several classes of ANSI ratings. Type I protects only the top of the head, while Type II protects the top and sides of the head. Class C hats don't provide protection from electrical hazards. Class G helmets protect against low-voltage conductors (up to 2,200 volts), and Class E hats are tested at 20,000 volts.
Q: What are the ANSI testing requirements?
A: ANSI standard Z89.1 requires flammability, force transmission, apex penetration and electrical insulation testing for all Type I and Type II hats. In addition, Type II hats require impact energy attenuation, off-center penetration and chin-strap tests.
Some manufacturers run additional tests including high visibility, low temperature and wearing the hat backward.
There are permanent labels or markings on hard hats, letting you know the type, class and testing completed.
Q: Do hard hats expire?
A: Yes, and a recommended replacement date is stamped on the hat. However, rely on that date loosely since a hard hat's service life starts when it is placed in service. For example, if the hat sat in a warehouse for a year before you purchased it, the expiration date will be off. Keep your purchase records to prove how long it's been in use.
On the other hand, heavy exposures to sun, extreme temperatures, chemicals and hard daily use means you'll need to replace your hard hat much sooner. You'll need to replace your hat immediately if it takes a heavy impact or is dropped more than 8-10 feet. You should also replace your hard hat if you see signs of loss of surface gloss, chalking, flaking, cracks, holes or dents. Your suspension webbing should be replaced if it is cracked, torn or frayed.
Q. Can I mix and match different suspensions and shells?
A. Never attempt to interchange suspensions from one hat manufacturer to another. Use only the appropriate replacement parts from the original manufacturer.
Q. Can I put anything in the space between the hard hat shell and suspension?
A. No, this space is needed when the shell and suspension absorbs the energy of an impact. Items in this space can transmit large forces to the head and neck, resulting in serious injury or death.
Q: How should a hard hat fit?
A: When you adjust the harness suspension, there should be approximately 1-1¼ inches clearance between your head and the hat.
Q: Can I wear my hard hat backward?
A: This depends on the manufacturer of your hard hat. Some brands are designed so the hat can be worn backward, while others are not. Always check the manufacturer's label to be sure a hard hat is safe to wear backward.
Q: What can I wear underneath my hard hat?
Headgear such as bandanas and winter liners that do not contain metal parts can be used if they are worn smoothly on the top of the head and don't affect the hat's suspension. Baseball-style caps should not be worn as they interfere with the ability of the suspension to work properly during an impact.
Q: Can I place stickers on my hard hat or paint my hard hat?
A: It depends. ANSI and OSHA have differing standards on this issue. ANSI does not allow stickers on hard hats, but OSHA has not adopted this standard. OSHA's response says that applying stickers or painting hard hats "must be performed in accordance with the manufacturer's instructions, unless the employer can demonstrate that the altered helmet is as effective and protective."
Many companies use stickers on hard hats to show employee training levels and indicate if a worker is qualified to be on the current job site. From a safety standpoint, stickers and painting aren't good ideas. Stickers can cover holes and cracks while paint chemicals can degrade the shell.
Q: How do I clean my hard hat?
A: Mild soap and warm water is the best way to clean the hard hat and suspension. Do not use abrasives or solvents as they may weaken the shell or suspension. Be sure to thoroughly rinse and wipe or air dry the hard hat after washing. If materials such as tar and sap do not come off with mild soap and water, replace the component.
Q: How should I store my hard hat?
Hard hats should be stored in a clean area that is protected from contamination, damage, dirt, debris, product distortion, high heat and direct sunlight.
An Important Reminder
A hard hat does not offer total protection—you need to be aware of what is going on around you. Set up "no-go" zones to avoid employee exposure to overhead hazards. You should also reinforce job site dangers during employee training, stressing that a hard hat can't prevent all injuries caused by falling objects. There is only a limited amount of protection a good hard hat can provide.
Additional Resources
How to Select the Right Hard Hat
EMC Safety Brief: Personal Protective Equipment, Hard Hats