Loss Control Insights
15 Tips to Prevent Winter Slip and Fall Hazards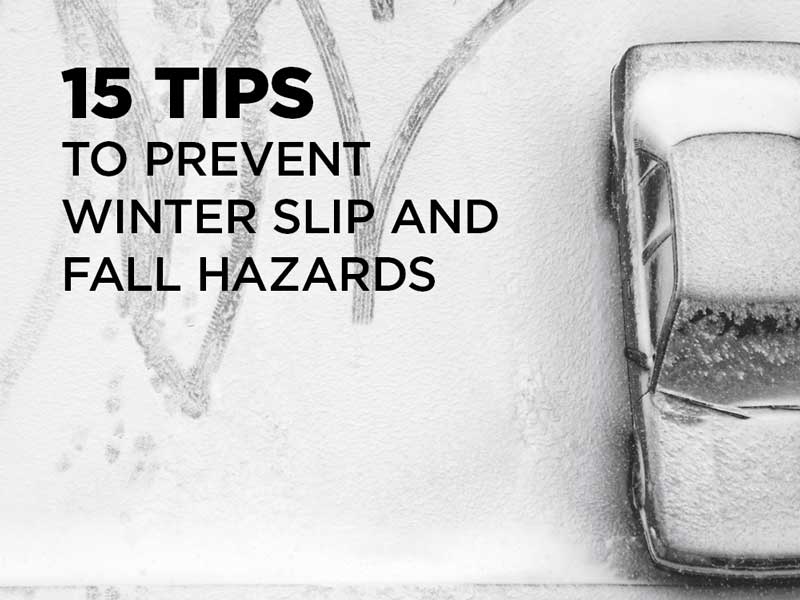 It should come as no surprise that injuries from slips, trips and falls peak in January and February. Data show that annually, 28% of workers' compensation injuries and 25% of general liability injuries involve ice and snow.
Even though the worst of winter is nearly over (hopefully), you must still ensure your parking lots and sidewalks stay safe for the remainder of the season. You can make notes during these last weeks of winter about projects and system changes to help make next winter even safer.
In addition, the days between winter and spring pose dangers, so don't let your guard down too early.
Katie Black, EMC Risk Improvement Engineer, offers steps you can take now and actions for later to keep your employees and visitors safe from ice and snow on your property.
Keep an Eye on Freeze-Thaw Cycles
On sunny late winter and early spring days, a lot of thawing occurs. When that happens, overnight refreezing creates a slick surface just in time for employees and visitors to slip and fall on their way into the building in the morning. Apply ice melt and put up cones or signs to warn walkers of any hazardous areas well before the first arrivals each morning.
Watch Temperature Drops Closely
Recognizing that sidewalk and parking lot surfaces can be colder than the air temperature. Also, work from the assumption that traction is worse at temperatures hovering at freezing than at lower temperatures. Treat surfaces accordingly.
Be Wary of Fresh Snow
It may hide a layer of ice which can be extra dangerous since it's not visible.
Take Photos and Record Any Problems
For example, reevaluate where you are piling snow, especially as melting begins. Where is water flowing during the melt? Will it be dangerous as it refreezes each evening? Are there any areas where better drainage may be needed? Any low spots on sidewalks or in lots that need to be raised before next winter?
Remove any leaves, twigs or other barriers as soon as possible to keep water flowing during the melt.
Look For Any Shortcuts
People often create their own paths to building entrances during inclement weather. Be sure you have them prepped for safety or blocked off to avoid accidents.
Make Sure your Lighting is Adequate
Double check that your automatic lights come on early enough and stay on long enough to light the way for employees working late or arriving early.
Other Things
Check any trees close to your parking lots or building. If they've experienced a heavy load of ice or snow this winter, they may crack and fall. Remove hazardous branches immediately. Keep snow away from fire hydrants and gas meters.
Action Steps to Plan for Next Winter
Think ahead so you are prepared for an unexpected early snow. Stock up on de-icing and anti-icing products, have plenty of employee safety equipment such as reflective vests and ice cleats on hand, and make sure your snow-moving equipment is serviced and ready to go. Consider investing in a power brush for snow removal, as this tool leaves a cleaner and safer walking surface.
Make sure your contracts with snow-removal companies are up to date well before that first snow hits. Have written agreements in place that cover details such as: how soon after a snowfall the company will clean your lots and sidewalks, how much snow must fall before they arrive and any other details that must be negotiated.
If piled snow has caused visibility or drainage problems this year, look at other options. Consider having snow removed from your property or professionally melted by a snow management company.
Check and change lights in your outdoor security lighting banks before winter arrives. While you may be able to change lights this winter, the cold and ice may keep you from easily reaching dim or burned out lights. Make sure your light timers align with the shorter days and change in daylight savings time. Your lights should shine on ice (including black ice), potholes and any other obstacles all winter long.
Keep an eye on any cracks, heaves, sink holes or potholes that develop. Stay on top of maintenance so you have smooth, level surfaces for easier shoveling and plowing.
Take care of any water drainage issues to ensure that melting snow drains away from your sidewalks and ramps, downspouts and roofs, and parking lot and building entrances. This may involve bringing in professionals to offer suggestions on water management.