Loss Control Insights
N95 Respirators: What You Need to Know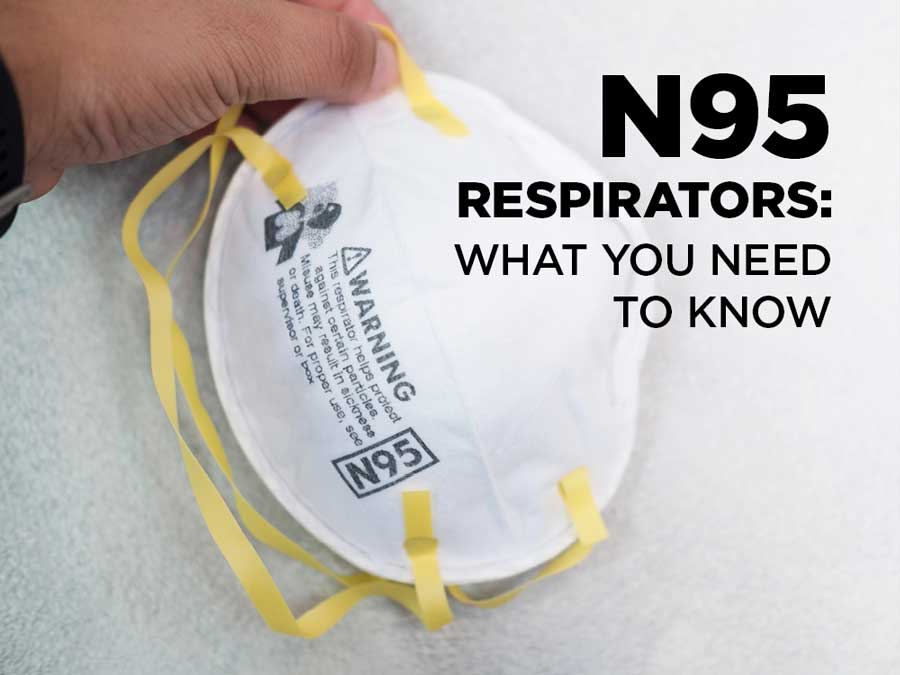 Confusion about N95 respirators and the requirements that relate to them is common. To clarify what these respirators can and can't do, and to help your employees manage the use of these masks, Kelsie Boorn, EMC Senior Industrial Hygienist, answers some frequently asked questions.
Q: Why should my company be concerned about respirator use?
A: Your primary objective should be keeping your employees safe. If wearing a respirator will protect your employees, you'll want to ensure you have a program in place that includes respirator use.
Another reason to understand and comply with respirator rules is the fact that for many years, respiratory protection is No. 4 on the list of most cited OSHA violations. In 2018, there were more than 3,100 written citations relating to that rule.
Q: What is an N95 respirator, and in what circumstances might my employees use one?
A: An N95 is a disposable mask, or respirator, that will protect employees from breathing in small particles, such as dust or mold, but is not resistant to oil. These masks fit closely and should cover the wearer's nose and mouth. The respirators are designed to keep out at least 95% of particles present in the air in the workplace.
Technically, the N95 is one of several types of 'half-mask filtering facepiece dust masks.' This entire respiratory class is often referred to as N95. Other types have higher efficiencies (filter 99% or 99.7% of particles) while others can be somewhat resistant to oil (R95) or strongly resistant to oil (P95).
While you might require an N95 to keep employees safe from inhaling or ingesting particles that are present in your workplace, understand that a standard N95 is not the appropriate mask to protect against gases, fumes or asbestos particles.
However, there are valve options for hot and humid work environments, as well as options for welding applications, ozone protection, and nuisance levels of acid gases and organic vapors. The label on the mask should help you determine if it's the right protection for your circumstances.
Q: If our company requires workers to wear an N95 respirator, what information must we provide to employees?
A: When you require employees to wear an N95 (or another respirator type) you must:
Have a written respirator program in place that covers specific procedures for your workplace. You need to include: the respirator selection process, medical evaluations of employees who use the respirators, how to fit and test for tightness, procedures for proper use, how and when to dispose of used masks, and a way to evaluate the program's effectiveness.
Have a training program that covers why the N95 respirator must be worn, and how to fit, put on and remove it. The video below demonstrates the basics.
Q: What if our company doesn't require the use of an N95 respirator, but some employees choose to wear them anyway?
A: Some employees choose to wear respirators because of allergies or a sensitivity to dust or other pollutants, even if the particle levels do not make respirators a necessity. In that case, there are only two company requirements: determine that the masks don't pose a hazard to the employee choosing to wear it, and provide the employee with the information found in Appendix D to 1910.134 in OSHA's Respiratory Standard.
You may want to consider having the employee sign a form indicating that they have read the Appendix details. You can store this form to prove you have informed the employee about important information on safely wearing a dust mask.
Q: How do we choose the best N95 respirator for our employees?
A: Any N95 respirator you are considering should have a label indicating that it's NIOSH-approved. The Centers for Disease Control and Prevention maintains a list of NIOSH-approved N95 respirators to help you.
Q: When do N95 respirators need to be replaced?
A: One of the most common mistakes I see out in the field is respirators that are damaged or falling apart, yet still are in use. N95s are disposable and shouldn't be reused. It's hard to say exactly how long an employee can safely wear one because that depends on the amount of dust and particles in your environment and how often the employee attempts to adjust it.
Generally, an employee will wear the mask for a few hours or an entire workday but checking that the seal is still intact can help determine if i's time to toss it and grab a new one. If the employee begins to have difficulty breathing with the mask on, it may be clogged with dust and should be replaced.
Q: What if I have additional questions?
A: Feel free to contact your EMC representative or email us at losscontrol@emcins.com. You may also find these additional materials helpful: