Loss Control Insights
Winter Fire Prevention: Safety Advice for 7 Hazards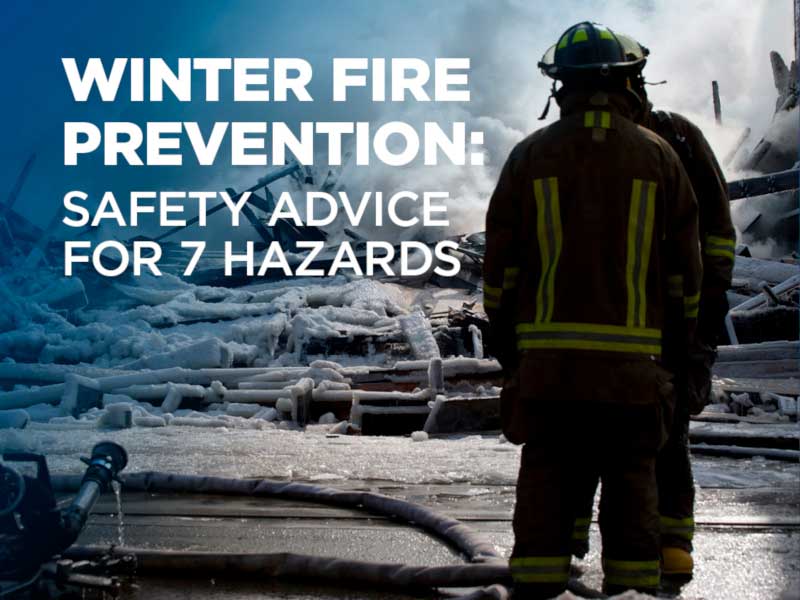 While fire prevention must be an important component of your company's safety plan year-round, winter poses some unique challenges.
In addition to your regular wiring, fire extinguisher, hot work, welding and housekeeping checks, there are a few other seasonal risks to add to your list of maintenance and preventive fire safety tasks.
Holiday Décor
Decorating for fall and winter holidays often involves strings of lights and extension cords.
Safety advice: Make sure that all holiday lights and cords meet local electrical and fire safety codes and your company's safety standards.
Space Heaters
Small electric space heaters pop up in cubicles during the coldest months of the year. Older heater models that lack safety features, such as tip-over shut-off can be dangerous. And plugging any space heater into an extension can pose a threat.
Too many heaters drawing power may also lead to overloading your electrical system. In warehouses and on enclosed construction sites, electric heaters can be a fire risk, while kerosene and other fossil-fuel heaters pose potential for carbon monoxide poisoning.
Safety advice: Monitor the use of space heaters. Keep quantity, unit age and safety features in mind. Ban the use of extension cords for running space heaters.
Static
Static is a little-known danger that is a byproduct of dry winter air. If your air is not conditioned for humidity, a spark can damage equipment and cause a fire or explosion. This is a significant hazard if your facility generates flammable fumes.
Safety advice: Monitor your building's humidity levels and keep enough moisture in the air to prevent sparks from flying.
Sprinkler Riser Rooms
These rooms are often located on exterior walls. They may not be heated or heated by only a space heater. This puts riser rooms and the sprinkler system at risk for freezing.
Safety advice: Heat the riser room and check it daily to ensure there is adequate heat to keep the sprinkler system from freezing.
Burn Barrels
In some buildings and on job sites where there is no heat source, burn barrels (set up in 55-gallon drums) may be the typical heat source. These barrels can be a carbon monoxide hazard. Depending on what is burned in the barrel, they can also be an explosion hazard.
Safety advice: Set tight controls on what can be burned and how fires are controlled. Monitor workers to be sure they are following your company's safety plan. Barrels should be on flat, solid surfaces to prevent tipping. Watch carbon monoxide levels if the burning takes place in an enclosed building.
Electric Shocks
Entering the building with wet shoes or boots can lead to a severe shock if the person with the wet footwear touches an improperly grounded tool or piece of equipment. While this may not start a fire, it can endanger workers and equipment.
Safety advice: Keep tools and equipment on your regular maintenance checklist to ensure they are properly grounded and safe. Implement a policy of thoroughly drying footwear before touching electric tools and equipment.
Fire Hydrant Maintenance
Fire hydrants may get buried in snow as plows pile snow in areas between the street and sidewalk.
Safety advice: While this is not a fire danger, it is an often-forgotten winter task that can make firefighting much more difficult. Keep the area around your fire hydrant clean and accessible. Mark the area with a flag so you can find the hydrant all winter long, no matter how deep the snow gets. You want your fire department to be able to respond quickly if you do have a fire.