Loss Control Insights
Arc Flash Q&A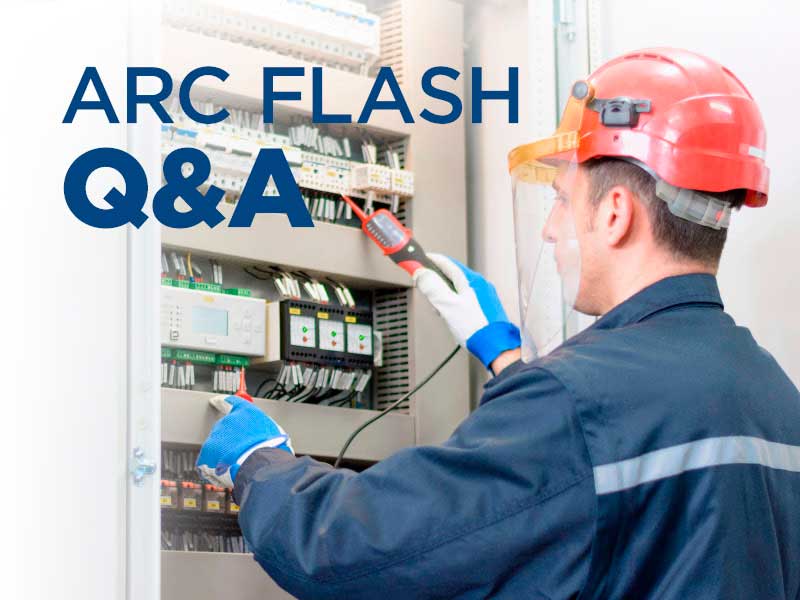 Each day in the United States, there are between five and 10 arc flash explosions severe enough to send victims to burn centers. This statistic might leave you wondering about the safety level of your company's electrical distribution systems. According to EMC Senior Engineer Paul Porter, "If you have any doubts, your system is probably not safe enough."
To provide guidance on this complex issue, Paul answers some common questions about arc flash.
Q: What is arc flash?
A: Arc flash is a term used to describe an electrical explosion caused by an arcing fault. It's an instantaneous release of extreme light, heat and energy caused by a short in electrical connections. The current changes its intended path, traveling through the air from one conductor to another or the ground. An arc flash is accompanied by an arc blast, a deadly pressure and sound wave generated from air being superheated in a fraction of a second and pushing out from the arc source.
Arc flash is different from electrical shock or electrocution because injuries can occur even when standing several feet away from the energized equipment or conductors.
Q: What causes arc flash?
A: Generally, the cause is an electrical short circuit. Contributing factors include faulty installation, lack of an electrical safety program, inadequate maintenance of overcurrent protective devices, dust, condensation, accidental contact and use a multimeter not rated for the application.
Q: Why is arc flash prevention important?
A: An arc flash can lead to extensive equipment damage, serious injuries and even death. During the flash, temperatures can reach up to 35,000 degrees Fahrenheit while the concussive blast can build pressure up to 15,000 times atmospheric pressure. The blast also serves as a propellant for projectiles—molten debris can expel from the arc at speeds exceeding 700 mph. Because arc flashes happen quickly, there's no time to react before impact. Those who survive often require weeks or months in a burn unit.
An EMC policyholder company experienced an arc flash when a fuse exploded as an employee was changing it. The employee was using a plastic fuse puller on an energized electrical panel, and a ball of fire shot out from the electrical box. The employee was not wearing the required protective suit and his shirt caught fire, causing burns to over 40% of his body. He remained in the hospital burn unit for six to eight weeks. The cost of recovery was many hundreds of thousands of dollars.
Q: What can companies do to prevent an arc flash?
A: Responsibilities relating to arc flash prevention include calculating the degree of arc flash hazard, providing a written electrical safety program with defined responsibilities, training employees on the hazards of arc flash, supplying appropriate insulated tools for the application, providing the right personal protective equipment (PPE) and affixing arc flash hazard warning labels to equipment.
The first step is assessing arc flash hazards at your company. An arc flash analysis provides data on the electrical distribution system—from the utility transformer to switchboards, panel boards, industrial control panels, motor control centers, transformers, disconnect switches and more. Analysis information can help determine where to attach arc flash warning labels and guide specifications for personal protective equipment (PPE).
Developing a table to determine the likelihood of an arc flash event is also helpful, but it must be within the guidelines of NFPA 70E (2018 Edition). This voluntary national consensus safety standard was developed by the National Fire Protection Association (NFPA). NFPA 70E details how to abide by the Occupational Safety and Health Administration's (OSHA) General Industry Standard, 29 CFR 1910.333(a), Selection and Use of Work Practices.
Q: Any other cautions or observations?
A: I've noticed a lack of arc flash warning labels on equipment during company visits. Labels are critical as they remind employees and electrical contractors to make safe decisions. Each label is required to include nominal system voltage, arc flash boundary and at least one of the following:
Incident energy and working distance or arc flash PPE category (but not both)
Minimum arc rating of clothing or site-specific description of the required PPE
Use a standardized label format throughout the facility to avoid confusion. ANSI Z535 Safety Alerting Standards provide guidance on developing your company's labeling standards.
You may also want to consider displaying limited and restricted approach boundaries, posting the date of your most recent arc flash risk assessment, and updating or developing a written electrical safety program. Use one of EMC's Safety Program Templates.