Loss Control Insights
10 Ways to Improve Ladder Safety in Your Workplace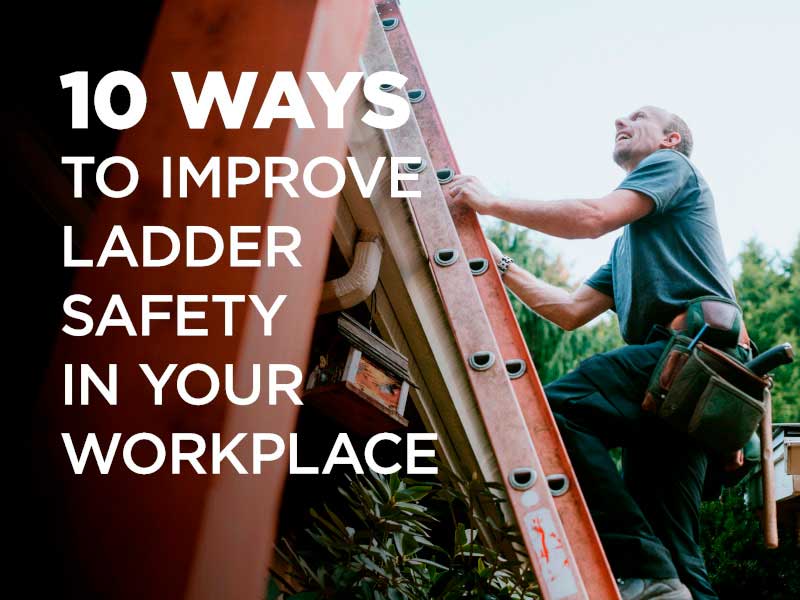 Ladders lead to injuries, perhaps because they appear to be such a simple tool. Just open it or lean it against a wall, then climb up to extend your reach. It's easy to forget that climbing above the floor, especially if you are carrying tools and heavy items, is dangerous. And because they are ever-present and shared among many employees, it's also easy to neglect them, and not notice when they are damaged or unsteady.
If your company relies on traditional ladders, you must ensure that employees are following your ladder safety program in their use and maintenance. If you need to review your policies and procedures, find a template for an elevated fall prevention program as well as ladder training and safety resources on the EMC Slips, Trips and Falls topic page.
However even with a good ladder program, there are challenges when using traditional ladders for some tasks.
It can be difficult to keep three points of contact on a ladder when you are performing tasks such as measuring using a tape measure or hammering nails.
The OSHA 6-foot trigger height for fall protection rule, or the need to be tied off if the person working is more than 6 feet off the ground, is difficult to correctly follow on a traditional ladder. The anchor point for fall protection must keep the employee from landing on the ground. Because of the way ladders are constructed and used, it's impractical to tie off while working from a ladder, and it may not always be possible to set up the fall protection system properly. This may be because an anchor point is not available or because there is not a trained employee in the area to assess the situation. Even if you're following the rules, it's possible to get badly injured by falling fewer than 6 feet from a ladder.
Setting up a traditional ladder on stairways or in an open mezzanine can be hazardous. Recognizing the true height of a fall—and taking proper precautions—is necessary for keeping workers safe. The worker may only topple 6 feet if the fall is straight down, but with an open staircase or mezzanine, the worker may take a much longer tumble.
The Right Ladder for the Job
The type of ladder you need depends on the job at hand.
Ladders with a built-in leveling system provide balance and avoid tipping on uneven surfaces
Ladders with enclosed platforms allow workers to use both hands for the task and don't require three points of contact
Stairstep ladders topped with a work platform allow easier climbing and freedom to work without holding on to rungs
Multipurpose ladders can be reconfigured for tricky areas such as stairways, tight corners or small spaces
Regardless of the type of ladder, keep these tips in mind:
Purchase ladders that meet or exceed safety standards from ANSI and OSHA.
Abide by the label for load capacities and remember that the weight rating includes the weight of the person plus any gear or tools the worker is carrying.
Use the ladder for the purposes it's approved for; don't allow employees to get creative in how they use the tool.
Avoid making any modifications to ladders such as cutting off or modifying the locking mechanism or the hard rubber that holds sections together. Changes to ladders can affect the safety features, make the ladder unusable and may void any warranty.
Inspect ladders before each use, and have a trained ladder inspector periodically check the components to be sure everything is in good condition. Wear and tear can cause bends, cracks, loose connections and other problems that only trained personnel can identify.
Rethink whether a ladder is the best tool for the job. Using the hierarchy of hazard control, replacing a dangerous tool with a less dangerous option is often better than modifying an existing system or tool. A scissors or a boom lift or scaffolding may be safer in your situation than any type of ladder.