Loss Control Insights
Disaster Recovery: Plan Now for Whatever Happens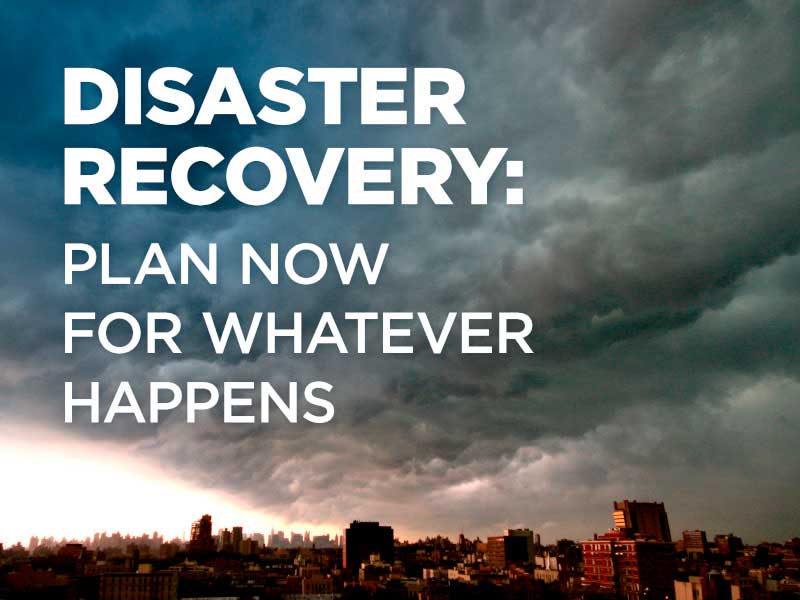 From wildfires in the West to tornadoes on the Great Plains and flooding in the Midwest, major disasters are happening all the time. While much of the news coverage focuses on losses to homeowners, it's a sure bet that many businesses are experiencing the same tragic circumstances.
Watching so much devastation in the news may inspire you to consider your own company's circumstances, says EMC Risk Improvement Consultant Laurie Hoskins. Think about the wide range of natural disasters that occur in your area, along with the potential for incidents such as a building fire, cybersecurity event, extended electrical outages or other disruptions.
Get a Plan in Place
While you can't predict when or if a disaster will strike your business, you can prepare for whatever may come your way. It all starts with a plan. The basis of the plan is how to keep your business going in spite of a disruptive element, whether it is a tornado or a ransomware attack.
Your business recovery plan must include the details you and your staff will need to continue working at another site for as long as necessary. Details of this plan must be accessible and understood by at least several top staff so that someone will be available to carry on. In addition, all employees should know what they are to do when emergency operations become a necessity.
Your plan should consider the functions you currently perform, and you'll need to come up with a way to bring those functions back to life if your building—or your systems—are inaccessible or disappear entirely.
While it may seem like an impossible task, it can be done. According to Laurie:
EMC insures schools in South Dakota, Iowa and Kansas that have sustained tornado damage or severe fires. They were able to continue school operations because they had an emergency plan in place that included alternate facilities and equipment in storage to be used in the event a building was destroyed or heavily damaged.
"We have seen the same thing with EMC-insured cities and counties in Kansas," she adds. "Their extensive plans made it possible to continue helping residents living in the area, in spite of heavy tornado damage to their own facilities."
Laurie was an EMC employee when fire damaged the EMC corporate office buildings. As a first line of defense, the building design and materials limited the damage. Equally important, the company's worst-case-scenario emergency plans ensured that business operations were not disrupted, and no customers were affected by the fire. That's because EMC leaders had an advance plan and, because of good preparation and communications, all employees knew how to carry on with their jobs. Once the damage was assessed and the building was accessible, contractors and cleaners were ready to take on the hard work of repairing damage.
These examples show that having a safe site is important, as is offsite access to the company's computer system. But you may find that some information is also an immediate necessity. Determine which contact information you'll need, especially during the night or on weekends, when you will most likely need emergency phone numbers readily available. This is a partial list you can adapt to your own needs:
Your insurance company, so your agent can get an adjustor to your site ASAP
Your vendors, customers and clients, and employees so you have a way to communicate with them
A disaster cleanup company, especially if you house dangerous chemicals that need special care, experience water intrusion that will cause mold or have other specialized cleanup tasks that are time-sensitive
Other experts such as a computer systems recovery company, your bank, landlord, utility companies, etc.
How to Make It Happen
Laurie's tips for disaster planning include:
Prevent disasters from occurring in the first place by building for a better future. If you are planning to build a new structure or remodel your current building, update your computer system or make another major investment in your business, always choose the most resilient options. For example, build a new manufacturing plant or office building far from a flood zone and of materials that are rated for hurricanes or tornadoes. Ensure your computer system has the best firewall features and set up a robust back-up system to save your data in the cloud or at a safe off-site location.
Develop a business recovery plan that includes a thoughtful approach to every aspect of keeping your business alive in the face of a disaster. Find assistance in researching and developing your plan on the EMC Loss Control website page. For additional assistance, contact your EMC representative or email mailto:losscontrol@emcins.com.
Involve a core group of experts to develop and evaluate your plan as you go along but do keep all employees in the loop so they know the part they will play in case the worst happens.
Laurie says that having this plan in place will give you and your employees peace of mind before anything bad happens, but equally important, "If something does happen, you won't need to panic and try to figure out how to cope on the fly."