Loss Control Insights
Using Technology for Better Ergonomic Outcomes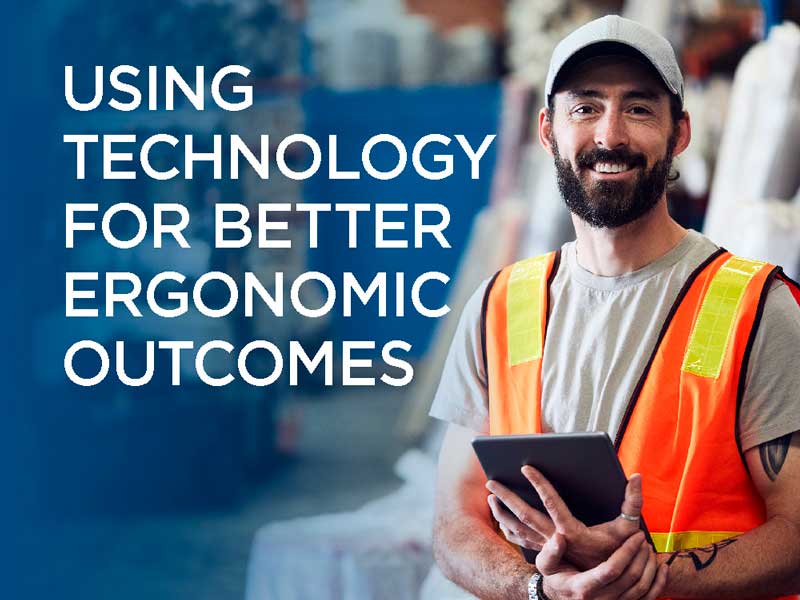 There's a lot happening in the realm of ergonomics according to EMC Senior Risk Improvement Innovation Specialist Steven Shaffer. "Over the past 70 years we have collected a lot of data on the capabilities of humans, both mentally and physically. This has given us a good understanding of the limits of human performance. So, we pretty much know when a work task can be hazardous and how to change the task to fit the worker." he says.
New technology is making this data collection easier. "An ergonomist doesn't have to sit and watch a worker to gather information," Steven says. Instead, wearable measurement devices and artificial intelligence (AI) can do the measuring and reporting. New technologies also provide easy-to-access and very effective training methods. Here are some updates he is excited about.
Wearable Devices
There are several types of wearable devices that capture ergonomic information including:
App-based devices such as cell phones and smart watches
Exoskeletons
Standalone wearable devices
Shirts, vests, helmets and other article of apparel
These devices can measure the environment around an employee or check on postures and other behaviors. Several examples of wearable technologies in real life situations include:
Accelerometers that track slips, trips and falls
Football helmets to assess and track impacts sustained by players
Wearables that measure one or more items such as posture, number of steps, calories burned or other behaviors
Exoskeletons that are strapped on to provide assistance with tasks, such as helping to bend or twist
How These Tech Tools Help
These high-tech devices are always on. This allows the technology to watch and learn how the task is performed and draw on previously collected ergonomic data to help assess a task. If a task is being performed in an unsafe manner, the device can note that instance and generate an alert to the worker or supervisor.
This is useful information to help prevent injuries. "We're unable to watch everyone all the time to see that they are safe," Steve says. "Wearing a sensor is like having a guardian angel watching over you. With a machine watching, it's possible to identify problem areas that may not be readily apparent. An employee may not take the time to record a near-miss, but a machine will note and record those close calls."
Once you know about a problem area, you can sort out what is going on and get to the root cause. Is there a slip/trip hazard in the area that has gone unnoticed or ignored? Is the lighting bad? Have bad habits crept into lifting techniques? Does an unrecognized repetitive task exist?
Other Innovations
Training
Instead of forcing employees to sit through a full-day ergonomics class, a series of 3-minute YouTube videos can provide the same information in an easily managed time frame. Each video can be shown at a scheduled training meeting or assigned to individual employees.
In addition, a supervisor can send links of appropriate reading materials or videos to targeted employees who need to learn a technique or who require additional knowledge. A good source of ergonomics materials and training videos is the Loss Control page on the EMC website. OSHA and NIOSH also offer useful training materials.
Protection
One example of a newer protection is an exoskeleton for welders, which provides padding to keep them safer while welding. This exoskeleton extends the time that welders can perform their jobs before taking a break.
Another example is computer software to help prevent eye strain with a feature that adjusts the computer screen's color to the optimal setting for day or night lighting.
And yet another protective device involves sensors that let the wearer know if there are risk factors such as toxins, high noise levels or extreme temperatures in the environment.
In the Pipeline
Cameras are already installed in many workplaces. These cameras could be used to look for hazards and observe workers' postures, lifts and other potentially dangerous behaviors. AI can use these cameras to learn to watch for repetitive tasks and take note when an employee performs a hazardous task, or hazardous conditions arise in the work area. The machine can then alert the worker or a supervisor of the danger.