Loss Control Insights
10 Tips for Effective Safety Meetings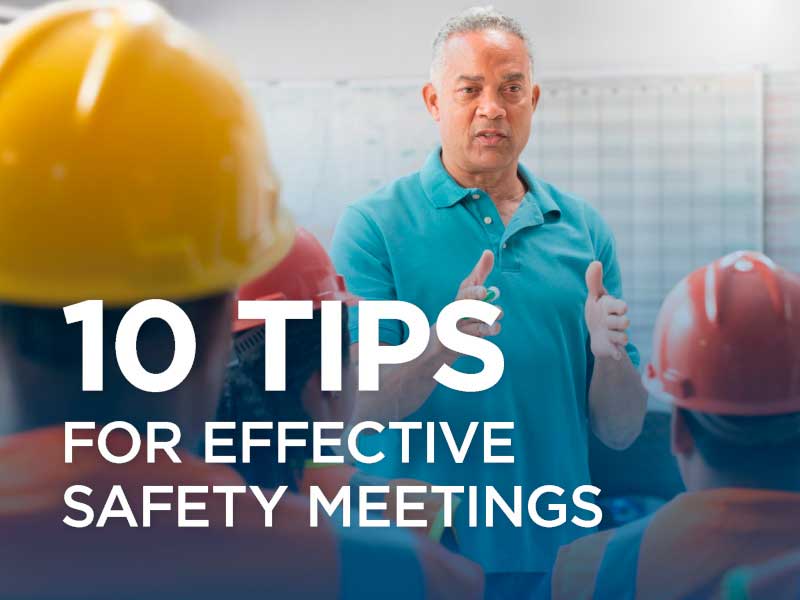 Nothing seems more boring than yet another mandatory and lengthy meeting that rehashes information you already know, is read from a safety newsletter or an OSHA standard that has no apparent relevance to your job.
Safety meetings are not typically exciting events, but there are ways you can improve these meetings to make the most of everyone's time.
The Purpose of Safety Meetings
Safety meetings are designed to help keep employees safe on the job. These regularly scheduled meetings are a vital part of your company's overall safety program and should be used to reinforce basic—and not-so-basic—safety principals, as well as to cover new areas of concern.
These meetings can be used to introduce new regulations, cover details about your company's safety record; discuss the purchase of new PPE, equipment or tools; or to get feedback from your employees.
You don't want to waste your employees' time or keep them from their jobs any longer than necessary, so plan carefully to make every moment count. EMC Risk Improvement Specialist Jeremy Gallo offers these tips for making your safety meetings more effective.
Prepare, Prepare, Prepare
Set up a year's worth of safety topics in advance, filling in with additional details that come up as each meeting gets closer. "The number one question I get from safety committee members is about what content they should include in their safety meetings," Jeremy says. He recommends setting a main topic for each month, such as lockout/tagout; ergonomics; or slips, trips and falls. Think about the ideal month for each topic, such as covering slips and falls during the winter so you can touch on snow and ice issues. Plan to spend as little as five minutes per meeting on that main topic, covering any new information or hitting one main take-away about the topic. You can recycle the topics annually or mix in new topics as the need arises.
Add in handouts whenever possible. EMC's Tech Sheets and Safety Briefs offer concise information to add to your discussion.
The rest of the meeting can be used to cover current safety issues or for recognizing someone with an outstanding safety record. Add a review of a recent accident or near-miss to the agenda and plan to discuss what can be done to prevent similar incidents in the future.
Try to present the information in a variety of ways. You might use PowerPoint or video clips to show the proper way to perform a task to prevent injury. Add in occasional hands-on activities, competitions and round table discussions to invite active participation.
Let your employees know in advance about the meeting and provide an agenda. That way, attendees can think about any questions they might have about the topics in advance.
A Well-Run Meeting
Keep it short and sweet, and begin and end promptly to respect your employees' valuable time.
Stick to your agenda, but do allow time for Q&A, even if it means you stay after the meeting to finish answering the last few questions after everyone else has left. It can also be helpful to allow other employees to help answer questions based on their own experiences.
Get employee feedback. Jeremy believes that round-table discussions allowing employees to share their experiences and observations can lead to developing corrective actions to eliminate hazards before injuries occur.
After Each Meeting
Follow-up is important. Get back to all employees via email, a flier posting in the department or details on the employee website with a summary of information covered at the meeting, suggestions offered, and questions asked and answered. Keep a record what was covered to assist in planning your next meeting, and to ensure you do follow up on all items discussed.