Loss Control Insights
Tips for Selecting and Using Purifying Respirators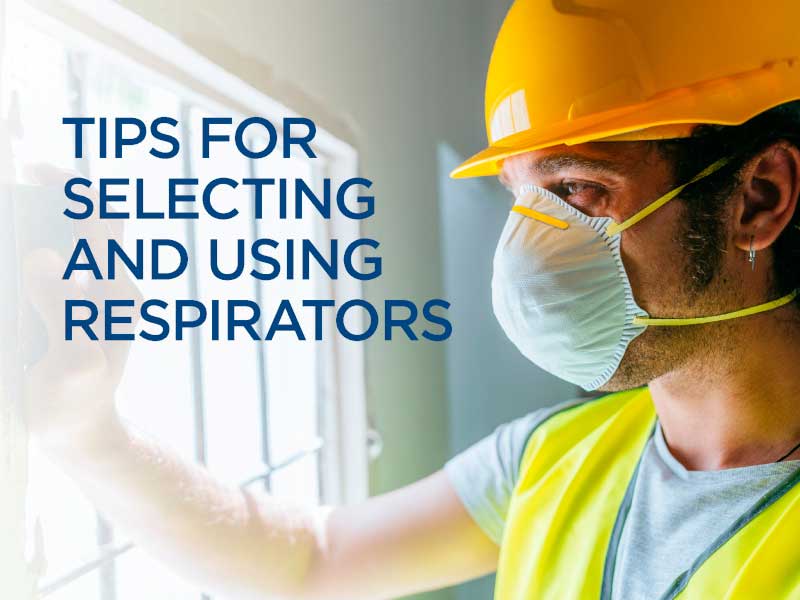 Air purifying respirators work by removing gases, vapors, aerosols and other contaminants in the air through the use of filters, cartridges or canisters. The right respirator for a particular situation will depend on the environment and the what's in the air.
"The best piece of advice I can give on choosing and using purifying respirators is to use the same resource I rely on," says EMC Senior Industrial Hygienist Craig Black, "and that is to download and refer to the 3M Respirator Selection Guide." Craig has a copy printed and saved in a binder that he carries with him on the road when he knows he'll be working with insured companies who may have questions about respirators.
In addition, Craig points out other resources to help you with the process of determining which respirators you need and that provide assistance in meeting OSHA regulations:
Check with the manufacturer of the chemicals you use to find out what their recommendations are. The chemical's safety data sheet is also a good starting place.
A Guide to Air-Purifying Respirators from NIOSH covers filtering facepiece respirators, elastomeric half facepiece respirators and powered air-purifying respirators.
OSHA Appendix D offers vital information if your employees use their own respirators when respirators aren't required. Craig notes that this is important to review. For example, if employees bring in one-strap disposables for personal use, know that they are not considered suitable by NIOSH and, under an OSHA check, would result in an automatic citation. A safer option is to make appropriate two-strap models available and to train employees on voluntary use of respirators.
The OSHA Respiratory Protection eTool covers a range of topics, including fitting, selecting, using the MultiVapor app to calculate change-out schedules and much more.
Be on the lookout for these common errors that Craig has seen in the field.
Recognize that there are steps in determining what respirator is needed. For example, air monitoring is a crucial first step that really must be completed so that you can protect your employees and meet OSHA requirements.
If you require employees to wear respirators, you must have a written program in place. Find a template to help you develop your program using the EMC Respiratory Protection Program.
Don't allow employees to modify the respirator in any way. "I have seen respirators with a hole cut in the face piece and covered with duct tape. That way, the employee can pull the tape away when he or she wants to smoke," says Craig. Of course, that action destroys the effectiveness of the respirator.