Loss Control Insights
Preventing and Correcting Winter Roof Problems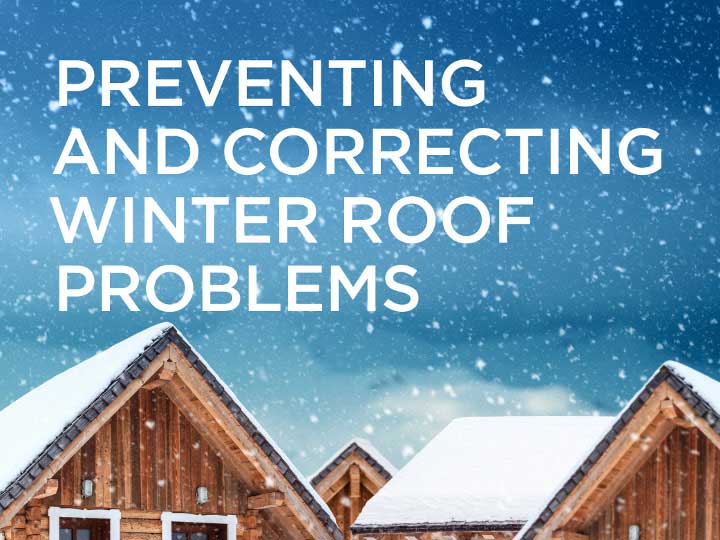 The best way to prevent winter roof problems is to prepare well in advance, according to EMC Senior Risk Improvement Representative Bernie Roma. In fact, he adds, making emergency winter roof repairs is difficult for several reasons. If you undertake routine maintenance in other seasons, you may proactively solve any potential problems before winter ravages your roof.
Winter Roof Problems
Roof damage can be worse in the winter because it's more dangerous to be on the roof when it's cold, wet and slippery, and because it's generally more expensive to make needed repairs when it's cold.
Beware of these potential problems and make a plan in advance for coping with any issues that may occur during the winter season:
Commercial buildings often have flat or low-slope roofs, and include a membrane covering with sealed joints and boots around vents and other roof penetrations. Many include parapets that hold snow and don't allow the wind to blow the snow off the roof. That load of snow and melted snow can wreak havoc on the membrane and any weak spots in the building's exterior.
Heavy loads of snow on the roof can slide off a low-slope building. This is tough to prevent, as it's also a bad idea to allow employees to shovel snow off the roof, both from a worker safety standpoint and because walking on the roof will cause wear and tear on the membrane and other roof components.
Roof drains (scuppers) generally include a cage that keeps large debris from getting into the drain. This catchment area may need to be cleaned and if it isn't, the debris may keep water from draining properly.
Skylights are made from polyplastic that is susceptible to hail damage and that gets more brittle as the plastic ages. Skylights are usually designed to withstand a small amount of water, not loads of snow or melting snow. In addition, cages in place to keep workers from falling through the skylight and used as a theft deterrent may allow water infiltration. "One of the worst water infiltration disasters ever was in a mall in Colorado. Plugged scuppers and many damaged skylights that leaked created a 4-acre "swimming pool" that closed the mall stores for nearly a year," says Bernie.
When to Perform Maintenance
Inspecting roofs carefully before winter is sound practice, says Bernie. "If your drains don't plug in the summer, you may not know until winter that you have a leak. Testing and inspecting in the fall may uncover a leak before winter arrives. In addition, winter freeze and thaw cycles can allow water to seep into crevices. When the water freezes, it can cause miniscule cracks, which will eventually expand enough to cause leaks."
Safety
In the winter, it's more dangerous to have employees on the roof who might slip, trip or fall. Roof access may be poor, such as via a caged ladder on the side of the building. This access can be especially precarious in the winter, when even non-skid ladder rungs can be difficult to climb safely, especially if the worker is hauling up shovels or other equipment.
Technique
It's possible to damage the roof membrane with a shovel or heater when trying to dislodge snow, so anyone working on the roof should be well trained to perform the work.
Expense
Work is more expensive during the winter. Sealants and repairs generally need temperatures above 70 degrees to properly adhere. There are specialized, more expensive cold-weather sealants available, which experts should apply.
Roof Maintenance Solutions
Your best bet for prevention—and any work that needs to be completed—is to hire a professional roof inspection and repair company, says Bernie. Whatever time of year roof inspections and repairs need to be completed, it's best to let professionals take on the risks and responsibilities. He reasons that experts have the expertise and training to do the checking and the repairs, the proper equipment to do the job and will assume liability for repairs and problems that may arise.
In addition, if you are designing a new building or remodeling your existing offices or warehouses, take winter weather in your area into consideration. After engineers calculate the code-mandated snow load, choose to go with a high rating and high-quality roof covering to ensure any future weather changes do not impact your building.
And if your skylights are getting older, replace them before they get brittle. "Skylights are great for letting in natural light, but are the weakest link in keeping leaks at bay," says Bernie.