Loss Control Insights
5 Steps to Table Saw Safety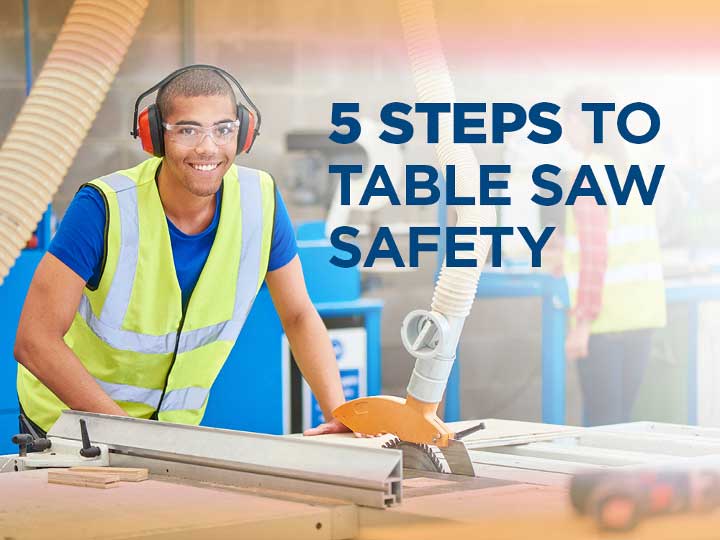 In his work as an EMC Senior Risk Improvement Representative, Kipp Rowland sees table saws in organizations as diverse as schools and cabinet manufacturers. "Many of them are safely guarded and used correctly," he says, "but there are others that are older, unguarded and with obsolete push sticks and other dangers."
As he reminisces about growing up with a father and grandfather who ran a workshop, he recognizes that it's hard to get in the groove of following safety practices, and admits to taking chances he shouldn't have as he worked in their shop. "I survived with just an occasional wood chip in my eye—and no, I didn't always wear safety glasses. I know now that I could have ended up with more serious injuries," he says.
And so could employees in your business who may not fully understand that one lapse in concentration or judgment can change a life in a split second.
After all, the saw blades move at 100 miles per hour, and every year more than 4,000 Americans suffer amputations or mangle their hands while using table saws.
Safest Options for Saws
Updating to the newest technology and making sure employees get appropriate training can help keep them safe. Kipp recommends following these steps:
1. Focus on saw safety procedures
As part of your overall company safety procedures, include a written saw safety program to ensure that all employees get the same information, no matter if they've held the job for years or started last week. Provide thorough training, use checklists for the steps and precautions saw users are required to follow, and verify that employees understand the dangers of the equipment and tools they are using. Safety training and procedures must emphasize the importance of techniques such as lockout/tagout and
machine safeguarding
. This
sample checklist
may be helpful in drafting your shop's safety precautions.
2. Emphasize focus and concentration when sawing
Employees using potentially dangerous equipment need to fully concentrate on the job at hand and know where their hands and the machine guard are at all times. This single focus can keep them from becoming an accident statistic. To help with the extreme concentration necessary for the job, ensure that the work area is clear of distractions that may cause a slip-up.
3. Keep updated with the latest saw safety technology
Newer devices such as push blocks or push pads are much safer than push sticks because they allow the operator to have better control of the wood being cut. Newer saw models also offer a saw-stop that senses and shuts down if fingers get too close to the blade. "These new models are obviously the way to go for safety reasons," Kipp says. Another new technology to consider is a sliding table saw. This model is safer because the wood is locked in place while cutting, and the table moves, not the wood.
4. Inspect saws regularly
The daily prework checklist can catch typical safety issues, but a more extensive monthly or quarterly inspection can help uncover broader issues. These periodic inspections should be completed by someone who does not use the saw daily. Be sure to also perform an inspection if the equipment is relocated or moved within the shop.
5. Include saw preventive maintenance on the schedule
This may include regularly cleaning the equipment and guards, cleaning and sharpening blades, removing any cracked or damaged blades, keeping the table level and balanced, and checking cords and other components.