Loss Control Insights
The Basics of Your Experience Modification Factor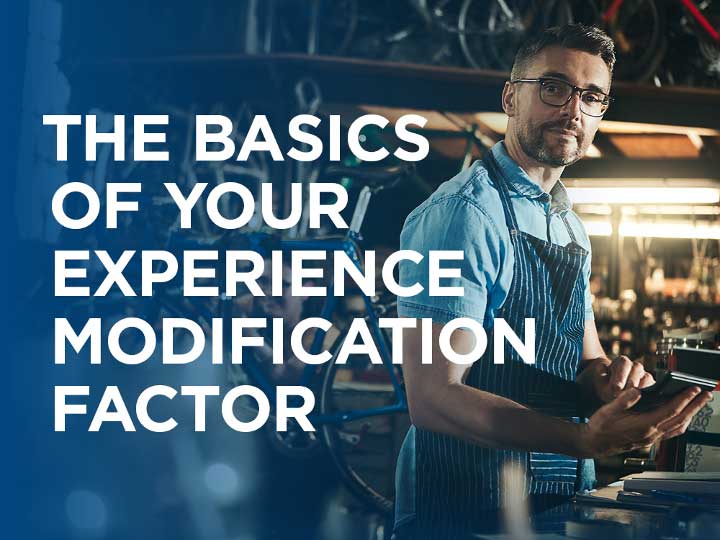 Managing and understanding workers' compensation insurance costs is a difficult task, says EMC Industrial Hygienist Krista Scott. You've likely heard the term "experience modification factor" aka "experience mod," and Krista says that this concept is one key to managing insurance costs.
The Basics
The experience mod is a numerical representation of your claims history. It can be either above or below the industry average of 1. A number below 1 means you are paying less than your industry's average for workers' compensation insurance, while a number greater than 1 means you are paying more.
Your experience mod is calculated by the National Council on Compensation Insurance (NCCI) or your state's workers' compensation rating bureau using a complicated formula that considers the ratio between expected losses in your industry and the losses your organization actually incurred, as well as both the frequency and severity of those losses. An organization with one large loss will be penalized less severely than a company with many smaller losses, because a higher frequency of claims is an indication that you may experience additional losses in the future.
The most surprising part of the experience mod is the long shadow that each incident has. You won't see the impact of an accident or injury immediately because the calculations are based on a three-year rolling average, and the most recently completed policy year is not included in the current year's calculation. That means there is a delay between the incident and its impact. After that, each incident affects your insurance premiums for three years before it drops off. During this time, the claim amount may be updated to reflect the current amount spent on insurance, meaning that prices based on that long-ago accident can increase during the three years the incident is part of the calculations.
To find out more about experience modification factor, check out The ABCs of Experience Rating from the NCCI.
Lowering Your Number
Because any work-related accident or injury affects your experience mod, it pays to do as much as you possibly can to keep accidents from happening. And beyond that, it's also important to manage any injuries in the most efficient way possible.
Krista suggests working with EMC's risk improvement experts, who can provide assistance in improving safety and working toward lowering your company's experience mod: This framework will help prevent injuries when possible (frequency) and control the costs of injuries that do occur (severity).
To Improve Safety
Examine your claims and categorize them based on their type (such as slips, trips and falls; strains and sprains; auto accidents; and other categories) and cause (such as physical, human or organizational), then focus your efforts on addressing these root causes (such as a piece of machinery that leaked water onto the floor, causing a slip and fall accident).
Develop a solid program to investigate accidents and near-misses to help identify why accidents and injuries happen in these areas. Krista suggests reporting all claims, even zero-dollar ones, explaining, "While that may seem odd, zero-dollar claims have no effect on your experience mod, but these incidents become part of your record. That will help you and EMC experts identify trends that may predict an underlying hazard that you can address before someone gets more seriously injured."
Call on EMC safety experts to help improve safety for those performing at-risk tasks. Solutions may include slip, trip and fall assessments, ergonomic surveys or fleet safety training. For a DIY approach, many of the resources and materials you'll need to improve safety can be found on the EMC Loss Control website.
Implement a comprehensive safety program complete with training, with special focus on those trouble areas you have identified. Update the program periodically as you resolve some issues and encounter new problem areas.
Improve your overall safety culture. Leading by example and encouraging your employees to look out for each other can have rewards beyond just team building. When everyone is checking for potential hazards, you can identify and solve problems before they cause an injury.
The next step is to manage the cost of any injuries that do occur. Doing so can have a positive impact on your experience mod.
To Manage Injuries
Develop a strong return to work program to bring workers back to the job while they are recovering. This can be a game changer for improving your experience mod. Workers who are back on the job are earning at least part of their normal paycheck, reducing the amount of indemnity payments made by the insurer as well as the total cost of the claim which is included in your experience mod calculation.
Offer wellness programs to keep workers healthy and in good shape — fit employees usually heal more quickly than those with health conditions.
Employ a post-offer, prework screening process to hire employees who can perform the physical demands of the job on the date of hire. After designing an accurate and validated job description with physical demands, work with a physical therapist to design a test. This can help ensure your new hires are physically qualified for the position.