Loss Control Insights
Experience Modification Factor 101 (updated October 2021)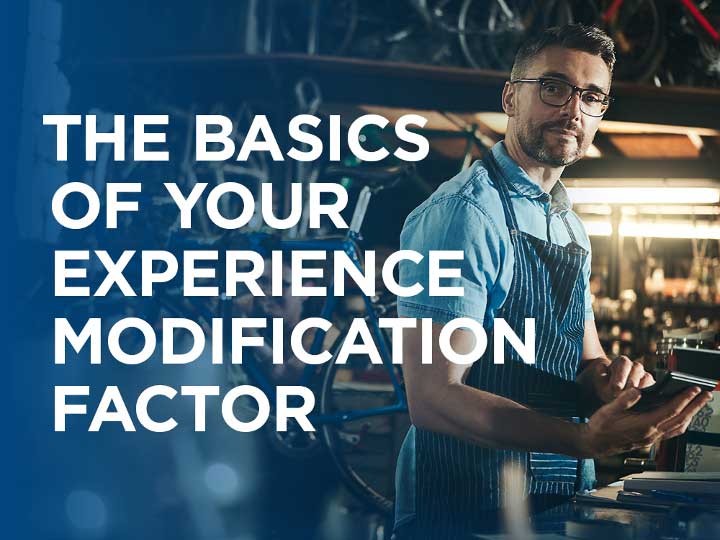 The experience modification factor goes by many names, including experience rating, experience mod, E-Mod and EMR. But your experience modification factor (to keep it easy, we'll refer to this as an experience mod throughout this article) is simply your company's safety score in reference to your workers' compensation insurance coverage.
If you want to lower your workers' compensation premium, it's worth learning about your experience mod. That's because your premium is, in part, determined by this rating. More importantly though, you can actually manage and improve your experience mod. More on that later … first, let's define what it is.
What is the Experience Modification Factor?
Your experience mod is a numerical representation of your claims history. It is the ratio of the costs of your company's actual workers' compensation claims compared to the expected costs for companies of similar size in the same industry. It can be either above or below the industry average of 1.0. Above 1.0 means your claims history is worse than the industry's average for workers' compensation insurance while below 1.0 means it is better.
How is an Experience Modification Factor Calculated?
Your experience mod is calculated by the National Council on Compensation Insurance (NCCI) or your state's workers' compensation rating bureau. A formula that considers the ratio between expected losses in your industry and the losses your organization actually incurred, as well as both the frequency and severity of those losses, is used to determine your experience mod. An organization with one large loss will be penalized less severely than a company with many small losses because a higher frequency of claims is an indication that you may experience additional losses in the future.
How Does My Experience Modification Factor Affect My Premium?
Workers' compensation base premium is calculated by multiplying rates based on payroll classifications and the hours worked by those classes. The base premium is then multiplied by the experience mod. An experience mod less than 1.0 creates a credit while an experience mod greater than 1.0 creates a debit.
For more information on how an experience modification factor is calculated and how it affects your premium, view NCCI's The ABCs of Experience Rating.
How Do Experience Modification Factors Benefit Employers?
There are two primary benefits of these ratings. First, the rating process tailors the cost prediction and net premium cost to the individual employer more closely than the manual rating alone. In other words, the experience mod represents a refinement in the premium determination process. It does so by comparing the industry average experience with an individual employer's own experience. It benefits employers by adjusting the premium cost, which is the best indicator of an individual employer's own potential for incurring losses. By using these sound insurance principles and an employer's own payroll and loss data, the insurance premium will be appropriate for the coverage provided.
Secondly, it provides added incentives for loss reduction that are absent from the manual rating. Since the experience mod gives individual employers some influence over the premium they pay, it encourages employers to develop loss prevention programs. It also incentivizes them to return the injured employees to work as soon as reasonably possible. Simply put, the experience mod promotes occupational health and safety.
When Can I Expect to See Changes in My Experience Modification Factor?
The most surprising part of the experience mod is the delay between the incident and its impact. You won't see the impact of an accident or injury immediately because the calculations are based on a three-year rolling average, with the most recently completed policy year not included in the calculation. This means each incident affects your insurance premiums for three years before it drops off. During this three-year period, the claim amount may be updated to reflect the current amount spent on insurance. So, prices based on that long-ago accident can increase during the three years the incident is part of your experience mod calculations.
How Can I Improve My Experience Modification Factor?
Since any work-related accident or injury affects your experience mod, it pays to do as much as you possibly can to prevent accidents and improve safety. Beyond that, it's also important to manage any injuries in the most efficient way possible.
Prevent Accidents and Improve Safety
Manage Injuries
Your return to work program should be designed to bring workers back to the job while they are recovering. Not only does this boost employee morale, but it can be a game changer for improving your experience mod because workers who are back on the job earn at least part of their normal paycheck, reducing the amount of indemnity payments. The experience mod calculation only includes 30% of the actual primary and excess portions of an individual medical-only claim. As a result, medical-only claims are reduced by 70% whereas indemnity payments go into the calculation almost directly.
Keep workers healthy and in good shape because fit employees usually heal more quickly than those with health conditions.

Use a post-offer, prework screening process:

Make sure you're hiring employees who can perform the physical demands of the job with a screening process. After creating an accurate and validated job description that includes physical demands, work with a physical therapist to design a test to help ensure your new hires are physically qualified for the position.
Learn More