Loss Control Insights
Proactive Parking Lot and Sidewalk Audits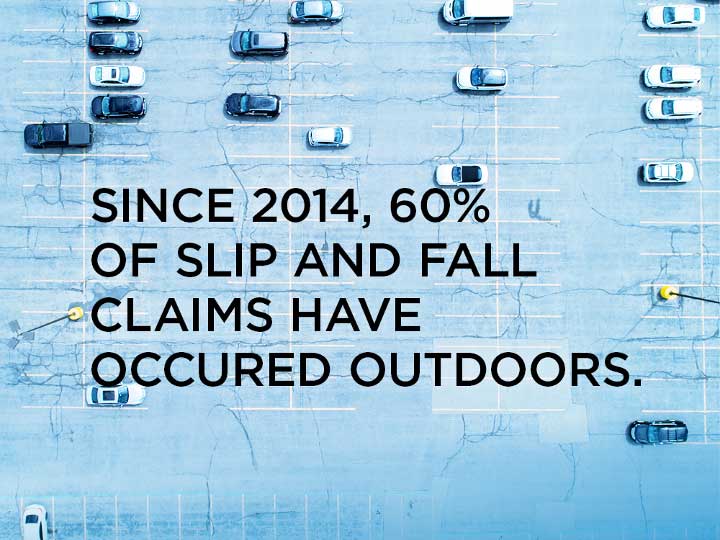 It pays to keep a close eye on the condition of your sidewalks and parking lots. That's because statistics show that 60% of all slip and fall claims occur outdoors. The dangers go beyond falls: The National Safety Council found that one in five traffic accidents takes place in parking lots. It's important that your outdoor surfaces are included in your building's maintenance and audit program. Here are some things to keep in mind when you are developing your outdoor slip and fall checklist.
Your city may have guidelines for sidewalk maintenance, as does The Federal Highway Administration. Be sure to do your research to make sure you are compliant with all necessary guidelines.
OSHA considers parking lots to be part of your premises, so if employees are injured there it's considered a work injury. Also keep in mind that a minor pothole may not be a problem for a driver, but can be a major trip hazard for someone who is walking.
Your outdoor slip and fall audits will need to be adjusted based on weather. Precipitation, including rain, hail, sleet, snow and fog, can all impact the ability to park and walk safely. Temperature changes can cause melting and refreeze leading to icy surfaces. Any time conditions change you'll need to be on alert, increasing the frequency of surface monitoring. Instead of a weekly or monthly check, inclement weather may force you to schedule daily or even hourly condition checks.
Seasonal changes beyond temperature and precipitation can be a cause for audit timing changes, too. Falling leaves can lead to plugged drains or slippery sidewalks and parking lots. As the days get shorter in the fall and winter you may need to adjust automatic lighting timers so that employees arriving early or leaving late have sufficient light to walk safely to and from their vehicles.
While the condition of your parking lots and sidewalks won't keep drivers from being distracted by their phones or driving too fast, there are some things you can do to help reduce accidents. For example, keeping your landscaping cut back near parking lot entrances and exits can help protect drivers and pedestrians. Parking lot designers suggest that rumble strips (instead of speed bumps) are a safer way to get a driver's attention and slow them down. Be sure that marked crosswalks in the parking lot are easily seen by motorists, and keep pavement markings bright and easy to spot.
For more audit suggestions, review the EMC Sidewalk Maintenance Program Tech Sheet and our articles 10 Tips for Safer Parking Lots, Surprising Parking Lot Hazards and Slip and Fall Prevention Guide.