Loss Control Insights
A Step-by-Step Guide to Implementing a Fleet Telematics Program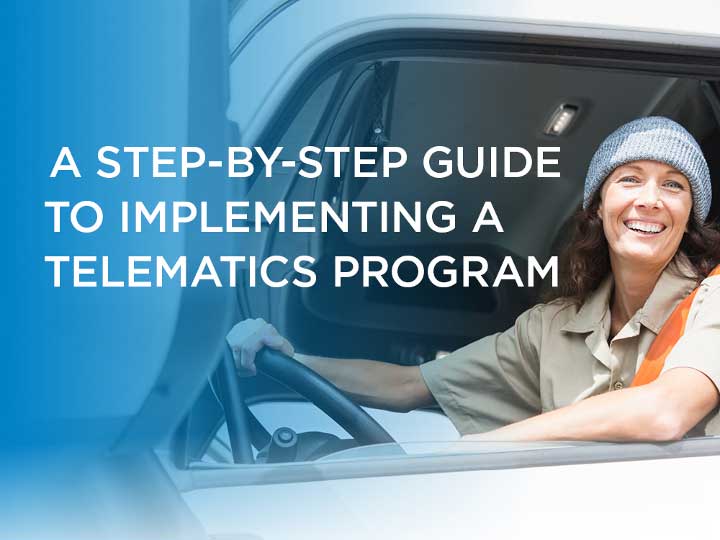 Telematics has become an increasingly popular way to collect information on commercial fleets and driver behavior. Data-transmitting devices are installed in a vehicle and data is sent to a fleet manager who can use this data to reduce maintenance costs, improve fuel economy and provide better working conditions for drivers. These devices can also enhance your loss control efforts by providing valuable insight into driving behaviors such as speeding, lane departure, idle time, hard braking and hard acceleration.
To get the most out of a telematics program, it's important to implement it properly. Follow these steps to help create and communicate a successful telematics program.
Define program goals

Telematics can address a wide range of problems, so it's important for you to assess your fleet's challenges and identify your organization's data needs. Determine the program objectives based on areas in need of improvement. A good way to start is by looking at your vehicle accident reports and/or by asking drivers about existing problems or concerns. Focus on just a couple key metrics initially. Once you have determined what you would like to achieve with your telematics program, relay this information to executive management, human resources and operations to get buy-in.

Select a provider

Research providers and select one that is compatible with your fleet and can help you meet your goals. Connect with a company representative and establish a relationship so you feel comfortable working through problems and seeking advice if necessary. Make sure to request a demo of the telematics product before you make a final decision.

Inform and educate your drivers

Drivers might not understand the purpose of installing devices in their vehicles: to improve safety and increase efficiency. Schedule a meeting with all drivers so they can hear your reasoning for installing these devices. Educate yourself on telematics devices so you can confidently and transparently answer drivers' questions. Be sure to emphasize the positive aspects of the program.

Determine performance standards and an evaluation schedule

Create reasonable and measurable performance expectations and an evaluation timeline. Communicate these to your drivers so they know how and when they will be assessed. Follow through on your expectations and timeline to show your drivers how seriously you take this program.


Install devices

Assign each vehicle a device and commit to an installation timeline. Schedule training sessions with your drivers, preferably in-person and online, to walk them through the installation process. Troubleshoot any technical problems you encounter with your provider.


Monitor data and adjust as necessary

Show your commitment to bettering the safety and efficiency of your fleet by upholding the standards you set in the beginning and conducting regular evaluations. Take notice of drivers whose performance falls short of expectations. If patterns emerge, provide training to your drivers to help them improve their driving performance. Be sure to also develop incentives for good driving behaviors. Work with your telematics provider to determine steps for improvement and keep up with any advancements in device technology.


Inform leadership about results

As you monitor data, track significant changes and collect revealing statistics. Communicate these to leadership so executives know how the telematics program is helping to improve safety and increase the efficiency of your fleet.
Success Stories
Many organizations have implemented telematics programs already and are noticing the benefits on both safety and their bottom line. Check out these case studies for more information.