Loss Control Insights
Getting More from Your Safety Committee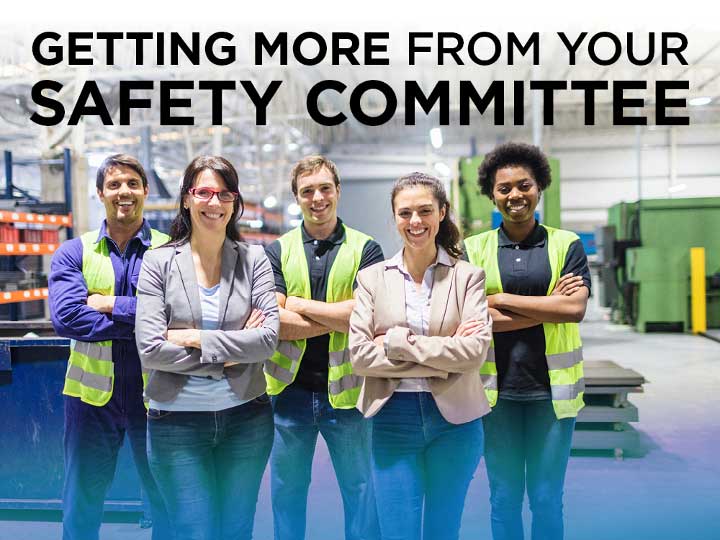 Safety committees are a great way to keep safety in the forefront of your employees' minds. In addition to showing your organization's commitment to worker safety, the committee can help your company save money. Savings may come from state-offered discounts on workers' compensation insurance for having a qualified safety committee, or from a reduction in losses experienced once you have implemented the recommendations made by your committee.
EMC Risk Improvement Specialist Jeremy Gallo considers a safety committee a proactive way to reduce accidents. Jeremy works in Pennsylvania where he says the accident and injury records kept by the Pennsylvania Department of Labor and Industry clearly show that organizations with safety committees see a reduction in workplace accidents. However, some safety committees are better than others, he says.
Developing a Better Safety Committee
Here are Jeremy's suggestions for getting the most out of a safety committee in your workplace.
Include a variety of people. There should be at least four members, with a representative from each major department companywide. And, he says, fewer than half of the members should be management. Having "regular" employees on the committee will increase buy-in for safety programs.
Rotate members on and off the committee. New members bring fresh ideas and a new perspective, as well as renewed energy to tackle problems. A committee with four members might rotate one current member off and gain one new member each year.
Maintain a general structure for the types of projects the committee will tackle and how the group will operate, based on the priorities and needs of your company. For example, accident investigation is one function committees should take on, but if your small business has few accidents, you may only spend portions of one or two meetings a year discussing them. If you do not have any accident or near-miss investigations to review at a meeting, the committee might spend time reviewing and establishing safety training programs. Many companies plan for one safety event every quarter. Other priorities can be filled in, depending on what your company—and your committee members—believe is important.
Use follow-up as a valuable evaluation tool. Invite injured employees after the fact to provide feedback on whether the corrective actions were adequate. Jeremy estimates that in the companies he works with, 90% of the time the corrective action is effective, but committee focus should be on the 10% of injuries where additional corrective action is required to eliminate hazards and prevent future claims. These conversations are a way for committee members to follow up and make adjustments when they find out there's room for improvement.
Program Review and Training
Review and update written safety programs annually. If the committee has a free month with no other urgent tasks, members can review and discuss current programs and also review details for new safety programs that may need to be developed.
Jeremy often gets calls and emails from committee members looking for training ideas and content on particular topics. EMC has a robust collection of safety and loss control training resources.
Creatively change focus. An easy way to do this is to pick a safety topic for each month. That way, the committee, as well as all employees, explore and learn about a wide range of rules, regulations, potential problems and ways to remain safe. These topics can cover common causes of past injuries, a new technique or piece of equipment, seasonal warnings, or new details about a familiar topic. It's not difficult to develop a calendar at the beginning of the year with a list of all topics for the year. If you need assistance selecting hot topics and materials, check out the EMC Loss Control website.
Management Plays a Vital Role

While the safety committee team must be free to set priorities and follow up on issues they observe, management does need to remain involved. You can make suggestions for the committee and find ways to celebrate the value of the committee.
You can also call on your EMC loss control representative for assistance. Your rep can help compile training data, assist in reviewing your claims to see where your training time and dollars are best spent, and direct you to EMC resources to best serve your employees and meet your company's safety goals.