Loss Control Insights
Surprising Summer Driving Hazards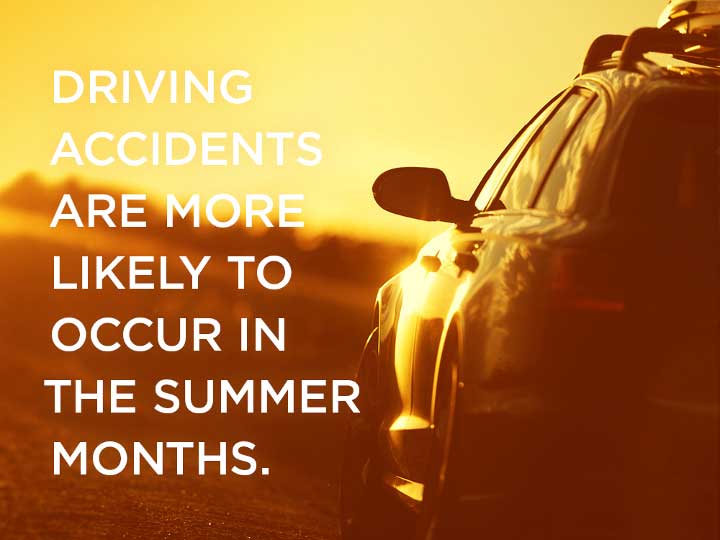 Contrary to popular belief, winter ice and snow with the accompanying slipping and sliding on roadways, don't lead to the largest number of traffic accidents. Surprisingly, more fatal driving accidents occur in the summer months than in any other season, says EMC Senior Risk Improvement Specialist Scott Peterson. In fact, the three deadliest holiday weekends—Memorial Day, July 4 and Labor Day weekends—fall within the 101 most deadly days on the road, the dates between late May and early September.
While summer holiday travels do contribute to the uptick in accidents, there are other seasonal dangers that lead to crashes:
There are more cars on the road in the summer than in other seasons. In addition to vacation travel, summer is prime time for families traveling to graduations, weddings and family reunions. And not only are the roads more crowded, but parties, sporting events and other gatherings often involve alcohol consumption, followed by driving home.
Teen drivers, who are less experienced and who may also be attached to electronic devices, are involved in more accidents than older drivers. They also are on the road more during their summer break.
Road construction peaks in the summer months. Narrowed lanes, a slower speed limit (often not observed by drivers in a hurry), construction workers and equipment in work areas, and swerving for potholes all lead to an increased numbers of accidents.
Sharing the road with bicycles, motorcycles and pedestrians creates dangers. These travelers can be harder to see from a vehicle and may also make unexpected moves. And, as distracted walking is increasingly common, pedestrians who are chatting or have a cell phone in hand may not act predictably.
With more motorists on the road, traffic enforcers are patrolling and possibly pulling over vehicles at a higher rate. Additionally, utility vehicles, tow trucks, ambulances and other vehicles with flashing lights may also be working roadside. Because of past accidents, be aware that these workers are protected by "move over" laws.
Weather is a contributing factor to crashes. Scott says that EMC receives claims each year from accidents caused by oily residue on roads. When it rains, that oil gets slick, leading to skids. In addition, summer rains can cause poor visibility. Other summer weather hazards are extreme heat, possibly leading to driver dehydration and drowsiness, and foggy conditions.
Preparation for All Seasons
In the lazy days of summer, it's easy to put off advance preparation. However, routine maintenance of vehicles is just as important in warmer months as it is in the winter. Scott's suggestions include:
If the outdoor temperature fluctuates wildly, check tire air pressure frequently
Clean vehicle windows frequently; this is important for good visibility so the driver can keep a close eye on pedestrians and bikers
Stress the dangers of distracted driving