Loss Control Insights
Step Up to Stairway Safety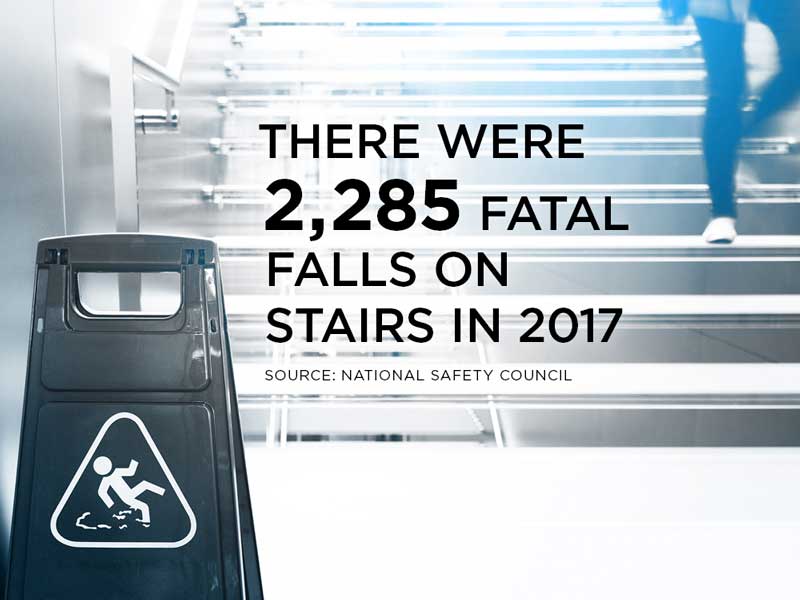 Stairways are an easily overlooked hazard. Because using stairs is second nature, we seldom think about the dangers of slipping, tripping and missing a step. With distractions such as cell phones, rushing to meetings, chatting with others or carrying a load of materials that blocks our vision, there are many reasons stairs can become treacherous.
While not all workplace slips, trips and falls happen on stairs, workers' compensation statistics confirm that stairways are dangerous. EMC Senior Engineer Larry Readout says that in the past 4 years, EMC-insured organizations have experienced $10 million in claims from stairway falls. And since both the National Safety Council and the Bureau of Labor Statistics rank falls as the number two cause of fatalities in the workplace, taking stairs seriously can help decrease the potential for accidents.
Remind Employees to Tread Safely
It's hard to change people's behaviors, but with reminders and staff training, you can raise stairs to the higher level of respect they deserve. Include these points in training:
Proper stair climbing protocol — No phone calls, texting or reading.
Proper stepping procedures — Don't take shortcuts, take only one step at a time, lifting feet clear of the upward tread when descending.
Proper attire — Avoid spike heels or flip-flops, make sure shoelaces are tied, and that long skirts or pant legs don't drag on the floor, potentially catching your shoes.
Proper caution — Hold hand rails, check to be sure that steps aren't wet or slippery.
Proper watchfulness — Larry says that some research indicates most users only see the first step and the last three as they descend; he notes that a lot of hazards can appear on those steps in between.
Step Up to Keep Stairs in Tip-Top Shape
While reminders raise awareness and help employees concentrate on being careful on stairs, it's up to building maintenance and cleaning crews to do their part in keeping stairs safe. Some of the usual clean-up tasks, such as wiping up spills and not storing anything on the stairs, are no-brainers. Other tips include:
Keep stairs well lit. Do an evaluation to make sure there is enough lighting in stairwells, and replace burned out lights immediately. Lighting shouldn't cast shadows on the stairway or create glare for those approaching the stairs. Lighting is important enough that your stairway lights should have backup power in case of emergencies and outages.
Frequently inspect stairs for damage, such as broken step nosings, wobbly handrails, and loose or broken treads.
Ensure steps have good traction, especially outdoor steps. Increase traction with abrasive tape, grit coatings or high traction step covers.
Use ice melt sparingly on outdoor stairways with metal components. Select products that are less corrosive to metal, such as calcium magnesium acetate or magnesium chloride.
Provide visual contrast on tread nosings, especially the first and last steps.
Install proper handrails. Both sides of the stairway should have them, and handrails should be grippable, rounded and 1 1/4 to 2 inches in diameter. They should extend horizontally about 12 inches at both the top and bottom of the stairway. Stairways wider than 88 inches should have handrails in the middle too.
Don't allow posters and signs on stairwell walls, as they can be distracting and cause a slip or a trip.
Rethink Stairway Design
While it's often not possible to completely redesign stairways, some of these changes may be worth the time and expense:
Short flight stairways with three or fewer risers are potentially dangerous, as the steps may not be noticed and may cause "air stepping," leading to a fall. Remodeling single steps into a ramp is a safer option. If that's not feasible, add contrasting yellow safety paint or tape and add handrails to help users notice the steps.
Add architectural elements near the stairway approach to require people to slow down and turn before reaching the stairway.
Make sure your steps are consistent in riser heights and tread depth, between 4 and 7 inches high and a minimum of 11 inches deep.
Add step lighting in low-light areas, such as theatres and auditoriums.