Loss Control Insights
New Technologies Complicate Windshield Replacement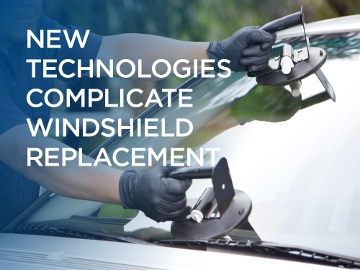 Auto windshields can be damaged in a variety of ways, ranging from rocks to storm damage, accidents to extreme temperature changes. Not a big deal, right? Replacement has been a relatively easy fix, with many installers even coming to your location to make the repair less stressful and quicker.
Advanced Driver Assistance Systems
Times have changed, however, as automakers add new, automated safety features to vehicles. These new technologies, known as advanced driver assistance systems (ADAS), operate using sensors that work in tandem with computers, cameras, radar and LIDAR. Some of those sensors are housed in the front or rear windshield.
ADAS technologies most often mounted in a windshield include autonomous emergency braking (AEB), lane-departure warning, collision avoidance and adaptive cruise control. Because these systems do prevent accidents and keep drivers safer, many businesses are ordering vehicles with these features.
Not all new vehicles have all of these technologies, and older vehicles most likely have none of them. However, by 2020, there is a mandate that all U.S.-manufactured vehicles have autonomous emergency braking systems and forward collision warning systems. So even if your vehicles currently don't have these systems, future purchases or leases will include them.
Installing a New Windshield
ADAS makes windshield replacement more difficult. The sensors—and the equipment they are paired with—must be calibrated so the system components work together correctly. Replacing a windshield means that the sensors must be replaced in the new glass, and the sensors and accompanying equipment must be calibrated so the system operates as it should. If a sensor gets moved just a millimeter, it can throw off the ADAS system. If the system isn't working properly the driver may not be aware of the malfunction until an accident occurs.
Here are some tips for windshield replacement on vehicles with ADAS systems.
Keep records of each vehicle's features

Each manufacturer has very precise requirements for replacing the glass in their vehicles. It's important for you to keep records that can be provided to the repair shop, such as vehicle identification number (VIN), a list of the ADAS features the vehicle has, and the year, make and model. This information helps the repair shop determine how to make the repair and recalibration, because in a single year, a manufacturer could have as many as 20 possible windshields for a given make and model.

Be prepared to spend more money and more time getting the fix

The process takes extra time and specialized tools, as well as certified technicians trained to perform the replacement, so plan on spending more than replacing an older-style windshield.

Know the manufacturer's rules on glass type

Many auto manufacturers require that Original Equipment Manufacturer (often called OEM) glass be used, rather than after-market products.

Check the manufacturer's requirements for who can perform the job

Some manufacturers require that you have replacement and calibration work done by a certified manufacturer's dealer. If you are able to choose your own repair shop, realize that not every repair shop will have technicians certified to do the job. Check before the repair to be sure it's performed by the right professionals.
Find more information about auto glass, replacement glass and calibrating ADAS when replacing glass from EMC's partner, Safelite AutoGlass.