Loss Control Insights
Can You Identify These 6 Hazards?
Identifying and correcting workplace hazards is a key part of a safety manager's role. When asked why, EMC Senior Engineer Jim Stotser says the following: It's much easier to fix minor (as well as major) flaws before an injury occurs, and it helps control insurance costs.
The following are a few real-life hazards Jim and other EMC field personnel have observed: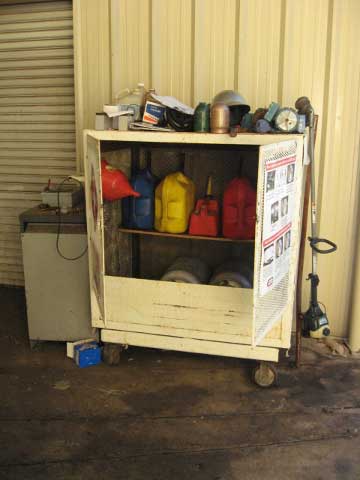 Storing flammable liquids (e.g., gasoline, diesel fuel and kerosene) near flammable gases (LP gas)

Well-trained workers should know not to store these items together. Signage around the storage area should also state liquids and gases should not be stored together.

Stacking items too close to ceiling sprinklers

Boxes stacked too close to sprinkler systems (less than 18 inches below the sprinkler heads) restrict sprinkler coverage during fires. Also, check with your local fire inspector for rules for box and pallet storage, including width of aisles, and distance from other materials and chemicals.

The force of static electricity

Ungrounded containers with hand or mechanical pumps could ignite flammable vapors because of a static electrical spark. You may also notice a secondary problem in this photo: the unstable stacking of canisters could lead to spilled liquids. If the container tips over, liquid on the walkway could cause slips and falls.

Multiple problems in the same work area

The more hazards in an area, the higher the risk of injury.

The steel rack exceeds the rated capacity of overhead storage
A 220-volt cord is draped over a sharp steel edge
A non-UL-listed electrical box is used for the 220-volt cord
A fall protection lanyard is suspended from a horizontal bar joist
An electrical extension cord is used as permanent wiring
There is a vertical ladder inside the steel culvert; the culvert has sharp edges and the ladder does not extend more than 3 feet above the discharge landing as required
The electrical extension cord is routed through a wall with sharp edges
An electrical extension cord has damaged insulation and exposed wiring
Combustible wood is stored in an area subject to falling sparks from the overhead welding operations

Knotted lifting straps

Workers and managers may not understand that knots in synthetic lifting straps significantly reduce the straps' lifting strengths.

Sign complacency

Safety instructions and signs with posted weight limits should not fade into the background. The items on the shelf in this example exceed the posted limit. Jim says, "While it's doubtful something 16 pounds over the posted maximum weight would cause a structural failure, it points to a need to pay attention to signage. An OSHA inspector might cite this as noncompliance."
EMC Can Help
Jim urges you to contact EMC if you need assistance cleaning up safety issues or have questions about your safety program implementation. As he says, "We can work with you on a hazard assessment to point out areas of concern. We can include photos, a report and suggestions for improvement to help you get on the right track before you have a real disaster or a complaint to OSHA."