Loss Control Insights
The Unseen Costs of Injuries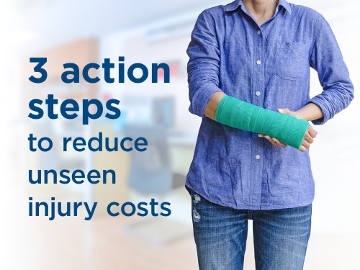 Workplace injuries impact the cost of workers' compensation, as well as your employees' well-being. Those injuries can also lead to indirect and often unexpected costs. While losses vary for each incident, unexpected expenses are typically costlier than upfront medical care. EMC Industrial Hygienist Krista Scott says recognizing the true costs of workplace injuries, both direct and indirect, can be critical to your organization's profitability.
What Are Unexpected Costs?
Unexpected or unseen costs are expenditures usually not covered by insurance. They can affect nearly everyone in your organization including the injured person, supervisors, other employees and administrative departments. Your equipment, supplies, materials and other tangible items may also be impacted by an injury. Depending on the cause, type and extent of an injury, unseen costs may include:
Accident investigation and corrective actions
Lost productivity
Administrative costs, such as the time spent dealing with paperwork for OSHA and workers' compensation
OSHA penalties
Hiring and training a temporary or permanent replacement worker
Overtime for employees picking up the extra work
Equipment or property repair (i.e., building, vehicle, or product and material damage)
Emergency supplies used during the accident or injury
Legal fees
Morale of remaining workers and of the injured worker
Impact on future insurance rates
Review the OSHA Safety Pays estimator for more details about direct and indirect costs and to estimate indirect costs for an injury.
Insurance Rates
Of the unexpected costs resulting from an injury, an insurance cost increase is the one that stands out, Krista notes. She works with organizations to improve injury management practices as a way to keep insurance costs down. Krista consistently notices how shocked managers are when they don't understand or anticipate an insurance rate increase after multiple injuries. And because of the way premiums typically are calculated—using a 3-year rolling average—injuries cast a long shadow, says Krista. "It is an unwelcome surprise when managers discover that one bad year affects rates for three years."
Controlling Costs
Being proactive can help reduce all costs associated with injuries. Krista offers these action steps:
Create a comprehensive safety program. Avoiding injury is the best way to lower associated costs. EMC has a multitude of safety programs templates and information for your use. Contact EMC Loss Control for help planning and implementing programs related to ergonomics and safety at your organization.

Develop a return to work program for injured employees. The sooner an employee comes back to work, the sooner you can bring the work environment back to normal and reduce indirect costs, such as overtime for other employees or hiring replacement workers. A return-to-work program also minimizes the lost time reported on workers' compensation claims. While regulations vary by state, it's important to know and understand your state's no-lost-time policy and strive to get employees back within that timeframe. Learn more about return to work programs. Contact EMC Loss Control for assistance with your return to work program.
Build relationships with medical providers specializing in workers' compensation. When medical providers understand workers' compensation best practices and paperwork, they can better deliver favorable outcomes and efficiency in getting forms completed and turned in. Your state may not allow you to require that injured workers go to a particular provider. If that is the case, you can still recommend or suggest a preferred physician.