Loss Control Insights
3 Best Practices for Idle Pallet Storage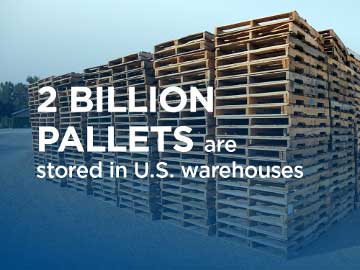 With 2 billion pallets stacked in warehouses and storage yards across the United States, it's likely your organization has a few cluttering your grounds and facilities. Pallets may be essential to your operations but can eat up valuable space and become hazardous if not stored properly.
EMC Senior Risk Improvement Engineer Larry Readout is concerned that pallets are an afterthought in many companies. "There's a sense of complacency that pallets are simple, easy-to-ignore necessities. In the past few years, it seems fewer companies have done safety training relating to pallet storage and handling," he says.
Without the proper training, employees working with or near pallets may be at risk. Pallets pose two primary dangers: fire and personal injuries from unprotected contact with unsteady stacks. Larry has observed cuts and puncture wounds, as well as sprained and broken ankles, toes and fingers from tripping on pallets or having a stack fall on a worker. And the worst practice he has seen: using a pallet on a forklift to lift a worker. This practice has resulted in nasty falls and even fatalities.
Best Practices for Pallet Storage
Follow these three tips to improve your pallet storage:
1. Stack them correctly
Go for horizontal, not vertical stacks
Make stacks short enough to remain stable
Be aware that you might need special fire sprinkler systems if stabilizing pallets in pallet-stacking frames or stacking racks
Know your limits: OSHA and state or local agencies may have different rules for stacking, so check your local regulations as well as OSHA guidelines
2. Meet your state and local fire codes
The National Fire Protection Agency (NFPA) recommends storing pallets outside, far from buildings whenever possible, and limiting the number of pallets stored indoors based on sprinkler capacity
Your local Fire Marshall can provide specific recommendations on stack heights, distances between stacks, distances from other materials and required sprinkler systems; remember, different sprinkler systems may be required for plastic versus wood pallets and for cutoff rooms
Understand that codes differentiate between indoor and outdoor storage areas
3. Develop your own best practices
Review your storage practices and make lists of potential fire and safety problems, as well as safety measures for employees to follow. Some of these proactive measures may include:
Using a pick hook to reach items at the back of the pallet stack rather than climbing onto the stack
Mandating a warning honk from forklifts moving through stacks of pallets
Getting rid of damaged pallets by recycling when possible and properly disposing of them when recycling isn't an option
Wearing personal protective equipment, such as gloves and closed toe or other safety footwear
Installing and maintaining the correct sprinkler system for your facility