Loss Control Insights
The Hidden Dangers of Black Ice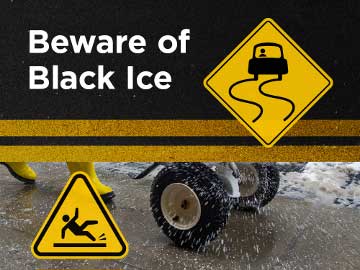 Black ice—that thin coating of transparent ice on roadways, sidewalks and parking lots—is treacherous. It's hard to see, can build up quickly and is extremely dangerous to both pedestrians and drivers.
5 Facts You Need to Know About Black Ice
EMC Senior Engineer Larry Readout helps you understand five key facts about how black ice forms and why it can be so dangerous.
It's nearly impossible to spot. Black ice is transparent and often forms during low-light conditions, such as evenings and early morning hours. Black ice formed in a shaded spot tends to stick around due to the lack of sun exposure. A light dusting of snow or blowing snow can mask the presence of black ice.
Warm temperatures fool people into believing there's no ice. When air temperatures are above freezing, especially in late winter and early spring, most people assume it's too warm for ice to form. However, it's the pavement temperature that matters. Frozen ground can keep sidewalks, parking lots and roadways much colder than the air, allowing ice to form. Larry says, "Don't be surprised on a 40-degree morning when a sidewalk that looks merely wet is actually quite icy."
All types of ice are not equal. While all ice types can be difficult to walk across, black ice is especially tricky. "Friction on ice decreases as temperatures rise close to or above the freezing point," says Larry. "This can result in a wet layer on the surface of the black ice. Under those conditions, it's nearly impossible to walk safely over the ice unless you have traction cleats on or know how to 'ice walk' (i.e., walk upright with your head back and take short, flat-footed steps)."
There may be no obvious source of the ice. It's easy to understand that melting snow on a sunny day can create ice as the sun goes down and temperatures plunge. But what if there's no snow or signs of melting? There are other causes of black ice: Heat loss through a building's roof can melt rooftop snow, which can drip onto the walkways and parking lot below. Condensation from automobile exhaust and melting snow from vehicles are also often overlooked as possible sources of parking lot ice.
Dew and fog can form black ice. It doesn't take thawing ice and snow or freezing rain to cause ice formation. Dew and fog can freeze on the ground, turning treacherous underfoot.
Take Action Against Black Ice
Hypervigilance is critical to discovering and managing black ice. Include these steps as part of your routine winter maintenance procedures:
Monitor pavement temperatures and inspect walkways carefully throughout the day, especially as weather conditions change
Treat icy patches with a mixture of coarse sand and ice melt
Place warning cones at locations where black ice is likely to form
Send reminders to staff and put posters by doorways warning of potentially hazardous thaw and refreeze conditions
Black ice can occur on any roadway but is more likely to develop on bridges, shaded areas and overpasses. The ice may appear to be a wet spot and you may not discover the glaze until you begin to slide. Here are some preventative actions you can take when driving in thaw-refreeze conditions:
Drive carefully and monitor temperatures, watching for any indication that ice may be present
Avoid braking if you hit a patch of ice; instead, take your foot off the accelerator and hold the steering wheel straight; if your back wheels begin to slide, turn the wheel very slightly the same way
Review this set of illustrated steps, How to Drive on Black Ice, for more detailed information
Train drivers on safe driving in black ice conditions