Loss Control Insights
4 Steps for Return to Work Success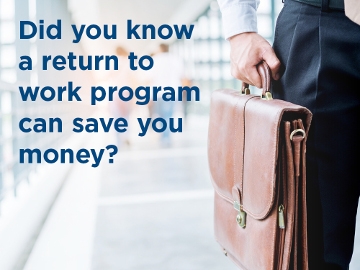 What happens when you have one or several injured employees who are temporarily unable to perform the lifting, standing or driving tasks required of their positions? You can't speed up the healing process and are worried that these statistics may hold true for your employees:
If a worker is off for up to three weeks, he or she has a 75 percent chance of returning to work
If a worker is off for six weeks, he or she has a 50 percent chance of returning to work
If a worker is off a year, he or she has only a 1 percent chance of returning to work
Getting employees back on the job as soon as possible saves you money. You'll save on the direct costs associated with claims, which may also lower insurance costs. You'll also avoid other expenses from indirect costs, such as lost productivity, overtime, and hiring and training replacement workers.
Return to Work Program
There is a way to save money, retain workers, and keep your employees happier and more committed to your organization. A return to work program eases employees back into the job after an injury or illness. In fact, organizations with a return to work program are 1.4 times more likely to return injured employees than organizations without a program.
A return to work program offers transitional work (recommended by a medical personnel) while an employee recovers from a work-related injury or illness. The employee may be offered modified work or alternative work.
Modified work: An employee who is assigned modified work will continue to work his or her regular job with some restrictions. This may mean changing an aspect of the employee's job, such as cutting back on lifting or standing for long periods of time, or reducing the amount of hours the employee works. Other examples include modifying the workstation or removing parts of the job that the employee is unable to perform.
Alternative work: If an employee can't perform his or her regular tasks, the organization offers a different temporary position that meets the work restrictions.
The 4 Steps to Success
While it's essential to work individually with each affected employee, these steps are a great starting point for an organization's return to work program.