Loss Control Insights
10 Winter Driving Tips From a Seasoned Driver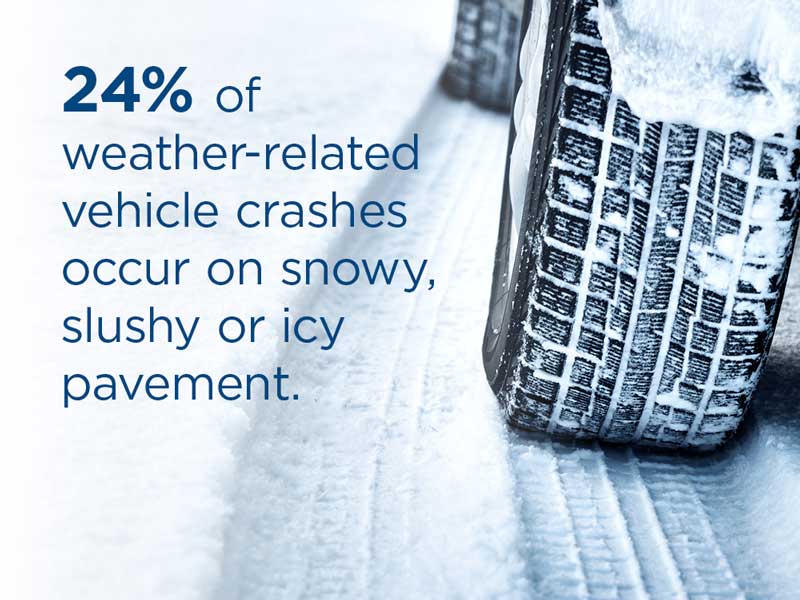 Being on the road in the winter requires drivers to stay on their toes, says EMC Engineering Specialist Kevin Clayton. And Kevin should know: He travels up to 50,000 miles each year in all types of weather for his job. Follow Kevin's tried-and-true winter driving tips.
Develop a checklist to standardize planning

Kevin suggests that companies adapt one or several pretravel checklists as a good addition to (or starting point for) a winter driving training program. If your company does not have a policy, individual drivers can develop their own list. Include servicing, survival kits, driving do's and don'ts, and how to cope if you get stranded. Review and download sample lists from the national highway traffic safety administration and EMC.

Check the forecast a few times before a trip

That way, you won't be surprised when you head out. Doing so provides Kevin more confidence as he plans his trip, and the forecast may also give him an incentive to bring extra emergency supplies or to head out a few hours earlier in advance of a storm.

Listen to a local radio station

Weather can change quickly and if you are listening to satellite radio, as many cross-country travelers do, you'll miss out on weather reports for the area you are driving through. When weather conditions deteriorate, turn to a local AM station or pull over and check a weather app on your phone. If you often travel in the same areas, you may want to activate notifications on your weather app so you get updates automatically. You can also call 511 for a state weather update.

Turn off cruise control when driving through rain, snow or potentially icy conditions (especially if there is a chance for black ice formation)

"It's easy to believe you can tap the brakes to turn the cruise off if you skid, but tapping the brakes could make a skid more severe," Kevin says.

Use running lights

While it's likely that your company's fleet vehicles have automatic headlights, not all vehicles do. If your company's drivers have an older vehicle, be sure they understand the importance of keeping their headlights on during rain, snow and low visibility. "While drivers may say they can see just fine, they need to realize that their headlights allow other drivers to see them better," Kevin says. In addition, warn company drivers that they need to watch out for other vehicles operating without their headlights under poor driving conditions. Kevin suggests this good rule of thumb (which is the law in some states): Headlights should be on whenever windshield wipers are operating.

Keep your gas tank at least half full

"This is a hard one to follow when you are pressing on to a destination," Kevin admits. However, it can be a lifesaver. Getting stranded with too little gas to keep your vehicle warm may be deadly. Stopping frequently to fill up also gives drivers a chance to stretch, check the weather ahead and pick up any missing supplies, such as food and beverages that may be needed in case of an emergency.

Don't rush to pull over in front of trucks when passing

Large vehicles can't stop as quickly as cars do, so allow extra space between your vehicle and the truck as you change lanes. This is important any time but especially during inclement weather.

Lengthen the distance between your car and the vehicle in front of you

Stopping distance is dramatically increased when it's icy or wet. Instead of keeping a 3- to 4-second distance between your vehicle and the one in front of you, you need to allow 8 to 10 seconds between vehicles. Learn more about the "3-second rule" and stopping.


Add an outdoor temperature gauge if one isn't standard on your vehicle

Kevin purchased his for about $10 at a truck stop. It's battery operated and sticks on the dashboard with an adhesive strip. A wire runs out the window to pick up the air temperature, and an alert sounds when the temperature drops to 32 degrees Fahrenheit. That alert has saved Kevin from black ice before.

Don't rush to get home (or to your destination)

"I know my driving limitations and have come to the conclusion that no trip is worth risking my life for," Kevin says.