Loss Control Insights
Don't Slip Up on Winter Weather Prep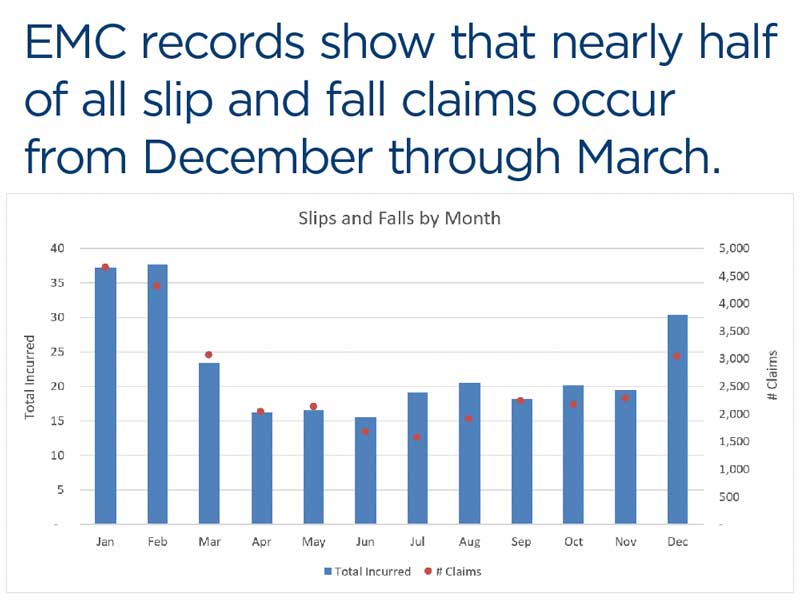 November is the beginning of the holiday season, but it's also the start of the most dangerous time of year for slips and falls. As you might suspect, the bulk of slip and fall accidents occur between December and March.
To help prevent winter slip and fall incidents, you must start with a good plan and solid preparation, and then be vigilant in monitoring and checking sidewalks, parking lots and entries frequently throughout the season. You may find it frustrating to be fully prepped and then have a mild winter. On the other hand, if you get hit with blizzard after blizzard, excessive rain storms or an extended thaw-refreeze cycle, you'll be glad that you spent time preparing.
Planning for Winter Weather
If you don't have your plan in place, now is the time to get it together. Here is a list of top action steps to keep employees and visitors safely on their feet.
Review your snow and ice management contract with your service provider (or review the plan with your employees if you keep winter maintenance in-house). Identify services provided, as well as timing, priorities and specific duties for parking lots, walkways and entrances.
Walk the site with the contractor or employees to identify trouble spots and snow placement locations that will minimize thaw and refreeze problems on walkways.
Check outdoor drainage and clear any obstructions that could cause precipitation or snow melt to pool and freeze. Remove leaves from walkways and parking lots (as wet leaves are slippery) and make sure downspouts are correctly diverted from walkways.
Pull out snow removal equipment and make sure snow blowers, plows and power brooms are revved up and ready to go.
Check your inventories of shovels, ice melt and sand, and store them close to where they'll be needed.
Make sure maintenance employees have high-traction footwear or removable ice cleats, review their individual tasks (conduct training as needed) and provide checklists and audit protocols (plan for multiple audits per day during winter weather conditions).
Update your mat strategy to account for changes in weather, recognizing you'll need extra mats and frequent changes to keep floors and footwear dry when it's wet and/or snowy outside. An ideal "line of defense" includes three types of mats and at least 30 linear feet of coverage. Begin with a scraper mat outside, a combo wiper and scraper mat right inside the door and one or several wiper mats extending into the building. We suggest using walk-off carpet tiles instead of indoor mats when possible.
Inspect your outdoor lighting. Walkways need adequate illumination to prevent slips and falls early and late in the day, and it's important to adjust lighting timers to account for a shortened amount of daylight during the winter.
Train Your Employees
Good snow and ice removal, along with frequent checking, go a long way toward preventing winter slips and falls. But face it, it's all but impossible to maintain 100 percent clear and dry lots and sidewalks throughout the entire winter. Remind all employees, not just your maintenance crew, of these safety tips:
When getting in and out of vehicles, keep both hands free and step out carefully
Use a backpack or dolly to haul items back and forth from a vehicle to the building rather than carrying boxes and bags; this keeps hands free for better balance
If a surface is slick, a different way of walking is necessary; keep your head up, shoulders back, take half steps and walk flat-footed
Wear rubber-soled footwear with wide, deep cleats or other slip-resistant soles
If you notice black ice, report it to your supervisor
If the sidewalk looks icy, walk in the snow or grass beside it
When stepping inside the building, walk cautiously; wet shoes on a dry floor pose the same hazard as dry shoes on a wet floor
Report any hazardous conditions to the maintenance staff