Loss Control Insights
Do You Know Your Pictograms?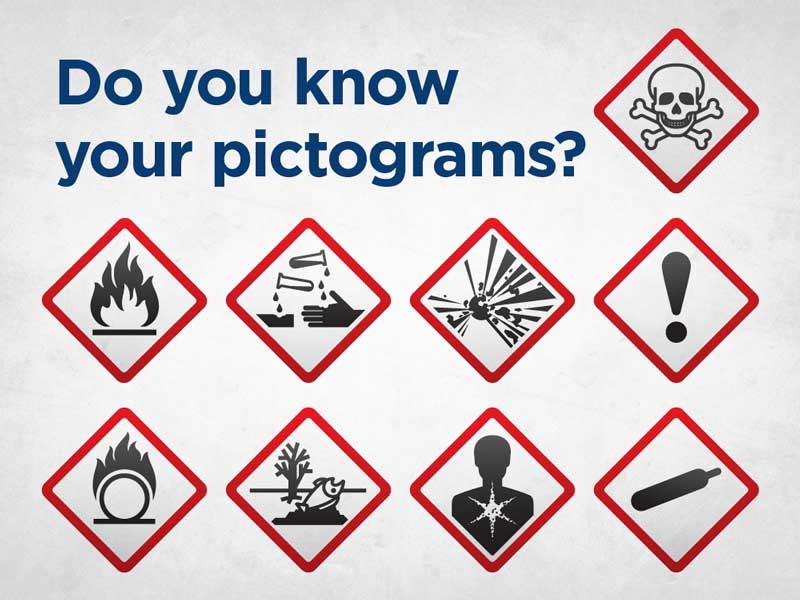 There's a secret weapon in the chemical safety industry: Pictograms. While the use of pictograms on labels was adopted by OSHA in 2015, the uptake of the practice has been a bit slower than EMC Senior Risk Improvement Innovation Specialist Steven Shaffer would like to see.
"Companies were allowed to use up their stock of old labels before switching to the new pictogram versions, so it's finally becoming standard practice to find pictograms on chemical containers," he says.
If you haven't embraced pictograms in your company through training employees on the use of pictograms and posting signs, Steven recommends that now is the time to fully utilize this tool.
"After all, a picture is worth a thousand words, and in a crisis, it's far easier to grasp the meaning of a symbol than a long description of the toxic ingredients on a barrel of chemicals," he says.
Because many companies store and use a wide range of hazardous chemicals, understanding the implications of spills, splashes and other accidents–and knowing what to do if one occurs–is imperative.
What's a Pictogram?
A pictogram is a graphic that visually provided important information to the worker handling the chemical. Pictograms are included on the chemical's label with several other standardized pieces of information, including a signal word, a hazard statement, health hazard information, and manufacturer or distributor contact details.
While all label information is useful, the pictograms are especially valuable if workers hurriedly grab chemicals without taking the time to read a lengthy label. Pictograms are also a practical tool for workers who have trouble reading or who aren't native English speakers and readers.
The images, combined with simple language, allow workers to immediately know what dangers the chemical presents. And since the information is always in the same location on labels, it takes less time to find essential details. This can be a lifesaver in case of a spill or if the chemical comes into contact with a worker's skin, eyes or other body part.
What are the Nine Pictograms?
There are nine pictograms, with eight of them enforced (the environment pictogram is not mandatory). Below is a pictogram chart that describes each of the hazards.
Health Hazard

Flame

Exclamation Mark

Respiratory Tract Irritant

Gas Cylinder

Corrosion

Exploding Bomb

Flame Over Circle

Environment
(non mandatory)

Skull and Crossbones

Acute Toxicity (fatal or toxic)
More About Pictograms
Labels, including pictograms, are required on all hazardous chemicals (note that chemicals with older labels can still be used).
Pictograms on chemical labels being shipped by manufacturers, importers and distributors must include a square red frame set at a point (a.k.a. "diamond shape") with a black symbol on a white background.
These pictograms are not the same as the diamond-shaped labels that the U.S. Department of Transportation (DOT) requires for vehicles transporting hazardous materials. While a truck may be required to post the DOT label, the containers holding the chemicals (boxes, spray bottles, drums and other individual containers) must have pictograms.
As an employer purchasing chemicals, you'll be responsible for maintaining the labels on the containers. They must be legible and remain on the container. If older labels are on the container, you don't need to update them but if the label is removed or damaged, you are responsible for relabeling. And remember that employees must be trained so they understand all styles of labels you have on site.
The biggest oversight by organizations using hazardous chemicals is not labeling secondary containers. If you transfer chemicals from a large drum or tank into a smaller container, you must label it with a proper label including a pictogram.
A Safer Way to Label
There's no doubt about it—using standardized labels with pictograms makes your job easier.
"You can see at a glance what you are dealing with when handling a chemical, especially if there is an accident," Steven says. "Bottom line–training is easier, what to do in case of an accident is clearer and your operations should be safer because of pictograms."
Valuable EMC Resources