Loss Control Insights
Are Your First Aid Kits Up to Snuff?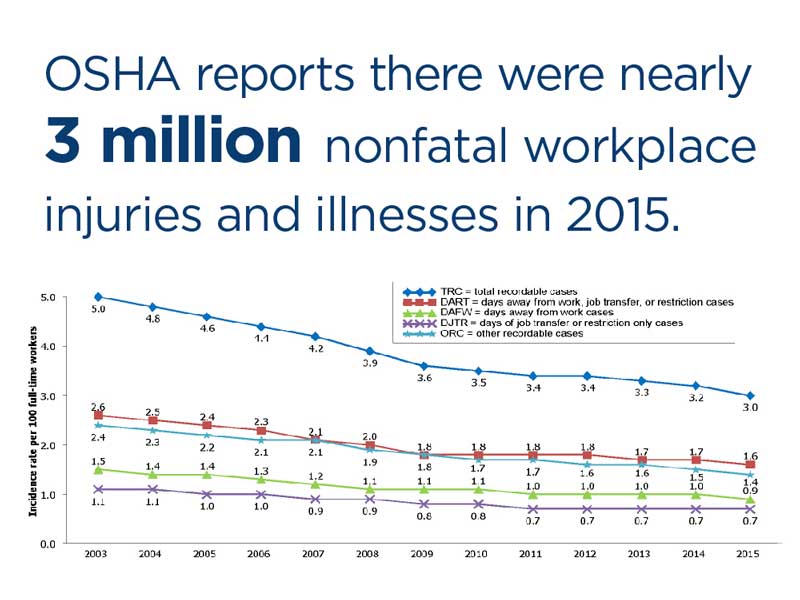 No one wants an employee to be injured on the job. But accidents happen and when they do, immediate treatment is often essential. A nearby first aid kit helps you cope with these basic needs during an emergency.
Not only is preparing for accidents a commonsense practice, having the right first aid supplies on hand also meets OSHA (29 CFR.1910.151(b) requirements and ANSI/ISEA (Z308.1.2015) guidelines.
Class A vs. Class B Kits
A good starting point is to check out the 2015 ANSI standards. The organization has researched common injuries and made suggestions for types and quantities of first aid supplies best suited to most organizations. The recommendations offer guidance based on the complexity of the workplace environment with two categories of kits: Class A and Class B. Kits can be purchased prestocked with items, or you can stock your own supplies using the lists of recommended items.
Class A kits include fewer items and are best for handling common injuries, such as minor cuts, sprains and eye injuries. In some industries, this kit supplies everything needed. Class B kits contain what's needed to treat those common injuries, plus additional supplies to treat injuries that may occur in more complex or potentially dangerous workplaces, such as manufacturing plants. Below is a chart that lists the items necessary for both Class A and Class B kits.
ANSI Z308.1-2015, TABLE 1: CLASSES OF FIRST AID KITS & REQUIRED SUPPLIES
First Aid Supply
Minimum Quantity
Minimum Size or Volume
Class A Kits
Class B Kits
(U.S.)
(Metric)
Adhesive Bandage
16
50
1 x 3 in.
2.5 x 7.5cm
Adhesive Tape
1
2
2.5 yd. (total)
2.3m
Antibiotic Application
10
25
1/57 oz.
0.5g
Antiseptic
10
50
1/57 oz.
0.5g
Breathing Barrier
1
1
Burn Dressing (Gel Soaked)
1
2
4 x 4 in.
10 x 10cm
Burn Treatment
10
25
1/32 oz.
0.9g
Cold Pack
1
2
4 x 5 in.
10 x 12.5cm
Eye Covering (with Means of Attachment)
2
2
2.9 sq. in.
19 sq. cm
Eye/Skin Wash
1 fl. oz. total
29.6mL
4 fl. oz. total
118.3mL
First Aid Guide
1
1
N/A
N/A
Hand Sanitizer
6
10
1/32 oz.
0.9g
Medical Exam Gloves
2 pair
4 pair
N/A
N/A
Roller Bandage (2 inch)
1
2
2 in. x 4 yd.
5cm x 3.66m
Roller Bandage (4 inch)
0
1
4 in. x 4 yd.
10cm x 3.66m
Scissors
1
1
N/A
N/A
Splint
0
1
4.0 x 24 in.
10.2 x 61cm
Sterile Pad
2
4
3 x 3 in.
7.5 x 7.5cm
Tourniquet
0
1
1 in. (width)
2.5cm (width)
Trauma Pad
2
4
5 x 9 in.
12.7 x 22.9cm
Triangular Bandage
1
2
40 x 40 x 56 in.
101 x 101 x 142cm
Within each of the two classes, there are four types of containers. The type you choose depends on where the kit will be located:
Type I is usually mounted on a wall
Type II is portable for indoor use
Type III is portable and designed for both indoor and outdoor use; it can also be mounted
Type IV is for outdoor use in areas where the kit might receive rough handling or be exposed to water
Personalize Your Kits
While choosing between a Class A or Class B kit, you'll want to also delve into whether you might need any additional specialized items unique to your industry or your company.
Take these steps to help you personalize your kits:
Review your loss data, OSHA logs, incident reports and other internal records to find the most common types of accidents that occur at your workplace
Conduct a survey and identify any additional dangers your workers face
Evaluate the number of kits you'll need based on the number of employees, the work environment, how remote the location is from professional medical care and the risk of a particular injury occurring
Consult with local fire and rescue or emergency medical professionals for additional suggestions, and consider asking them to assist with your survey and evaluation processes
Safety Is More Than a Kit
The best batch of supplies and equipment is worthless if no one knows what to do with them in an emergency situation. That's why you'll also need to include basic first aid training as part of your safety program.
The level and type of training needed depends on the dangers that exist within your workplace. Most everyone knows how to apply disinfectant and a bandage for a minor cut, but more skills are essential for dealing with burns, sprains or other more serious injuries. As part of the education process, it's important for employees to understand what actions they should take and those that are outside of their skill set.
It's also critical to have a plan for coping with emergencies beyond the scope of the training your employees receive. As part of your emergency action plan, have emergency numbers posted and make sure employees know where the nearest hospital or emergency clinic is located.
And finally, check your kits monthly and replenish supplies as necessary. After all, if you need a bandage or splint and one's not available, your entire emergency plan is at risk.