Loss Control Insights
I Just Received an MVR, Now What?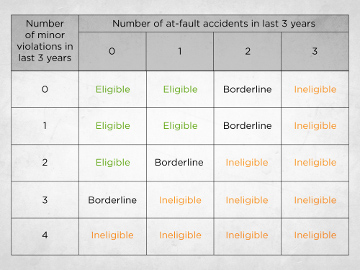 Whether you use a driver monitoring program such as SuperVision, pull records yourself at least annually or just receive notifications occasionally, reviewing and analyzing employee motor vehicle records (MVRs) is an essential part of a good fleet program.
That's because allowing employees with poor driving records to operate your vehicles is a liability for your organization. According to EMC Risk Improvement Manager Mike Duffield, the trend is for courts to "come down hard" on companies who allow less–than–stellar drivers to operate motor vehicles on company time, if those drivers end up having an accident.
A Company Policy Helps
Without a solid program to help you determine your response to MVRs, you might not know how to handle all the information you receive from the record. For example, if a report contains details about an incident, your mind might race with questions: If the event took place on the employee's personal time in his or her personal vehicle, what can your organization do? And what are the implications if the employee was in a company vehicle and on working time? Are there differences in your approach if the circumstances are somewhat different? If the offense wasn't serious, do you still need to take action? Or if it's an MVR for a potential hire, how do you interpret and use the details before making (or withholding) an offer?
Having a written company policy takes away the endless list of questions and allows you to treat all employees equally when making employment decisions. "A consistent program is fair to everyone. It may be easy for an employer to let an issue slide with a good employee, but equally easy to come down harsher on a less favored worker," says Mike.
Evaluation Criteria
When looking at an MVR, you may find it difficult to decide what to do with the information. The
EMC Driver Qualification tech sheet
lists major and minor driver qualification criteria, as well as a matrix to evaluate and weigh a combo of minor violations and at–fault accidents.
Other Advantages of MVRs
Besides keeping tabs on employees who spend time on the road, access to MVRs can help you narrow down candidates in a prehire check. If one candidate has a good driving record and a second does not, your decision is easier. In addition, as you periodically monitor MVRs for current employees, you may notice trends in driving problems, allowing you to offer any needed training programs.