Loss Control Insights
The Benefits and Risks of Telecommuting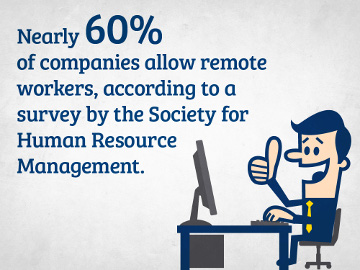 Telecommuting―allowing employees to work at home part- or full-time―has become a popular employee perk. And because technology allows workers to work remotely from nearly any location, the practice has moved into the mainstream.
Advantages of Telecommuting
Employees are generally less stressed, happier and more productive working at home, while employers benefit from less employee absenteeism, increased output and retention of good employees
Employees save time and money by not commuting, and employers save office space
Employees can live anywhere, and employers have a vastly larger pool of potential workers to choose from
Employees and employers both benefit from greater flexibility in work schedules
Working at home can offer a short-term solution for injured employees or those returning to work after a disability, which benefits both employees and employers
Disadvantages of Telecommuting
Employees may not feel like part of the team, and supervisors in the office may have difficulty building a solid working relationship with remote workers
Employees may not have access to resources and learning opportunities to help them grow and develop in their profession, and employers will miss out on the potential these employees could offer in the future
Collaborative projects and brainstorming can be more difficult
If the employee is several time zones away, meetings and conference calls can be difficult to arrange
Employees may feel like they can't escape work, while employers may feel that it's more difficult to know when employees are working
Less motivated and less skilled employees may flounder when working on their own without a built-in support system, while supervisors may have a difficult time coaching and trusting employees who encounter difficulties while on their own
Home Office and Employee Safety
Your office is likely designed and constructed using office best practices. Your safety managers understand ergonomics, electrical and fire safety, and you have regulations regarding outlet placement, extension cords and more. Home offices don't necessarily offer those same protections. Here are some suggestions:
Before allowing an employee to work at home, provide education on office setup, including electrical, fire safety and ergonomics
Develop an agreement that employees must sign; see this telecommuting agreement as an example for developing your own
Review the agreement with each employee at least annually
Data Security
In light of highly publicized hacking and
ransomware problems
, managers are more aware of data security issues. Remote systems may face greater risks than main offices. Take special care to ensure that equipment and connections are protected.
Education is key; make sure telecommuting employees understand protection practices, including locking computers, tablets and phones when not in use; choosing robust passwords and not connecting to public Wi-Fi networks and what types of documents need to be shredded
Installing company equipment in remote offices gives you an edge for keeping the system, software and security protection up-to-date, and a secure virtual private network (VPN) is essential to encrypting and protecting your company system
Offer help through your IT help desk or other experts; allow your in-house experts to remotely log in and assist your employee with any computer or security issues to control the fixes
Allow remote employees limited access to sensitive data through credentialing, providing access only to data needed for the job
Your agreement with the employee should include an acceptable use policy for how employees can or can't use their company-provided equipment for personal use, recognizing that personal files can introduce malware to your system and take up system space
Your agreement with employees should also restrict the storage of sensitive data on their computer and portable devices
Additional Considerations
Be aware of outside forces that affect telecommuting policies and practices:
Employees are protected by workers' compensation whether they work in your office or at home
Occupational Safety and Health Administration (OSHA) does not have specific rules applying to telecommuters, but does state that employers are responsible for ensuring a safe work environment and that recordkeeping requirements apply to employees working at home
Make sure your insurance coverage is updated to cover telecommuters; your business property insurance should cover equipment housed off-site or traveling between your office and remote offices, and be sure that employees' vehicles are covered for business-related travel