Loss Control Insights
Quick Fixes for Contact Stresses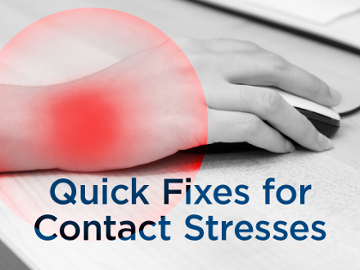 A common but often unnoticed workplace ergonomics problem is contact stress. While not a major cause of reported on–the–job injuries, contact stress can slow down workers in their job duties and can lead to other injuries, especially when combined with other ergonomic risk factors: force, repetition and awkward postures. Contact stress can occur in nearly any type of job.
Points of Contact
Contact stress happens when some part of a worker's body—knees, elbows, wrists or fingers, for example—touches or rubs up against a hard, sharp or inflexible surface repetitively or for an extended period of time. The surface could be a workstation, the floor, a ladder, a tool or the handle of a bucket.
Localized pressure from the surface or object against sensitive body tissue can affect blood flow, nerve function, or movement of tendons and muscles. It can also impede the range of motion of muscles and tendons, cause inflammation and bruised muscles, tingling, numbness, reduced grip strength, stiffness, loss of circulation and aching.
Common Problems and Solutions
Here are some common activities that cause contact stress and some suggestions for preventing or reducing the severity of that stress.
Problems
Solutions
Kneeling

Redesign the task or find alternate tools that eliminate the need to kneel
Wear knee pads or use a kneeling pad
Have workers take frequent breaks from the kneeling position

Resting elbows on a hard surface to hold the weight of your head; causes elbow bursitis, often called "student elbow"

Rest elbows on a pad, such as a mouse pad
Provide a chair with padded armrests
Train workers (or students) to avoid this posture

Using the hand or palm as a hammer

Have a hammer close at hand and train workers to always use the correct tool for the job
Provide hammers with comfort–grip handles or power tools if appropriate

Carrying a heavy pail with a small diameter or plain wire handle

Add a second handle to the pail to spread the weight
Add padding or a padded clamp–on handle
Wear gloves to add another layer of protection
Use a cart or dolly to move heavy pails

Resting wrists or forearms on edges of desks or worktables

Provide workstations with rounded edges
Provide padding or wrist/armrests and a mouse pad in appropriate spots
Redesign workstation to reduce contact between wrist/forearm and inflexible surfaces

Carrying a heavy object with sharp edges that dig into palms or fingers

Pad object or add carrying handles
Wear gloves with padded palms when lifting or holding the object
Use team lifts to spread the weight
Use pallet jacks or other mechanical material handling tools
Break heavy or bulky loads into smaller, more manageable loads

Repetitive use of tools with non-cushioned handles

Modify the task to reduce or eliminate the use of tools
Add padding to tools and/or wear padded gloves
Check to be sure the tool fits the user's hand and replace or modify the grip if it doesn't fit well
Purchase tools with comfort-grip handles or make customized grips; to do this, purchase heat moldable material, heat it and have the worker grip it while still warm to form a handle to fit his/her grasp

Resting forearms on hard armrests

Wrap a layer of padding onto armrests
Purchase a chair with padded armrests

Carrying boxes or bins

Use boxes or bins with handholds
Provide padded gloves to protect hands and fingers
Use carts or dollies to move the load
Photos of some of the solutions can be found in EMC's Workplace Injury Prevention Guide (pages 9-10). In addition to making changes in tools or workstations, add micro breaks and stretching exercises to work routines to keep minor stresses from becoming full–blown injuries.