Loss Control Insights
8 Ways to Stay Safe in Confined Spaces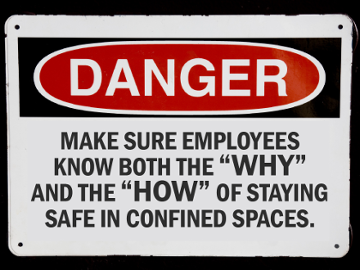 Working in confined spaces is, well, confining. Whether the space is a tank, storage bin, vault, tunnel, pipeline or some other confined area, your workers need to be well–versed in the processes essential for staying safe when they are working there. The potential pitfalls are numerous and can be deadly. Because of the high potential for danger, there isn't much wiggle room in confined spaces for error, forgetfulness or carelessness.
Best practices should be second nature, according to EMC Senior Risk Improvement Consultant Billy Snead. Here are Billy's 8 suggestions for staying safe in confined spaces.
Train workers so they understand the "why" behind the required processes and procedures. If they know the dangers and the reasons for monitoring and
double–checking, they are more apt to follow through. Don't underestimate their intelligence and ability to grasp what's best for their own health and safety.
Make the connection between the "why" and the "how" behind the safety procedures. Each work situation is different but from your entry permit documentation, you have the information needed to work through the "how" training. Make sure workers understand what the meter tells them, how the equipment works (and that it's working properly), and make sure the rescue procedures are second nature to everyone. During a crisis, you want workers to safely swing into action with no hesitation.
Include a well–designed lockout/tagout (LOTO) program as part of the routine. "This is a big safety measure in confined spaces," says Billy. He adds that LOTO is critical in all settings but in small spaces, the effects can be magnified. Review the EMC tech sheet on a Lockout/Tagout Program for more information.
Confirm that entry supervisors understand the importance of being on guard and that they are fully capable of protecting the safety of team members. It's easy to get complacent and to forget that carelessness can lead to fatalities. Emphasize to your team members that lives depend on the attention and actions they take. Be diligent in training (and retraining) supervisors on daily safety measures and rescue procedures.
Develop a good working relationship with your local fire and EMT departments as these professionals can be a vital resource for your company. Keep them up to speed on any concerns you have, and let them know of changes to the work you do or the hazards your employees will be exposed to. They are the experts you call in an emergency, and keeping them in the loop helps guarantee they'll be ready when you need them.
Take good care of equipment and monitors so they are calibrated and in working order at all times. Using manufacturers' recommendations as a guideline, develop a set of procedures and schedule for workers to follow.
Look beyond the hazards of major pieces of equipment and atmospheric conditions in the confined area. Small items and conditions can be just as hazardous to your workers. A well–lit space makes it easier for workers to perform tasks and may prevent injuries. Good lighting may also allow workers to see better if and when they run into unexpected dangers. Radio communication between workers in the confined space and the outside world can be a lifesaver if an accident occurs. Set up a regular schedule for radio contact when workers are in the confined space so those outside can monitor those inside.
Maintain a strong partnership with EMC. EMC field experts may be able to assess your meter or help you develop your written entry procedures. Good starting points are the written materials on the EMC website, including the Confined Space Program template.