Loss Control Insights
10 Tips for Safer Parking Lots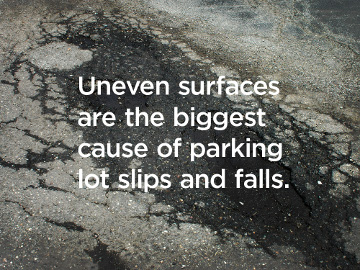 You may think that maintaining parking lots to avoid slips and falls revolves around keeping ice and snow under control in winter months. While this is a big part of preventing slips and falls, there are other things to consider as well. Parking lots need attention during every season because falls happen all year round.
According to EMC Senior Engineer Larry Readout, the No. 1 reason slips, trips and falls occur in parking lots is uneven walking surfaces, including raised edges, obstacles, dips, potholes and heaves. Seasonally, ice and snow pose extra risks in northern climates.
In addition to fixing any uneven surfaces, you'll want to steer clear of other potential hazards. Here are 10 tips for preventing parking lot problems that may trip you up in your maintenance practices:
Keep tire stops in line. Determine whether tire stops are really necessary. If they are, take steps to keep them in place. Make sure stops are centered in the parking spots, move them back in place if they've been repositioned by a snowplow or a vehicle, and inspect the surrounding pavement for damage. Paint them a contrasting color so pedestrians take notice and ensure they are adequately illuminated.
Mark curb cuts. The flared sides can be a tripping hazard and if the cuts aren't well-marked, falls can occur.
Illuminate for better vision. A well-lit parking lot makes it easier to see steps and curbs, as well as other potential hazards.
Power wash slick areas. Fuel, coolant and oil drips from vehicles can leave a slippery sheen. In shaded areas, wet leaves, standing water and algae growth can also cause problems. Power washing can remove these hazards.
Examine the lot carefully after rainstorms. You can learn a lot about your parking lot's problem areas right after a heavy rain. The dips where puddles form point out areas needing attention. Standing water in low areas can also promote slippery algae growth, and mud or debris may also accumulate. In the winter, snow and ice may fill the holes, creating dangerous ice patches. Even when there's no water, snow or ice in these craters, the unevenness can cause trips and falls.
Reconfigure your layout. It can be dangerous for employees and visitors if they develop a shortcut through unpaved areas between the parking lot and your front door. Look for signs of "off-road" pedestrian traffic and if necessary, add barriers or paving in high-traffic areas.
Review ADA requirements. Take time to compare your parking lot design with current Americans with Disabilities Act (ADA) standards to be sure you are compliant with the law. This process involves more than marking the minimum number of handicap accessible spaces. Verify that the access route from these parking spaces safely avoids the traffic path.
Offer carts up front. If you frequently have visitors or employees who carry armloads of boxes and bags into the building, have carts readily available. Carrying too much can cause a person to become off balance and reduce visibility. Carts can help make the transition from the parking lot to the building smoother and safer.
Consider the older demographic. If your visitors and employees include older people or persons with impaired mobility, you'll need to be especially careful in your parking lot maintenance. Older eyes may not notice curbs, uneven areas and cracks, and even a half-inch variation can cause falls.
Account for seasonal changes. Winter conditions require special care, but also consider the beginning and end of daylight saving time. You'll need to adjust lighting timers so that lights come on and shut off at the appropriate times to avoid dark areas.
Resources These EMC resources can help you develop and maintain a parking lot maintenance program.