Loss Control Insights
Flashing: Undercover Protection for Your Roof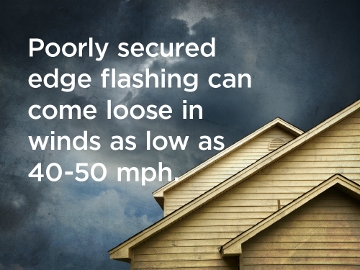 There's no doubt about it: roofs take a beating from wind, rain, hail, snow and ice, even the sun. And while inspecting your roof for wear and tear should be on your preventive maintenance checklist, it's easy to forget about the importance of flashing in keeping your roof–and everything under it–safe and dry.
First Line of Defense
Flashing is protection installed around the roof's perimeter and around any utility lines that enter the building through the roof. Flashing stops moisture and air from getting under the membrane which prevents leaks and keeps the edges of the roof fastened, helping your roofing material last longer.
Flashing at the perimeter, where the roof meets the exterior walls, is especially important because many commercial buildings have flat or low-slope rooflines. The roofing cover system often ends where roof meets the walls, creating a vulnerable point for wind and water penetration. Flashing here is the building's first line of defense against wind damage. If the flashing fails to hold, wind and rain may blow under the roof cover, potentially tearing and damaging the roofing material.
Getting It Right
Flashing is usually made of sturdy waterproof metals such as aluminum, copper or lead, but there are PVC and rubber options. While these materials are strong, flashing can be damaged by the elements and wear out over time. If choosing a flashing material for a new building or replacement during a remodel, evaluate which option will work best with your building's design.
As part of the design process, the building's architect must specify how flashing is attached. This is helpful when building and remodeling, but what about an older building? If a reroofing or roof repairs are in the works, take time to work with a reputable company to choose and apply flashing appropriately. To ensure the work is done correctly, hire an independent inspector to check the work multiple times during the process to avoid persistent wind and water problems.
The Insurance Institute for Business and Safety has several publications to help you with installing flashing and meeting guidelines. These include Evaluating Wind Resistance of Metal Edge Flashing and Commercial Roofs: Flashing and Coping.
Inspecting Flashing
A little time spent on preventive inspections can save you many dollars in future roof installation costs. Inspecting your roof and flashing at least once or twice a year―and also after major storms―can help preserve your structure. Conduct inspections:
From inside the building.

If you notice any water damage on ceilings, it's time to determine what's happening on the roof. This is not an ideal way to catch problems, and keeping up with inspections may prevent the shock of discovering a problem has already occurred.

From the ground outside the building.

If your building is low or has a pitched roof that can be viewed easily from ground level, you can perform an eyeball evaluation by walking around the building and gazing up at the area where the roof meets the walls and any valleys or corners that contain flashing. Spot check for gaps, waviness or areas, such as seams, that may not be fastened completely. Pay particular attention to corners, which can come loose or be damaged. Using a flashing inspection tool that allows inspectors to check the roof from the ground may provide a more complete picture of the flashing condition.

From above the building.

This is the trickiest way to take a look at flashing and your roof, but also the most effective. Getting on the roof means that employee-inspectors must be trained, have proper personal protective equipment (PPE) and the right tools to do the job safely and correctly. They'll need to know what to look for and how to evaluate the condition of the roof and flashing. If you don't have qualified staff, hire professionals to do the job. While this may seem like an expensive option, over the long haul it's less expensive than prematurely replacing your entire roof.
Coming Soon to a Roof Near You
New technology is making roof inspections easier, safer and more effective. Home inspectors, roofing companies and similar industries are beginning to use drones to eliminate the need for climbing up on the roof for inspections. While the technology is just emerging, it may soon be feasible for drone technology to incorporate drone-taken photos with computer evaluation software to identify where problems are likely to occur and pinpoint areas needing repairs. Not only is this technology safer for maintenance employees, it may be more accurate at identifying problem areas and cheaper than hiring an inspection firm.