Loss Control Insights
3 Ways Your Business Can Be Flooded, and How to Stay Dry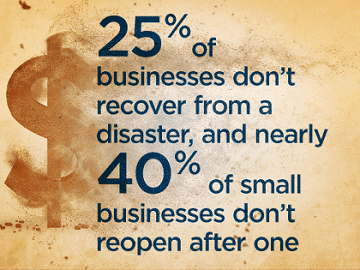 If your building is located far from a major body of water, you may feel like flooding can't harm your business. Don't be lulled into a false sense of security, says EMC Engineering Services Manager Chad Veach. That's because there are several flood dangers you may not have considered. "Water is deceivingly powerful; it will have its way," he adds "Flooding often catches people off guard."
1. More Than One Way to Flood
When most people think of flooding, they think of water issues caused by rising rivers, creeks, lakes and other bodies of water. (To determine your risk of a 500-year flood, check this FEMA tool.)
But not all floods result from rising rivers. You can be far from a body of water and experience the effects of flash flooding when intense downpours overwhelm drainage systems, and the water has to flow somewhere. That "somewhere" may be your business.
With aging infrastructure in many cities, burst municipal water and sewer pipes can flood businesses and cause water damage. It's also possible that your company's water heater or pipes may fail and flood a portion of your business.
2. Develop an outdoor storm safety plan.
Supervisors and workers should know what to do if a thunderstorm rolls in, whether they work at a construction site, a golf course or a city park.
3. Elevation Is Your Friend
When preparing to flood-proof your facility, Chad's No. 1 recommendation is to recognize that "elevation is your friend." Being on high ground is an advantage, so ensuring that the ground slopes away from your building will allow for drainage and may prevent water from entering.
Elevation works to your advantage inside your facility, too. Items at risk during a flood include computer systems, mechanical equipment and other contents of your building (desks, materials, inventory, spare parts, files and more).
Permanently raising all equipment and contents to 1 to 2 feet above the 500-year flood elevation is a smart move according to Chad. He says an EMC policyholder lost hundreds of thousands of dollars of product in a flash flood. Storing the items on pallets would have saved the inventory.
Moving electrical, HVAC and plumbing is not an easy change to make. When updating any of these systems, take potential flooding into account. For example, EMC recently built a structure adjacent to an existing building. When designing this new building, the backup generator from the older building, which had been housed in the basement, was moved to the first floor of the new structure as a flood safety measure.
Other Flood-Proofing Actions
Take these actions from the Institute for Business and Home Safety to keep floodwaters at bay:
Seal cracks and utility pipe penetrations using urethane caulk
Connect sump pumps to a battery backup or generator
Install backflow valves on the main waste drain pipes that leave the building
Keep water-absorbent or water-filled barriers at openings to divert water; install watertight shields over doors and windows at least 12 inches above anticipated flood level
Don't Be a Statistic
Studies indicate that at least 25% of businesses don't recover from a disaster, and FEMA claims that nearly 40% of small businesses don't reopen after one. To ensure your business isn't just another statistic, have a plan in place. This checklist from FEMA lists tasks to take care of before, during and after a flood.