Loss Control Insights
How to Reduce Turnover With Ergonomics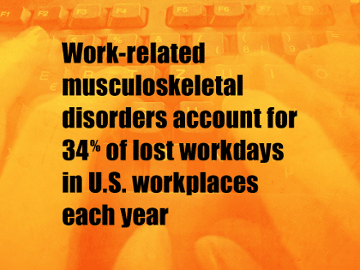 If your back, neck or wrist aches from a day on the job, you might dread going to work or may not be able to concentrate while working. You might miss more days of work because you don't feel well, make more trips to the doctor's office or even quit your job if the pain becomes unbearable.
Situations like these are common, according to EMC Risk Improvement Consultant Laurie Hoskins, and in many cases, improving ergonomics can break the cycle of pain, medical bills and workers' compensation claims. As an added bonus, healthier workers don't miss work as often, are more productive and are less likely to leave your company.
EMC Can Help With Workplace Ergonomics
As an ergonomics assessment specialist for EMC, Laurie helps policyholders solve ergonomic dilemmas. She and several other EMC ergonomics experts work with companies via phone and in person to help uncover and fix ergonomics in the workplace that can make an employee's work life miserable.
Surprisingly, Laurie says, just showing up to meet with employees can have a remarkable influence. "It improves morale when the employee realizes that company management cares enough to offer assistance. It's a sign that the employee is being heard," Laurie says.
The solutions are often simple, such as straightening a keyboard and mouse, adjusting a monitor or piece of equipment an inch or two or changing a chair's height (some employees may not realize their chairs are adjustable). Besides making these tweaks, Laurie may also show employees how to adjust their elbows, wrists or stance for safer office work, food service line work or janitorial tasks. These straightforward changes help reduce ergonomic hazard significantly.
Process for Ergonomic Improvements
During an assessment, EMC consultants suggest immediate changes. If updated equipment is needed, recommendations are included in a report and given to management for review. "We provide options to organizations so they can stay within their purchasing guidelines and be cost effective," Laurie says.
Ergonomics experts may need to work with an employee as little as 20 minutes, although more complex issues may take longer. In non-office settings, an evaluation may take several hours as the expert observes work processes and discusses options with management and the worker.
When an organization is planning a remodeling project or in the market for new equipment, Laurie and other EMC consultants are ready to assist. They can do ergonomic layouts and make recommendations before the project is finalized. "It's nice to be able to talk during the planning stage so we don't have to correct problems later," she says.
Resources for Developing or Expanding Your Ergonomics Program
In addition to on-site visits, EMC has several online resources including an Ergonomics Program guide to help you evaluate your workplace, and an Office Ergonomics Tech Sheet on how to position equipment at a computer station.
Ergonomics is an Investment, Not an Expenditure
Ergonomics is beneficial, and it makes good economic sense.
Dr. Alan Hedge, a well-known ergonomics professor, concludes that the return on investment for ergonomics is $18 for every dollar spent. The returns come from increased productivity, fewer musculoskeletal injuries, and better recruitment and retention of employees.
A chart compiled by the Washington State Department of Labor & Industries lists ways companies around the world have implemented ergonomics, including costs, results and dollars saved. Some of the results documented in this list are substantial, such as a 64% reduction in OSHA incidents in a year by one company, an 80% decrease in temporary disabilities in another company, and a 98% drop in absenteeism due to lifting and handling in another report. Other companies claimed major reductions in muscular skeletal disorders and cumulative trauma disorders, and increased productivity and accuracy.
An analysis of case studies by the Center for American Progress found that it costs about 20% of an employee's annual salary to replace that worker.
BMW undertook a pilot program to keep older workers on their factory lines. Results showed that ergonomic modifications helped workers of all ages. The project included changes in flooring, chairs, shoes, monitors, grips and handles on tools, hoisting cranes, containers and more. Productivity increased 7% in the first year and absenteeism dropped to 2%.