Loss Control Insights
Improving Fleet Safety: A Q&A With a Loss Control Expert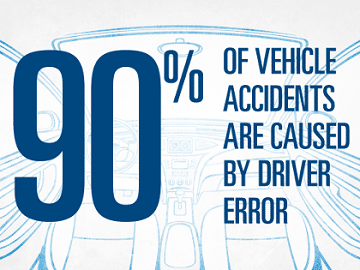 If your organization has employees out on the road, potential accidents can be a major concern. That's because accidents can lead to huge losses in dollars, property and lives.
EMC Program Manager Chris Murphy answers common fleet safety questions that loss control specialists are often asked.
Q: As employee driving miles increase, so do the number—and cost—of accidents. What can our company do to keep our drivers and our vehicles safe on the road?
A: The process begins before you hand over a company vehicle to an employee or allow the employee to drive his or her own vehicle on company business. Your first, and most important, step should be checking the employee's driving history. This record is a good indicator of how the individual will drive in the future. You should also check each driving employee's motor vehicle record (MVR) at least once a year as long as that employee is driving for your company.
Q: After we get the MVR for an employee, how do we interpret the information to determine whether an employee is qualified to be a driver?
A: Enter the MVR data into a matrix to help you apply criteria consistently. There are some types of violations that should disqualify a driver if they have occurred within the past 5 years. Less serious violations should be evaluated along with other factors, such as any at-fault accidents.
Q: You suggest that we should check MVRs for each driver at least annually; that is a big task. Is there assistance available to help us keep on top of this responsibility?
A: Absolutely! EMC has partnered with SuperVision to offer EMC policyholders a discounted rate on a driver monitoring program. If you subscribe, you'll receive an alert any time one of your drivers receives a violation, even those occurring during nonwork hours or in a personal vehicle. For just a few dollars per driver per month, you'll be able to stay on top of all violations for all of your driving employees.
Q: After checking the MVR and approving an employee to begin driving, are there other steps we should take before sending the employee out on the road?
A: Yes, don't assume that a clear MVR means the driver knows how to safely operate all types of vehicles. Before handing over the car keys, your next step is to train the employee on your company's fleet safety program and any unique risks of the vehicle they'll be driving. For example, differences in weight, size and sight lines makes driving a delivery truck different than driving a standard pickup truck.
EMC provides free online training modules to policyholders, which can help you as you explore training options for your drivers. After online training is complete, it's a good idea to follow up with ride-alongs to verify the driver's skills and understanding of the training materials.
Q: Even after training, we still feel uneasy sending drivers out on their own. What steps can we take to ensure our drivers are playing by the rules when representing our company outside of our place of business?
A: All organizations with motor vehicles benefit from a written fleet safety program. If your company does not have a written policy and you don't know where to begin, EMC makes it easy to get started with our customizable fleet safety program template. The template helps you think through the points you'll want to include in your written document. You'll also find sample forms that can be useful in hiring, certifying, testing and more. Some important topics to cover in your written policy include seat belts, traffic laws, driver impairment (drugs, alcohol, fatigue or injuries) and electronic device use.
Q: It sounds like the best ways to prevent accidents are to hire good drivers, train them well and ensure they follow our rules. Any suggestions for vehicle safety?
A: Studies show that 90% of vehicle accidents are caused by driver error, so you are correct: Well-trained drivers who follow your company procedures are your best defense against accidents. However, if you have a great driver who is operating an unsafe vehicle, accidents may still occur. As a safety precaution, inspect and maintain your vehicles as recommended by the manufacturer. If any of your vehicles qualify as commercial motor vehicles, there are special requirements for inspections and maintenance. A daily vehicle inspection (guided by a checklist) is a good standard practice for your drivers.
Q: Any final words of advice?
A: Even if you do all the things we've mentioned, accidents may still occur. Perform a thorough investigation following each accident to learn what contributed to the accident and what can be done to prevent similar incidents. EMC recommends keeping an accident reporting kit in each vehicle, for drivers to collect information that can prove valuable during an accident investigation. Organizations with the best fleet safety records are those that continue the learning process and implement safety practices as a result.