Loss Control Insights
Top 5 Loss Drivers for Last Year and Resolutions for the New Year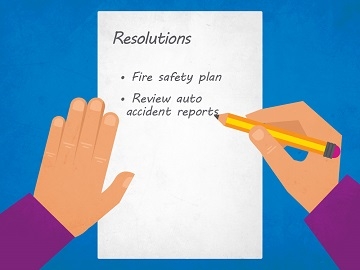 January is a natural time to reflect on the successes of the past year and to make resolutions for improvements in the coming year. To help you with this, EMC has compiled data on the top loss drivers that impacted EMC policyholders last year to help you review your facilities and procedures, with the goal of protecting your employees and property in 2017.
1. Fire
Fire was the No. 1 property loss in 2016. Fires rank among the most common insurance claims and the most costly. Even small fires can cause devastating damage to business operations, equipment data files and inventory. Common causes of fire loss include heating equipment, electrical wiring, welding, machinery breakdown and cooking operations.
Resolutions:
2. and 3. Auto-Fleet Accidents
Rear-end vehicle accidents (No. 2) and accidents occurring in intersections (No. 3) were on the list of most common accidents. Vehicle incidents account for 40% of fatal workplace injuries in 2014, according to the Bureau of Labor Statistics (BLS). The bulk of these accidents are a result of driver error.
Resolutions:
4. Overexertion
It's no surprise that overexertion is the top workers' compensation loss for 2016. It's consistently a loss driver and accounts for nearly 25% of all injuries according to the BLS. Overexertion injuries happen most often as a result of frequent or heavy lifting, but can also occur when a worker pulls, pushes or carries objects as part of their job.
Resolutions:
5. Falls
Two categories of falls "fall" into the top losses for EMC policyholders: slips and falls from the same level and elevated falls, such as those from aerial lifts or scaffolding. OSHA indicates that 25% of reported injuries are slips, trips and falls.
Resolutions: