Loss Control Insights
Will Your Eyewash Station Be Ready When It's Needed?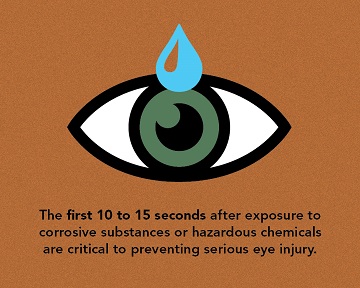 Count to 15. That's how much time a worker who suffers a chemical burn to the eyes has to locate an eyewash station. The first 10 to 15 seconds after exposure to corrosive substances or hazardous chemicals are critical to preventing serious eye injury. That's why the Occupational Safety and Health Administration (OSHA) requires eyewash stations in workplaces where corrosive chemicals are used. Meeting the OSHA requirement is only the first step in reducing the severity of eye injuries resulting from chemical splashes. Testing and maintaining those stations is critical to an effective and comprehensive loss control program.
A Maintenance Checklist for Eyewash Stations
Too often, companies install eyewash stations to comply with OSHA requirements and then forget about them. But you never know when that eyewash station will be called into action. Weekly inspections are the only way to make certain the eyewash stations are working properly. The American National Standards Institute (ANSI) recommends you check the following on a weekly basis:
The eyewash stations must be designed, manufactured and installed in such a manner that once activated, they can be used without requiring the use of the operator's hand.
The valves of the eyewash stations must easily activate in a second or less, remain open on its own until it is intentionally turned off and be resistant to corrosion.
If shut-off valves are installed in the supply line for maintenance purposes, provisions must be made to prevent unauthorized shut off.
If a potential for freezing exists, use a product specifically designed to avoid freezing.
Activate plumed eyewash stations on a weekly basis long enough to ensure that flushing fluid is provided at the manufacturer's suggested gallons per minute and pounds per square inch.
Determine that flushing fluid is between 60–100ºF. A facilities safety/health advisor should be consulted for the optimum temperature for each potential chemical exposure.
Determine that flushing fluid is dispersed throughout the required pattern.
Self-contained units must be visually checked weekly to determine if the flushing fluid needs to be changed or supplemented in accordance with the manufacturer's instructions.
In addition to these ANSI recommendations, EMC suggests adding the following to your weekly checklist:
Workplaces change, so be certain stations are installed so that a worker could reach the eyewash station within 10 seconds
Clear all obstructions to the station so workers who suffer an eye injury can be treated as quickly and effortlessly as possible
Check for stagnant or untreated water that could contain infectious organisms
A Word of Warning About Eyewash Bottles
The main purpose of eyewash bottles is to supply immediate flushing of the eyes until an emergency eyewash station can be reached. Eyewash bottles are not to be used as the only method for employees to flush their eyes for the following reasons:
Holding the eyelids open while handling the bottle can be very difficult
Bottles cannot flush both eyes simultaneously
The water supply lasts only for a short period of time, normally not long enough to completely flush the eyes
The solution in eyewash bottles loses its effectiveness over time
Don't Forget Eyewash Station Training
All employees who may be exposed to corrosive chemicals should be trained on the location and operation of eyewash stations. Eyewash training should cover at least the following information:
Location and operation of emergency eyewash stations
"Hands-on" experience using the eyewash station
A review of the safety data sheets of the chemicals your employees work with to determine the manufacturer's recommended flushing times
Procedures to test and maintain eyewash stations
Need To Know More?
EMC recommends the following resources for additional information about the testing and maintenance of eyewash stations: